Before I had kids, I'm not sure I really understood what babywearing was, or what it meant.  I absolutely did not understand the benefits of babywearing. With my oldest, she was so mobile so early, she rarely wanted to be carried after about 5 months.  As my second baby came along, I learned very quickly that babywearing was the key to enjoyable freedom.
You see, my kids are 25 and 23 months apart.  When each new baby was born, it was right at the prime of that age when toddlers gleefully dart in whatever direction their impulses take them.  For my oldest, it was always taking off to find water to look for ducks (and one pink Baby Gap shoe that was never seen again, which probably houses a family of frogs in a pond nearby).  Taking off, and me trying to catch her or catch up to her after unlocking stroller brakes, etc.  Wearing my son helped him immensely- it calmed him, soothed him (he was a fussy monkey boy), and allowed me to be close to him AND have my hands free so that I could bring my daughter to see the ducks instead of having to chase her.  With my son in the carrier, he could nurse and I could play with my daughter, push her on the swing, etc. Having my little guy so close so much of the time meant I could enjoy the wonderful scent of baby head (still love it) and not have to stop what I was doing to hold him, rock him, love on him.  It was good for him, good for me, and good for big sister. She was babywearing her dolls within a month of my son's birth…he was babywearing around 15 months!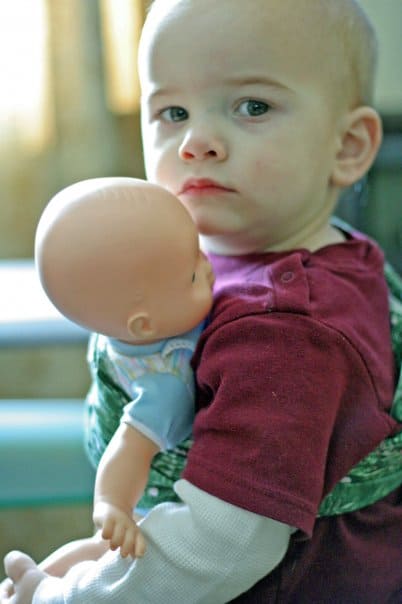 When my littlest was born, I had a just turned 4 year old and a not quite 2 year old. She was 5 1/2 weeks premature and loved to be held (actually, she's still a fan of being held and or carried, 4 years later).  Obviously babywearing meant I had my hands free so I could be with the bigger kids, but this time, the babywearing was an amazing gift, to me. You see, my mom died 13 days before my littlest was born.  My heart, as you can imagine, was shattered and I was floundering to come to terms with her death, dealing with post partum stuff, and trying to be a mom.  To say I wasn't handling things well is an understatement.  That little baby snuggled against my chest for so much of the time was thriving and growing but she was also keeping me grounded and functioning better than I would have.  Her little tiny self helped me for so long as I grieved so much.
Babywearing, I firmly believe, is part of what helped me to get through one of the most difficult times of my life.  Losing a loved one is never easy, and having a premature baby isn't either, compounded with medical issues surrounding the birth for the mom.
One of my most favorite photos of all time of my husband is this one, wearing our son on his back while we hiked around the island on Lake Winnipesaukee that I grew up spending my summers on.  I happen to find my husband to be quite handsome but a man babywearing?  That's really attractive to me!  Truth be told, I think wearing the kids was one of my husband's favorite parts of the baby stage.  Since he couldn't feed the kids when I was nursing, it was his chance to really bond and be able to spend some special close time he might not otherwise have been able to.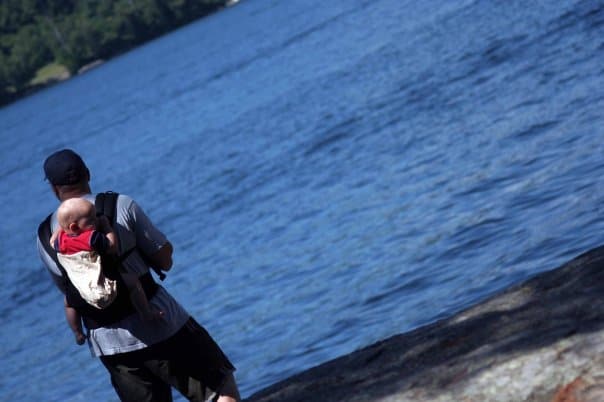 Babywearing, in my experience, was and continues to be such an amazing and wonderful gift for both us as the parents and the kids as babies. The time that our babies are that small is so short, so brief, and I feel like it's so important to allow ourselves to go "all in" and bond with the kids while they are so tiny.  It seems like it was 5 minutes ago that I was elatedly calling my friend Sarah to tell her that I had mastered the front to back carry switch while still wearing the carrier- and yet somehow, my kids are 4, 6 and 8 and we aren't even babywearing anymore. Before I had kids you probably couldn't have gotten me to consider that babywearing is good for everyone – the adult wearing the baby, and of course the baby…it offers so much benefit for the baby but really, it's just as good emotionally for the adult who's snuggling that sweet baby.  My only regret? I can't find a single photo of me babywearing any of my kids.
Today, my baby shower go to gift?  The baby carrier the mom has chosen to register for, or I get her one of my favorite carriers, the Boba Carrier 3G.  (Which was passed along to my friend Carey, who has since passed it along to another friend).
Why the Boba?  Boba understands that parents want to have the freedom to move and explore but still bond with their babies.  Robert and Elizabeth Antunovic, creators of Boba, came up with the first Boba product together, and it was designed so that they could travel with their children while bonding.  Through the years they have stayed true to their roots and have expanded their product line to include more of the same high quality, well thought out products that encourage freedom and bonding.  They have a wrap- which was my favorite method of babywearing for about the first 6-7 months, and they have carriers that will hold kids all the way up to 45 lbs.  The carriers are ergonomic in design (and you do NOT want a baby carrier that's going to hurt your back, I promise), and have many adjustible functions that allow a really custom fit to make you and your little one comfortable.  There are so many colors and patterns to choose from, as well as organic options, so you can likely find one that fits your style and preference.
The first time I used my Boba, I had my son on my back as my daughter and I had adventures with the MOMS club at a local park.  He happily slept for almost 3 hours (unheard of, because this boy never napped!) and I was confident he was safe, secure and comfortable.  Not once did MY back hurt. We had a wonderful day and he was such a happy guy because he had a really great nap!
To learn more and connect with Boba, Like them on Facebook  and follow them on Twitter.
This is a sponsored conversation written by me on behalf of Boba. The opinions and text are all mine.