Outback Steakhouse is on a mission to help couples steak out more time for one another by declaring itself the Official Sponsor of Date Night and offering a special weekend deal they can't refuse.  Naturally, we couldn't refuse, because we LOVE Outback Steak (and the Ahi Tuna appetizer) so after 3 nights scheduled and delayed, we finally got to enjoy a date night last night.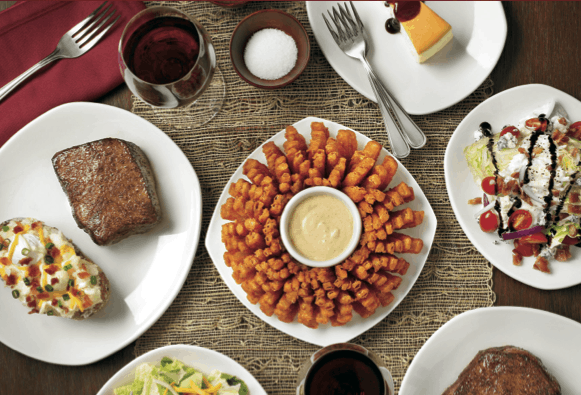 Outback's New American Romance study uncovered the hard truth behind America's date night problem – people are too busy for the one they love. More than half of those surveyed said they need at least one date night per month to keep the spark alive, but shockingly 56% can't remember their last date night!
One night a month would be dreamy but isn't really in the budget for us, but we are trying to make a big effort to put our couple selves in high priority.  It really was just SO nice to be able to head out to a restaurant with great food on a weekend to enjoy their special.  So often the specials don't include weekends, which is when we CAN do date nights.  That alone made me happy.  The Date Night pricing made me even happier. We enjoyed our amazing meals and were out the door for under $45!  (Price, product participation and restaurant hours may vary by location)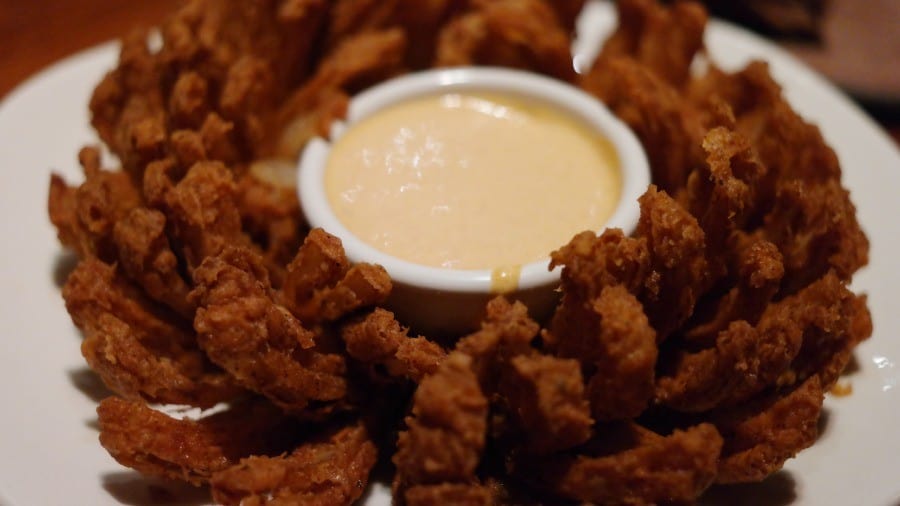 Right now, date night is steak night at Outback. The classic Date Night Meal includes:
– A Bloomin Onion® to share
– Two 8 oz. Outback Special® Sirloins (I'm a Classic Seasoning kind of girl, Mr. M prefers the Wood-Fired- opposites attract!!)
– Choice of Freshly Made Side & Signature Salad (per person)
– A Classic Cheesecake dessert to share
– Or, have your Date Night Meal with two 6oz. filets or one 8oz. sirloin and one 6 oz.
filet. Ask your server for details.
-You can even save $10 off select bottles of wine with your date night- ask your server for details!!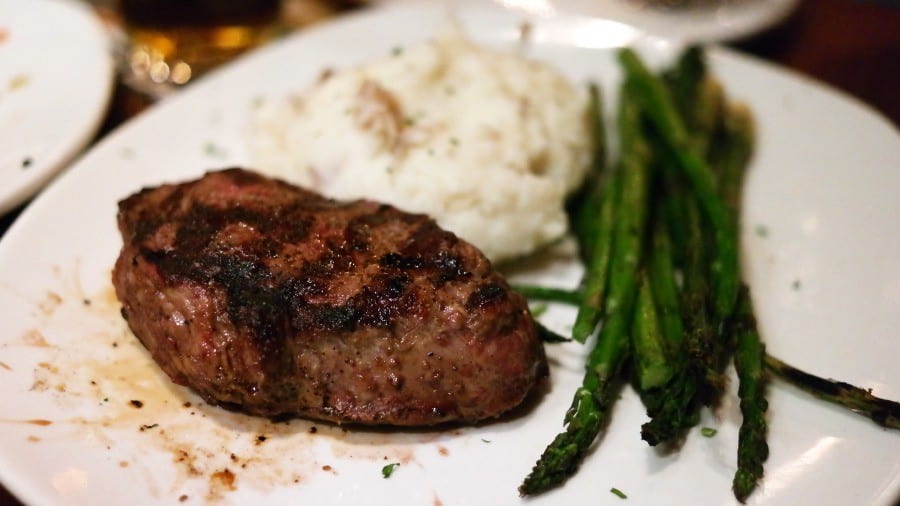 We were able to swap our salads for asparagus, which is why you see that on the plate with the mashed potatoes.  Fun, random Brett fact: We went to Outback Steakhouse the last night of my first pregnancy (my C-section was scheduled for the next morning) just so I could have their mashed potatoes. Our last night as just the two of us was actually spent enjoying Outback's mashed potatoes back in July of 2005.  Outback mashed and I go way back!
**The Date Night offer actually ends November 16 so head on over!
Are you a Classic Seasoning or Wood-Fired Grill person?  Or do you mix it up? 

This post is part of my participation in the #OutbackBestMates program.  Gift cards and compensation are received in this program. Opinions are my own.