These DIY festive cinnamon candles will be a great addition to your holiday decor (think what an easy, beautiful centerpiece these will make in a group of 3!), in a gift basket, or as a lovely hostess gift. The smell is out of this world and they look so pretty you won't want to burn them (or turn on the candles, if you have gone flameless as we have).
DIY Festive Cinnamon Candles

Supplies
2  pillar candles, white, approx. 3" tall
40 – 45 (approx.)  cinnamon sticks *see note below
glue gun
glue sticks
Christmas greenery
jute twine
Directions
Plug in the glue gun
Lay the cinnamon sticks out in front of you. When the glue gun is heated, begin by placing a small strip of glue on the cinnamon stick (not the candle, as the glue will melt it).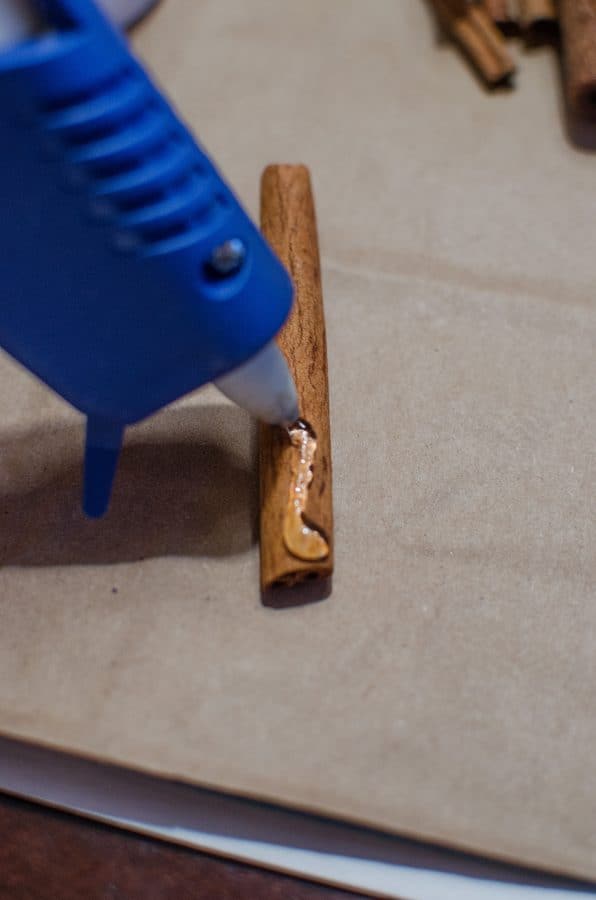 Place the stick onto the candle, being sure to place it straight up and not crooked. If the stick is placed crooked, the rest of the cinnamon sticks will be crooked as well, so the placing of the first stick is important.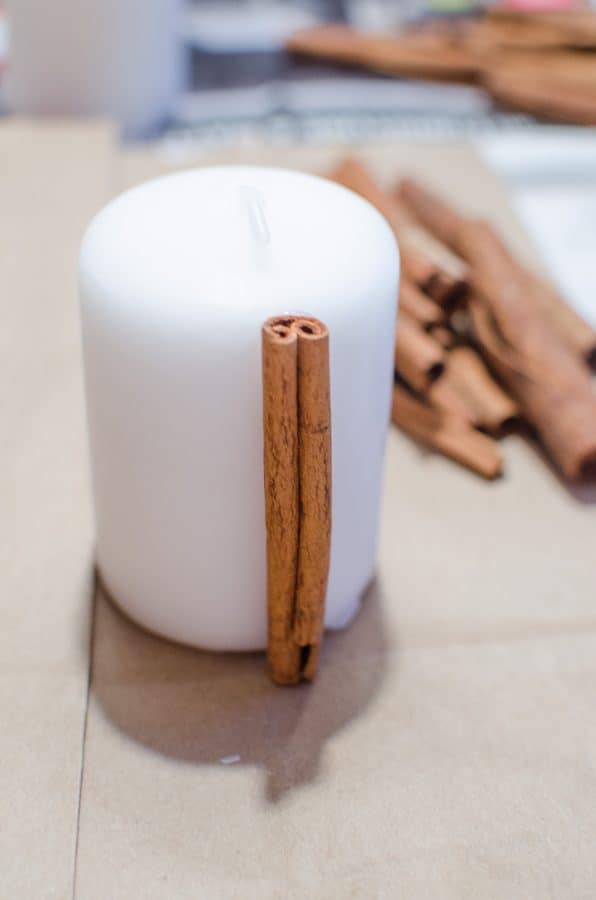 Continue gluing the sticks to the candle until you meet up with the beginning stick. Let it all cool and harden completely.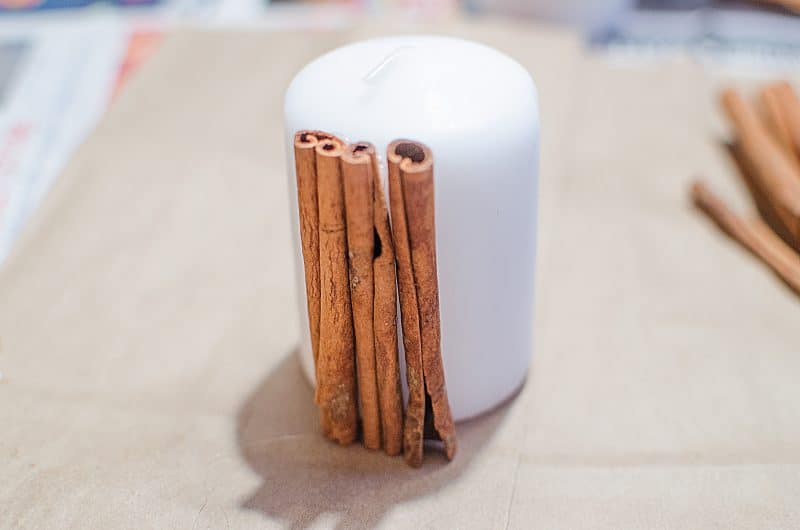 Measure out 2 long pieces of just twine, approximately 2 feet long.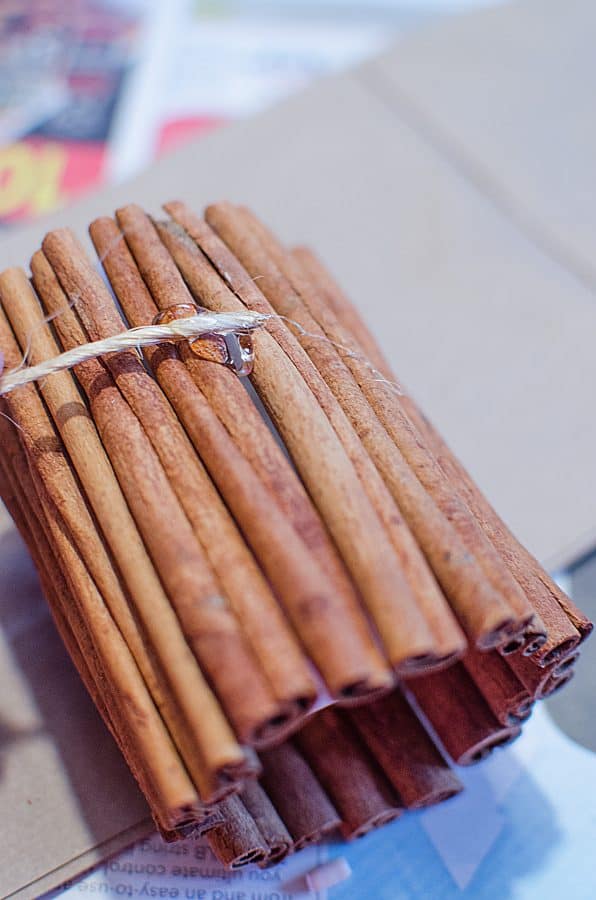 Taking one piece, begin by gluing the end to the middle of what you consider will be the back of the candle. Let it dry and then wrap the rest of the twine around the middle of the candle. You want a number of wraps of the twine around the middle of the candle when you are done.
Tuck the last of the twine under the rest of the twine to hide it. You can also place a bead of glue on the twine to hold it secure. Let harden completely.
Facing what you consider to be the front of the candle, begin by hot gluing the greenery you've chosen to the front, on the twine. If you are doing one piece, glue it securely. If you are gluing multiple pieces, do so in layers, being sure each addition dries securely to the last before continuing.
Let everything harden and cool down before enjoying!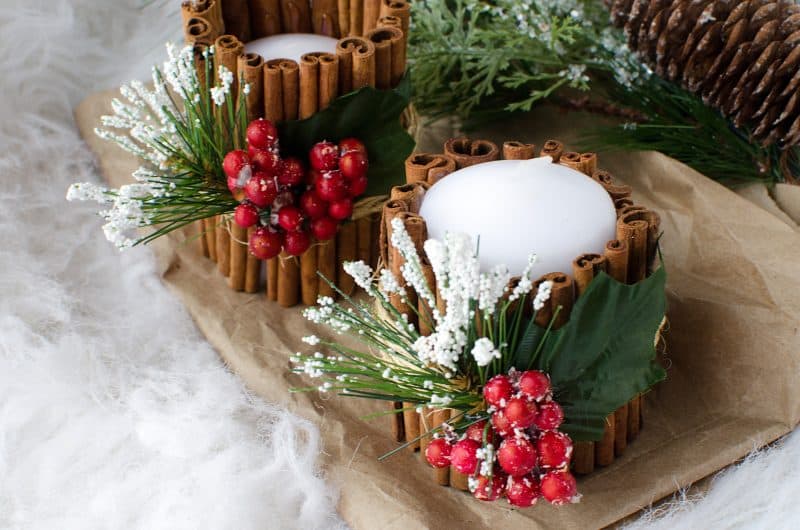 ** cinnamon sticks come in different lengths. I've done both candles in different lengths to demonstrate how both long and short ones look around the candle. What you use is your preference, but be sure to use all the same length for each candle. Do not use some long lengths, and then some short lengths all on the same candle.
When you light these candles, please do so responsibly. DO NOT leave them unattended and be sure that any greenery you've chosen to decorate with is clearly out of the flames way when burning. You can also use an LED candle which will eliminate the risk of fire!