What are you cooking for dinner tonight? That's always the big question around here. I usually try to plan all of my meals ahead of time so that I can get all my shopping done in one trip per week. However, things happen and that 's not always possible. I have to admit that there have been nights when my family has eaten scrambled eggs and cereal for dinner. When I went on bedrest recently, I found that cooking and preparing meals was going to be quite a chore. That's where Dream Dinners comes in.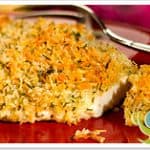 Have you heard of Dream Dinners? They are a service that provide you with the opportunity to prepare a meal at their store, with all the prep work already done. All you have to do is assemble your meal in their store, package it the in the bags provided, take it home and freeze it. Voila! Dinner is planned. They recommend that you take 2 or 3 meals out of your freezer at the beginning of the week and place them in your refrigerator to thaw. Some of the meals can take several days to thaw. The cooking instructions are provided and are simple to follow. I had the opportunity to try out the Dream Dinners experience at my local franchise. I wasn't quite sure what to expect. I had never tried a service like this before. The process was really quite easy. First, you find your local store here, pick a date and time, view the meal options and choose what you would like to make. Most of their items come in either 3 person or 6 person servings. You don't need to bring anything with you to your appointment. However, some people did bring an ice chest to transport their perishable items home. Everything is planned and ready for you!
What happens once you arrive at the store? I was greeted by the store owners, who were extremely friendly. They had a drawer already labeled with my name to put my personal items, such as a purse and coat. In addition, they had a shelf in the freezer also labeled with my name to place my prepared items. They gave me a tour of the store and explained how the sessions work. There was a hand washing station where an apron and gloves were provided. There were approximately 6 work stations, in which you could prepare the different meals you chose. Before changing stations, you wash your hands and change gloves. Everything was extremely clean and sanitary. Each station has a list of ingredients and how to assemble it. For measured ingredients, such as garlic, the measuring spoon is already in the item and ready to scoop. It didn't take me more than 15 minutes to fully assemble 2 three person meals. At the end, you move to items to a workstation to pack everything up. This allows the employees to clean up the work station after every person. I found that all supplies were fully stocked, I never had to wait for another customer to finish at a station before I began and the employees were diligent about cleaning up after each person. It was extremely efficient, easy and fast. My overall impressions: I found that the meals were extremely easy to assemble and to prepare at home. They tasted great and didn't take much time to cook. The Dream Dinners store was clean and efficient, and the employees helpful and friendly. Here are the 2 meals I tried (believe me I had a hard time deciding between all of their delicious options): GORGONZOLA CHEESE BURGERS WITH SWEET POTATO FRIES "These full 1/3 lb. burgers are sure to win you the "grill-master" award amongst family and friends! Lean ground beef is flavored with onion, garlic, seasonings, Worcestershire and a touch of marinara, then topped with Gorgonzola cheese (a mild Italian blue cheese) and served on toasted hamburger buns. Now paired with sweet potato fries!" PARMESAN CRUSTED CHICKEN WITH GRECIAN ROSEMARY VEGETABLES "Parmesan cheese, bread crumbs and a hint of herbs encrust our all natural chicken breasts. Marinated for flavor, then baked until crisp on the outside and tender and juicy on the inside. Paired with our Chef Touched vegetable blend." Both meals tasted delicious! My family, including my very picky 2 year old, loved the food. I found that the meals were a healthful alternative to fast food or a prepackaged freezer meal from the grocery store. I will definitely be taking advantage of my local Dream Dinners during these next few months of bed rest and during those first few weeks after bringing the baby home. If you are looking for easy meal solutions, or a great gift for a new mom I highly recommend trying Dream Dinners. They offer gift cards for an easy gifting option.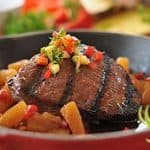 Follow Dream Dinners on Facebook for the lastest products and specials![ad#glam between posts]
0