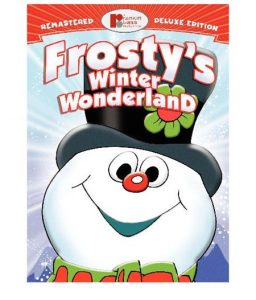 We are a Frosty the Snowman obsessed house.  My kids walk around singing Frosty all day, every day, and I was happy to have the chance to add some Frosty fun into our collection.  In Frosty's Winter Wonderland, we pick up the story of Frosty and watch as he finds the love of his life- and experience the magic of Frosty plus one!!  I love that this keeps so true to the original holiday classic, and doesn't modernize or update much.  Frosty needs no modernization nor updating.  He's wonderful as he is.  This is, in my opinion, one of the "must have" DVDs to add to your holiday viewing collection.
From beloved song to animated holiday classic: Frosty meets his match in a glistening Remastered Deluxe Edition! Andy Griffith, Shelley Winters and Jackie Vernon lend their voices to this captivating cartoon about the Snowman's winter return to the children of a small town for a winter season of fun and games. But he's lonely at night when left by himself. So the grateful kids build him a beautiful snowlady companion. Jealous of the attention given Frosty, Jack Frost blows up a blizzard and swipes Frosty's magical, life-giving hat. Only true love can bring Frosty back to his old fun-loving self. Two songs that have proven to be enduring seasonal favorites highlight the soundtrack: Frosty the Snowman and Winter Wonderland.

Check out Frosty's website for fun activities and games!
I received a sample of this product to facilitate my review. Opinions are my own.
0