How Distance Learning is Affecting Families
This post about how distance learning is affecting families is brought to you in partnership with Pearson and Connections Academy®. Opinions and experiences are my own.

There's a lot to be said about distance learning right now, in our homes, in the news, on social media. A phrase that was not even part of many of our vocabularies mere months ago is almost a constant in our lives now, along with other terms. With states officially closing schools through the end of this academic year, distance learning is here to stay, at least through the end of June.
Pearson conducted a study in partnership with Dynata to provide parents, teachers, and school systems across the US and UK with better insight into how online learning during the pandemic has shaped out thus far and where it's predicted to go next. 1,049 parents of K-12 students in the US participated in the poll, which was in the field from the evening of Friday, April 17, through Monday April 20, 2020. To ensure consistency with the data, the survey sample was designed and deployed to be consistent with the first wave of the survey launched February 23, 2020, through February 27, 2020, in partnership with Harris.
Distance Learning Begins in Response to the Pandemic
Distance learning wasn't a planned, deliberate thing, it began as a response to the pandemic for most school districts across the country (and beyond). Teachers are doing the very best they can alongside school administrators to provide teaching online.

Parents are coming to grips with online learning being a part of education for the foreseeable future and are concerned about future disruption with their children's learning. According to Pearson & Connections Academy's Parent Pulse Report, as many as 81% of parents think teachers need more training to effectively teach online. This isn't to say that parents don't think teachers are doing a great job- more to say that we are all too aware that this pandemic is an anomaly, and no one was fully prepared for what has become the current normal way of living.
That's why I'm here to talk about Connections Academy today and how it differs from the online learning we are experiencing today. While many families are holding out hoping we will return in the fall, some are considering longer term options. In fact, 77% of Americans are concerned that COVID-19 will affect or delay the start of school in the fall. That's up from 60% at the beginning of the pandemic in March! As a result, 88% of parents believe online learning will become a long-lasting requirement for their child.
The difference with Connections Academy is ​these online school were built from the ground up for the online environment and their teachers are specially trained in online instruction to motivate and engage students and are certified in their grade levels and subject areas. Often, teachers get to know the entire family since the personalized experience and close bonds enable teachers to make lifelong connections with their students. Connections Academy is also an accredited institution, backed by Cognia (formerly AdvancED.) Thinking about the future of learning and considering the option of online learning, it's reassuring to know these teachers are specifically trained to teach in this online atmosphere.

Every Family is Affected in a Different Way
With three children home doing distance learning, my family has learned a great deal about online learning, but we've also realized we have a lot to learn. We've also come to realize that distance learning affects our whole family, and each of our children greatly. Where before we helped with homework as needed, we're now doing a whole lot more of trying to help explain concepts and ideas on stuff we haven't learned or practiced in decades. We've learned I'm pretty useless at helping with Math, but for languages, tech stuff, and English/Language Arts, I can do a decent job of helping. Science and Math are for daddy to help- but he's working from home for his job and is really not available for help during traditional business hours. So, it's hard. There's frustration from me for not being able to help with math or science and from the kids needing to wait if their teachers aren't online right then.
I can't imagine what distance learning means for teachers who are currently teaching from home and also parenting kids who are distance learning at the same time. Or for families who don't have one parent who's a blogger and can work around schooling, or one parent already stays home full time… or for single parent families…I feel like our impact from distance learning is far less significant than it is for most other families and we try to be aware and grateful for that. Adding in kids who have any sort of physical, academic or emotional challenges with school just layers the complexity of the impact of distance learning on families.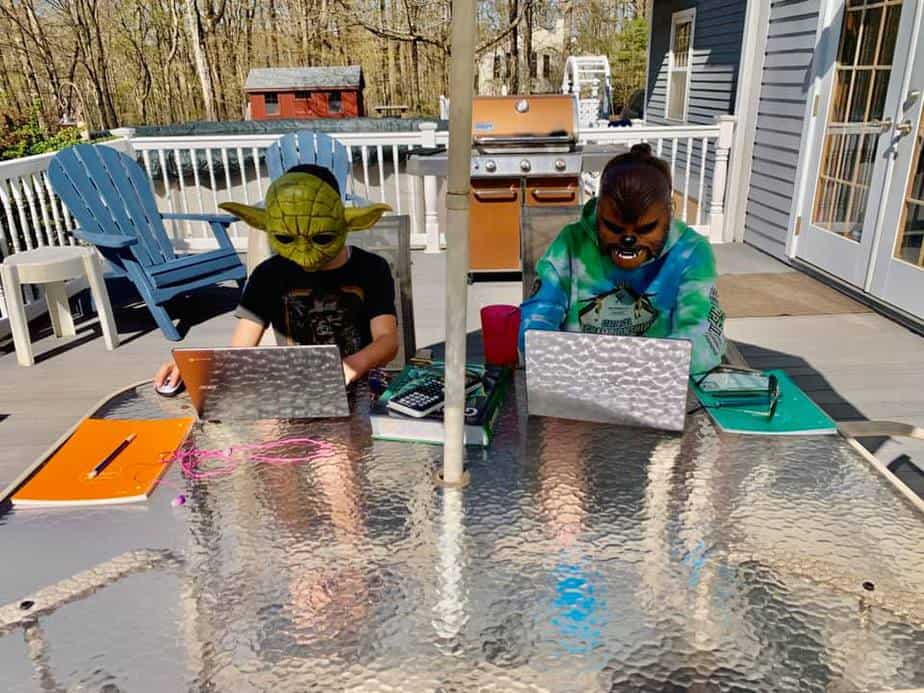 When you enroll in Connections Academy, the parent takes the role of what they call a Learning Coach. The Learning Coach typically helps with organization and structuring the learning day to ensure the student stays on track. In this role, the Learning Coach may provide assistance and refer their student to the teacher for additional help, but they are not responsible for teaching at all.
Connections Academy also creates individualized learning plans for each student as part of their Personalized Performance Learning approach. Several Connections Academy teachers and staff will work with your family to set goals and develop a focused, individualized learning plan that's customized to your child. This creates a full-fledged curriculum for them to follow and eliminates the worry of whether or not your child is getting the most out of their learning experience (especially in these current times.)
Students (and parents) may be managing online learning better than we think!
According to the Parent Pulse Report, 80% of parents say their child is managing the transition better than they are. I can tell you that this seems to be pretty consistent with the parents that I know and speak with on a regular basis. That's not to say it's a walk in the park or ideal for the kids, but kids today have grown up with the internet and using technology in school and while learning from home may be new, using technology for schoolwork isn't.

This is making some families like my own realize that while distance learning may not be ideal, online learning has been a great fit for some kids and families. Looking into a more structured and deliberate online school concept may be a very likely outcome for those of us who are finding that their children are thriving while learning at home.
Distance Learning Leads to Full Time Online Learning?

So, what's next? What's next for kids who are thriving as they navigate this distance learning thing, and find they are doing well and want to continue this model of schooling? We're not going back to traditional schooling this academic year, but no one is quite sure what Fall 2020 will bring, or Winter 2020-2021. I know that for many families, my own included, that this model of schooling may be a great option for one or more of their children, and we will want to start looking into online schooling options for our kids to continue.

If you're considering longer term education options for the fall, Connections Academy offers K-12 online schooling options, supported by Pearson. The school provides the scheduling and support, so parents can return to their more typical role in being a support to their kids' schooling. They are also tuition-free online public schools and are available in many states. To learn more, check out Connections Academy HERE.
How is distance learning affecting your family? Have you considered an online schooling option as a result of this pandemic situation?