We're working to make our basement more welcoming, so that it's more of a hangout space. We started with some new bluetooth speakers last week, and before that? We finally hung the TV on the wall- but I was not happy with how it looked with the wires hanging down. The reviewer has been compensated in the form of a Best Buy Gift Card and/or received the product/service at a reduced price or for free to create this post about how to hide wires when you mount a TV.
How to Hide Wires When You Mount a TV
Option A
Hire someone.
The plus, you don't have to do it. The drawback? You have to pay for it.
Option B
Do it yourself.
The plus? Way less money than hiring someone, and you get the satisfaction of doing it yourself. Hide the ugly tv wires! The drawback? Well, you may have some frustration moments…but really, if you are a DIY person, you already know to expect those moments.
Hide the TV Cables
Regardless of which option you choose, it's worth the investment to figure out how to hide wires when you hang your tv on the wall. Maybe it's because I have pets, and children, but not only are the wires less than awesome to look at, but they also seem to attract things like cat paws, toys, curious fingers and hands, and other things. I like that with the wires hidden and tucked away, that they are out of sight and also out of reach of hands, paws, toys, etc!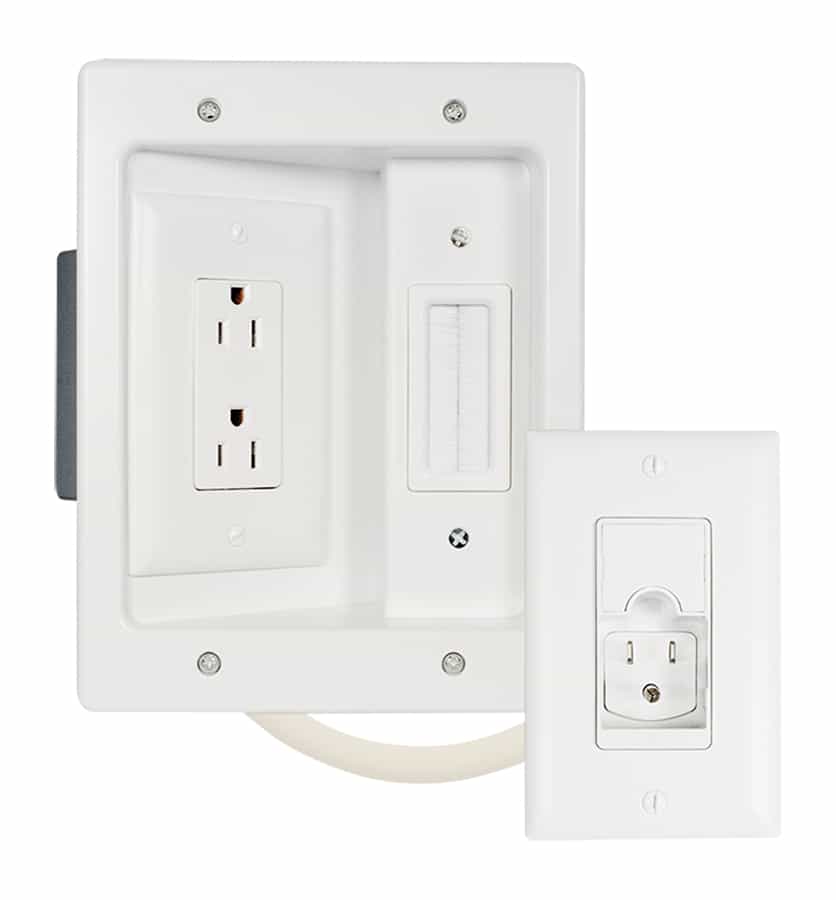 We found a product that lets you hide the ugly TV cables! The Legrand flat panel recessed connection kit offers convenient access to the back of your tv and has a nice white decorator plate to look at when you are accessing the back of your tv.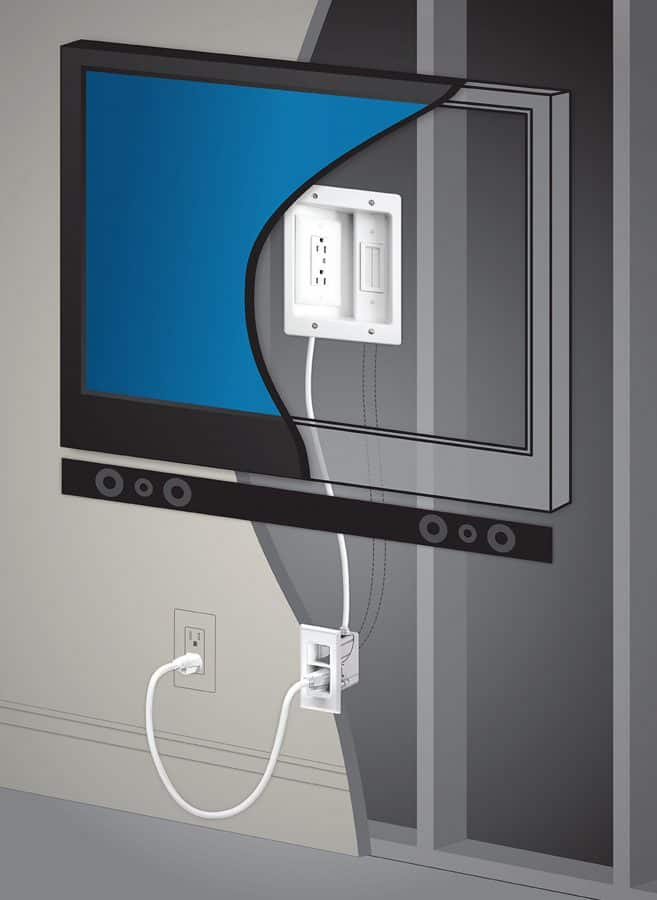 I have to make a full disclosure that I didn't actually do any of the install. My husband did it. All of it. I helped in more of a supervisory role, and took photos. I wasn't sure how he'd feel about having in-wall storage but we're both really pleased with the result. It looks so much better than the wires just dangling down!
First: My husband laid this out so you can see what the plug looks like. This is one of the first things he looks for when he takes things out of packaging.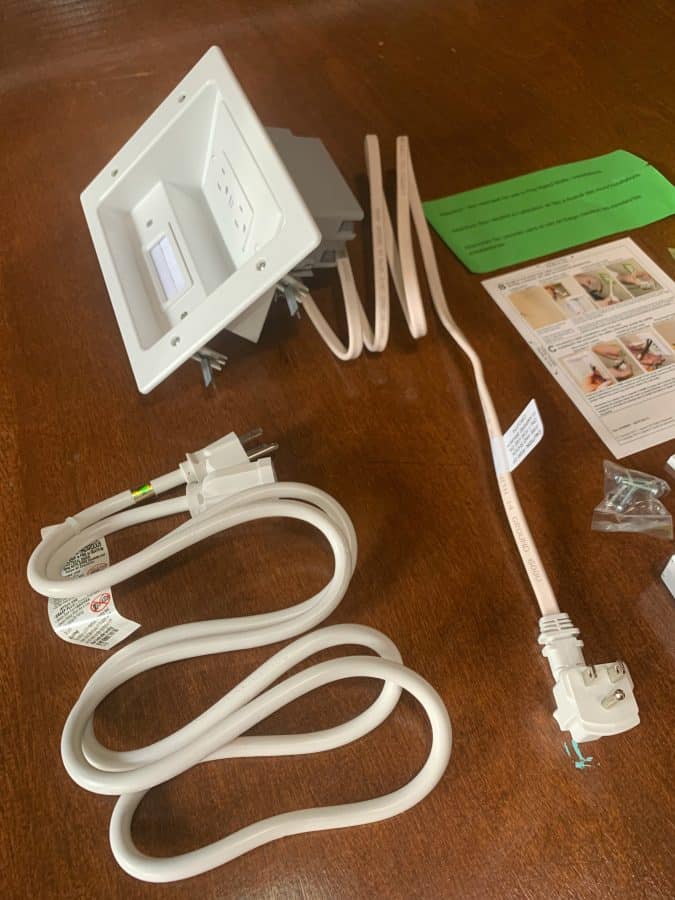 Next, follow the instructions in the packaging. They are really straightforward and easy to follow.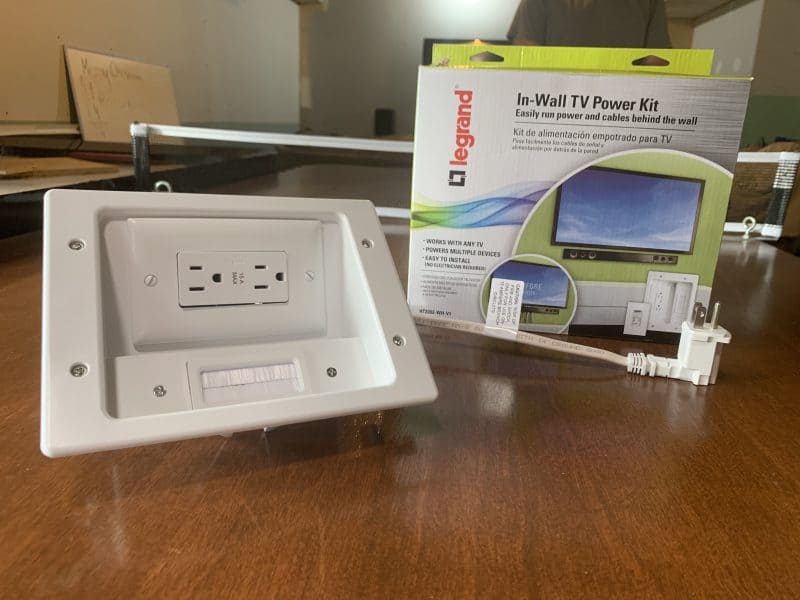 Easy routing of TV power and HDMI cable in-wall, with no electrical wiring required. NO ELECTRICAL WIRING REQUIRED is one of my favorite phrases. Feelings are often shared in our house when there are electrical wiring and/or plumbing projects happening in this house. The DIY life… it's not always glamorous!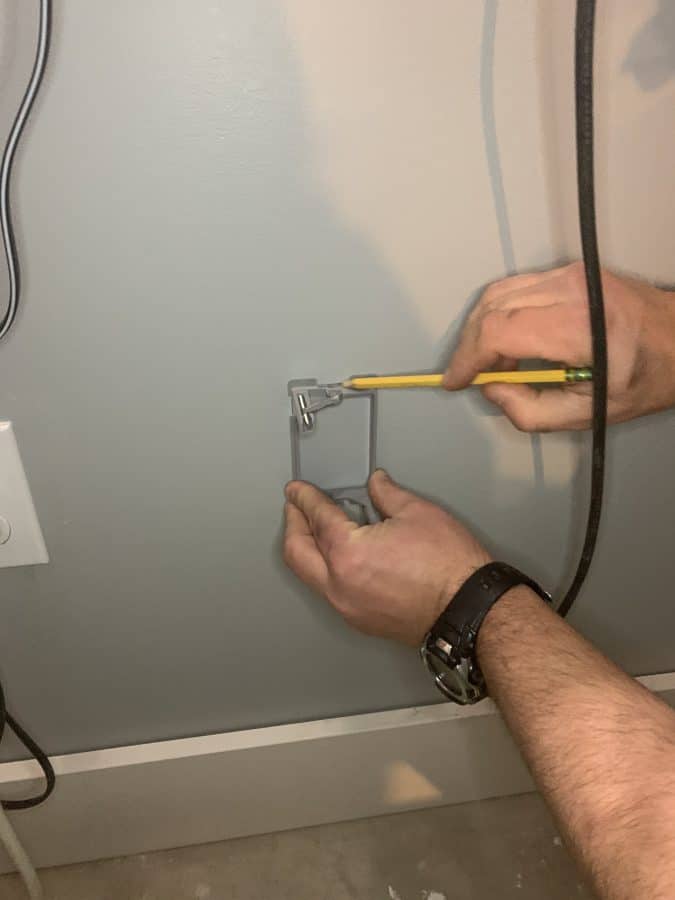 But…when you're done installing your flat panel in wall connection, you'll be SO glad you did so and it will be worth it.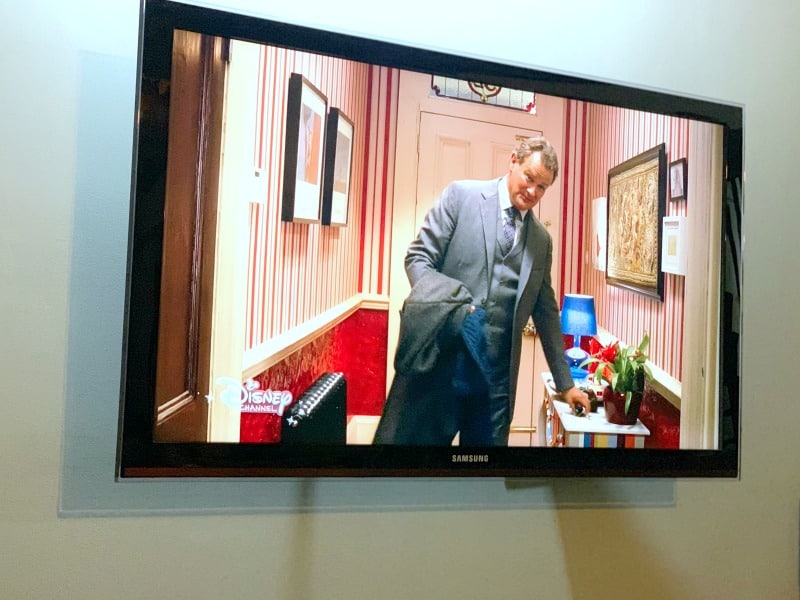 Look ma! No wires!
Bonus points if you know what movie we were watching…
About Legrand in wall TV Power Kit
Compatible with any TV brand
Ensures flexible use.
Easily expandable
Extends power to a wall mount TV without modifying the home's existing electrical wiring.
Duplex receptacle
Powers multiple devices such as a TV, speaker bar or internet media box.
Recessed receptacle
Supports almost any type of power plug including right angles and wall warts.
Unique decorator based power inlet strap
Provides flexible project support for ganging other connections.
Hides both power and AV cables
For a clean, professional installation.
Have you mounted a tv at your house? Have you tried to hide the wires from your tv?