As a mom of three kids with phones, who have a blogger as a parent, we have a LOT of images and videos with a limited budget for buying cloud storage. Having an option that backs things up means no more tears of frustration over lost images and videos – for the kids and for us parents.
With the pandemic, so many of us are out enjoying nature and taking more images, and sharing more photos and videos with loved ones and friends. Having a way to backup these captures without using up all of our phone storage means extra security that you, the kids, the grandparents, or anyone doesn't lose that hilarious selfie or beautiful landscape!
This post was sponsored by SanDisk as part of an Influencer Activation for Influence Central and all opinions expressed in my post are my own.
Ixpand Wireless Charger with Automatic Backup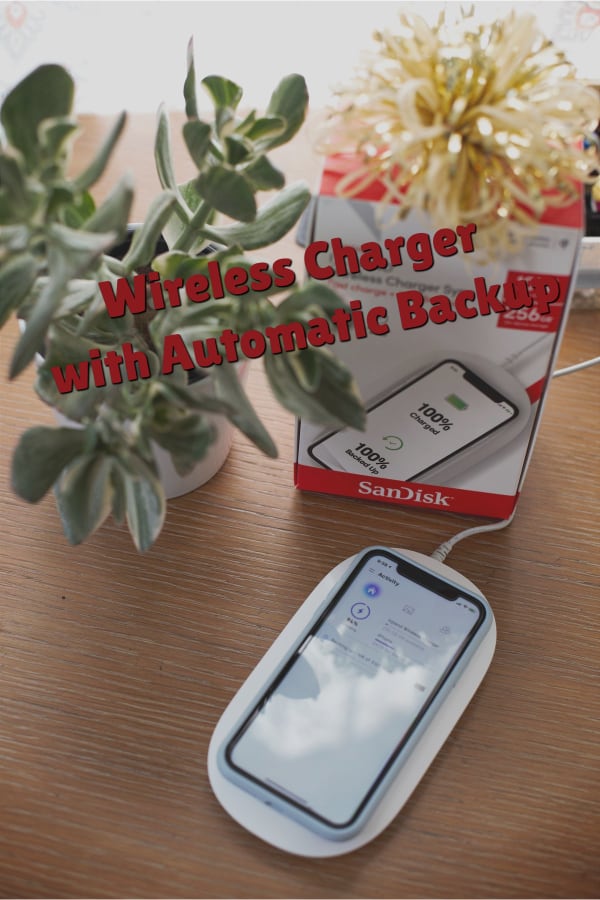 Ixpand Wireless Charger Sync from SanDisk with Automatic Backup
It's not just personal media that may need backing up, especially with the coronavirus- for example, I know many churches are also doing virtual services and as such, are needing members/musicians, ministers to record video snippets of different components of a worship service and then compile videos. Having a backup of media is always a good idea.
With so much of our lives captured digitally, we don't want to risk losing the memories!
This is not something I say but also something I have learned the hard way- my daughter was a state champion in gymnastics and went to regionals and all of the videos and photos from those meets are gone. One of my children was trying to be silly and make my phone background something funny, which permanently locked me out of the phone guessing the wrong codes…so we had to do a factory reset.
All of those memories gone because really, finding all the stuff stored in the cloud and sorting it is a pain and clearly I never do it unless its on my phone…. and sadly I have no captures from those last few meets of hers. HAPPILY, and just in time for holiday shopping. I just discovered a way to charge a device AND backup images/videos automatically in a two for one device!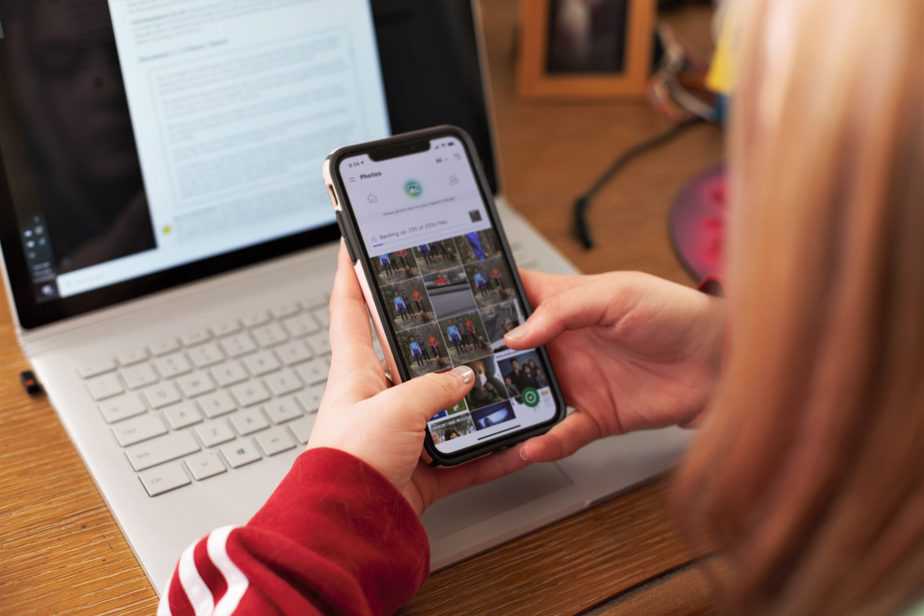 My 15 year old just said to me as we were opening the packaging for the Ixpand Wireless Charger Sync from SanDisk that her phone won't even back up at all anymore because she's out of storage. I can't tell you the last time my phone actually completed a backup. It makes me kind of crabby. I've been thinking about other ways to preserve what's on my phone, because we've had a lot of family time this year and we've taken a lot of photos of our hikes and adventures as a family, and I don't want to lose them!
Get your holiday shopping list out, because this is a SUPER gift idea for tweens to seniors and everyone in between.
There are 5 of us in our house with cell phones and it's a whole lot of devices that need backups AND to be charged at night, I'm always looking for ways to streamline and declutter devices charging! I was intrigued when I heard of a wireless charging device that's actually designed to both charge and backup a phone at the same time- and I kind of think its a perfect gift idea. It's a charger that quickly charges all kinds of things, from AirPods Pro to Samsung Galaxy S7 (and newer) to iPhone 8 (and newer) to really any Qi-compatible phones. BUT…and this is the coolest part, while it's charging your device, it's also doing an automatic local backup. That means when your kids are sneaking onto your phone to take 45 selfies but enter the wrong password and lock you out, you won't lose your daughter's photo and video footage from her big gymnastics competitions, or the videos of the Christmas Pageant, pictures of the pets, friends, family, etc.
Here's the Important Stuff to Know about this Wireless Charger with Backup:
It's Automatic
You'll be happy to know that the Ixpand automatically backs up your full-resolution photos, videos, and contacts just by placing your phone on the base of the product. You know how we all were like oh hey, there's an app for everything? There is.
That's where your backup goes when you put your phone on the Ixpand. Now you can wake up to fully charged and (locally) backed up phone. Also, setting up the app with your charger isn't a long or stressful process. It's a pretty quick and painless process, and you'll be so glad you're not going to need to worry about losing the media from your phone anymore!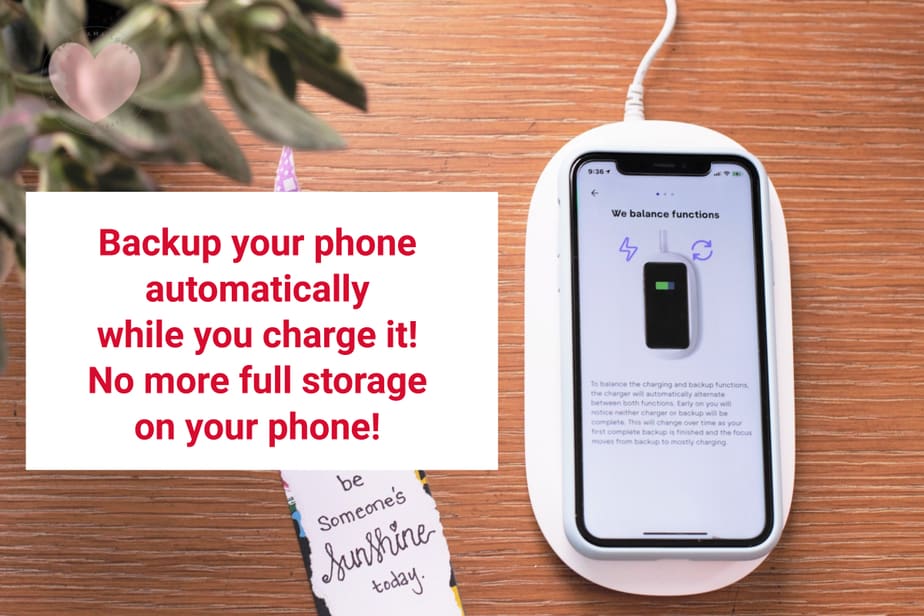 Share the Charger, Not the Storage
You can create personal backup profiles for each user so you can share the charger with your whole family, but each of you gets your own, freeing up precious space on your phones so you can take more photos and videos to fill it back up again! Plus, you can easily reverse the process and add things back onto your phone from the app. Grab the SanDisk Ixpand App: Apple & Google now.
So what exactly will charge and back up?
Ixpand supports fast wireless charging for a wide variety of devices including (but not limited to) AirPods Pro, iPhone 8 and up, Samsung Galaxy S7 and up, Samsung Galaxy Note 5 and up and other Qi-compatible phones- even through most cases.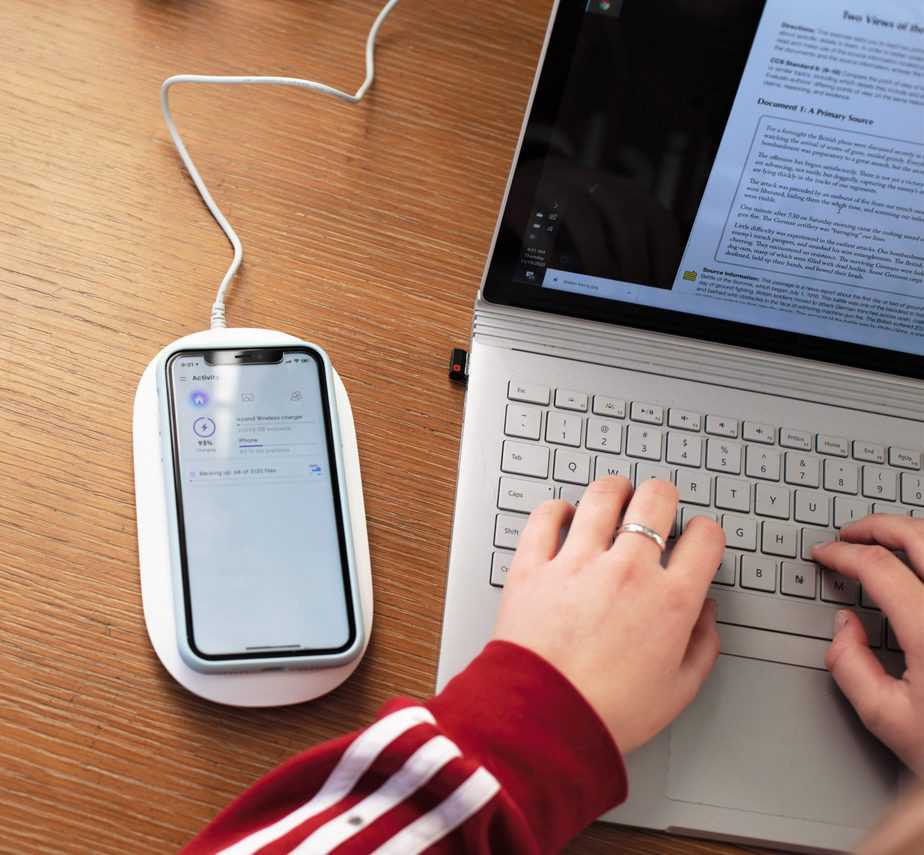 The charging cord is included in the box.
This device comes with a generously sized 6-foot cable so you're not tethered to charge right by a wall. I had a wireless charger for a while and it drove me crazy because I couldn't find a way to use it at my desk – the cord didn't reach from the wall to the top of my desk…I love long charging cords. An automatic wireless backup means no more running out of memory! I've long lost count of how many hacks I've tried over the years to try to trick my phone into thinking it had more memory.

Maybe you want a fast charger but don't need backups.
Are you set for memory on your phone? I'm sure there's like 4 people out there who don't struggle with this issue. I am not one of them. That said, if you don't need the back-up you can also look at the SanDisk Ixpand Wireless Charger 15W– it's the same fast charging speed without the backup.
The Ixpand chargers with or without the sync features are great gift ideas. They also don't take up a ton of space in a box or on the counter or under the tree, because most of us have cleaned eleven times over since March of this year and don't necessarily want to refill that reclaimed space with lots of big boxes and stuff. These are practical, efficient and useful gifts that will be used all the time and appreciated for a very long while.
Have you also run out of memory on your phone? Let us know in the comments what you think about a 2 in 1 device like this wireless charger with automatic backup!