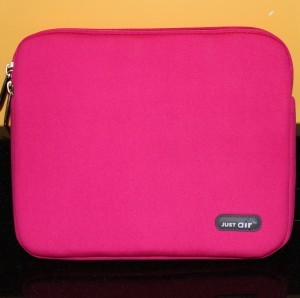 I recieved the hot pink Just Air case for my iPad.  It is a perfect fit, it is compact and it provides great protection for my iPad.  I have taken it on road trips and the iPad has been completely safe and I look good carrying it around>
The Just Air™ Shock Proof Cases completely encases your laptop or tablet, including all corners and ridges, in a protective layer of air filled cells. This patented technology distributes the force of impact and keeps your computer safe, fitting the iPad and iPad2 among many other tablet models.
FEATURES & BENEFITS:
Air Cushion™ Protection System – The Just Air™ Shock Proof Cases are designed to protect your tablet with the use of Air Cushion Technology:
Layers Of Protection – The Just Air™ Shock Proof Case's outer layer is made with shock-absorbing polyurethane memory foam. The inner layer is designed to be water resistant, non-scratching and is built with a dust free lining.
Engineered To Protect – Our specially designed sleeves are engineered with individual, air filled chambers. These chambers support and protect any laptop from the daily bump and grind.
Shock Proof Padding with Strong Exterior Fabric

Anti-Shock Durable Inner Layer

Extra Cushioning Along Edges

Interior Fully Lined with Smooth Nylon Pack Cloth

Made to Fit Many Brands, including Apple, Sony, HP, Dell and more

Available in Four Sizes: iPad case, 10.5", 13.5" and 15.5"

Available in Three Colors: Pink, Gray and Black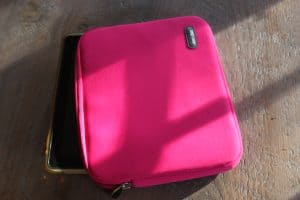 RETAIL INFORMATION:
Available at Staples, Best Buy and online at www.justaircases.com. The cases retail for $29.99 (iPad size and 10.5"), $34.99 (13.5") and $39.99 (15.5").
With the Air Case came a Ribbz iPhone case that immediately went on my husbands beloved iPhone.  He loved the feel of it and how well it protected his phone.    He received a white case and in the future I would get him a darker color, probably the black. There are 7 colors is all.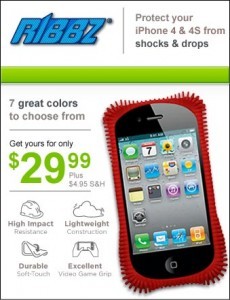 RIBBZ® Protective Cases effectively guard your iPhone 4 from damages associated with shocks and drops. The innovative design securely hugs the device and in the event of an impact, it safely distributes the force so it isn't transferred to the outer glass plates or the sensitive hardware inside. It's quick and easy to install, requires no tools, and looks great in any of the seven vibrant colors available. Bright colors help easily locate the device.
FEATURES & BENEFITS:
Shock Proof
High Impact Resistance
Lightweight Construction
Durable Soft-Touch

Excellent Video Game Grip

Made to Fit the iPhone 4

Available in Seven Colors: Black, Red, Green, White, Pink, Purple and Yellow
RETAIL INFORMATION:
Available at Staples, Best Buy and online at www.ribbzcase.com. RIBBZ Protective Cases retail for $29.99.
I received the Just Air iPad case and Ribbz iPhone case  to facilitate my review. Opinions are my own.