Have your kids discovered K'NEX yet?  I typically reach for the Lego sets myself, but we recently discovered K'nex and absolutely love them.  There is a great variety in their product line, with sets appropriate from ages 2 and up.  I love the Sesame Street and Kids K'nex sets.  They have a fun, childlike quality that are totally age appropriate.  They also have much more complicated sets for the older crowed, 9 and up.
We had the opportunity to try out the new Mario Kart Wii sets.  They have Mario, Luigi and Yoshi sets for ages 6+.  We tried out the Luigi and Standard Bike Building Set and the  Mario and Standard Kart Building Set.  Let me start with the packaging.  They are designed to be used as ramps after you have assembled your piece.  There is a "track" that can be printed online and affixed to the box, then used as a ramp.  I think it's great when the packaging can be turned into something useful, instead of just getti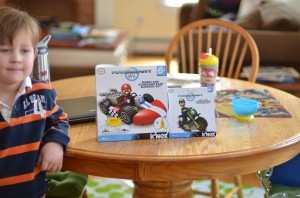 ng thrown in the garbage.  I was a little surprised at the size of the pieces when I opened the package.  I am used to building pieces that are a little bit larger, but then again, my children are quite small and this set was intended for the 6 and up crowd.  Regardless, my 5 year old was able to assemble the piece with minimal instruction from me and he really enjoyed the process.  It was a fabulous fine motor activity and really made him think spatially.  What a great project for a rainy day.
The Luigi set came with an adorable Luigi figure and all the components to build his bike, just like in the game.  The Mario set came with a Mario figure, banana peel and pieces to assemble the pull back motor kart.  In June even more products and online activities will be available for this line.  Overall, I give this toy 4 stars.  I think the age recommendation is right one, the toy is assembled easily and is a easy to play with.  The Mario version even has a motor with pull  back action that works great.  This would make a great birthday gift as well.  Check them out here for more information.
I received a sample of this product to facilitate my review.  Opinions expressed within are my own.
0