Both of the older kids are in middle school now and they both have 7 teachers (luckily a few of them are the same) plus a really great, no make that incredible secretary and principal that I think it's important to let know we appreciate at the holidays.  They also have friends they want to do a little something for.  It's a lot different than when they each had 1 teacher and shared a principal and secretary and the cost of giving a gift that is special can really add up quickly with that many to think of.  Let's face it, how many cool coffee mugs or Christmas plates can a teacher use?  This year I decided to go simple and inexpensive for both my Ella's friends (boys aren't as into giving to their friends at this age) and for the teachers.  It was quick and easy to put together and the teachers loved it as much as anything we've done in the past.  Plus, it's "punny"!  Ella's girls loved their gifts too.  These Last Minute Christmas Gift Printables for Teachers and Friends won't break the bank and they will be loved!
Last Minute Christmas Gift Printables for Teachers and Friends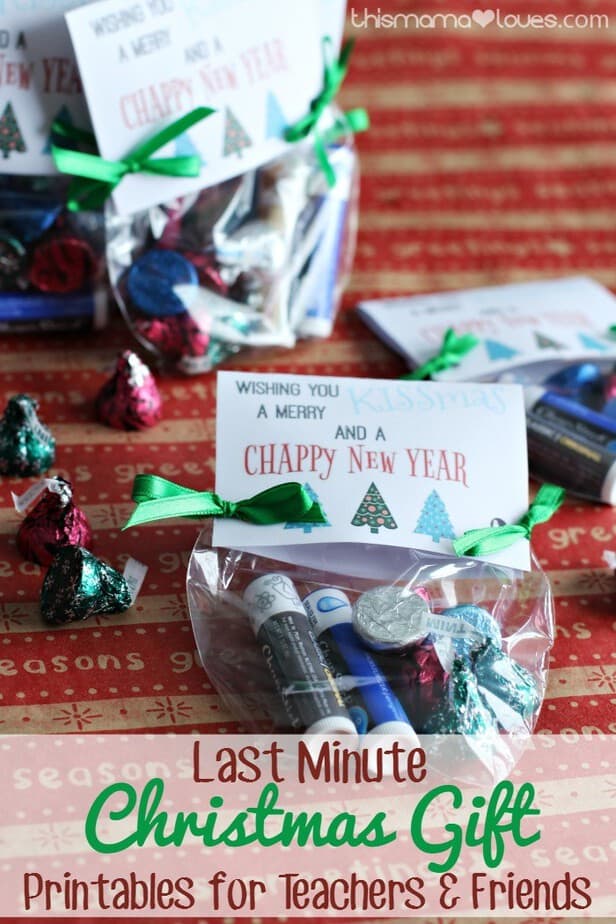 Supplies:
Card Stock – I used white with colored ink
Ribbon
Scissors
Free Printables – just click on each image below to print as many as you need
Hole Punch
For the Merry Kissmas and Chappy New Year
Chap Sticks – we did 2 per baggy
Chocolate Kisses
Plastic Treat Bags
For the Soda-Lighted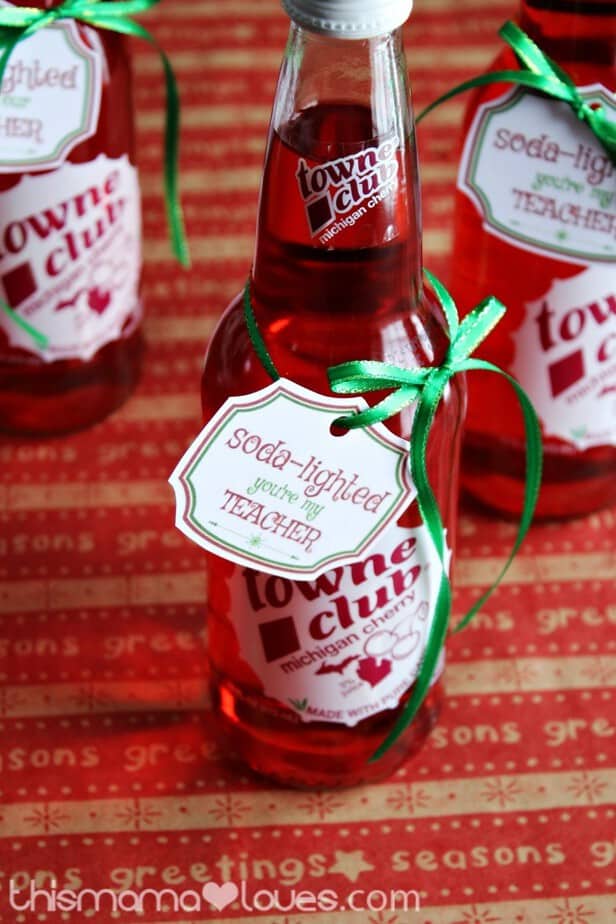 Instructions:
Print out each of the tag sheets that you'll be using.  Card stock works better than plain printer paper.
I've included a principal and a secretary tag along with the "my teacher" tags because these people are really important to our kids too!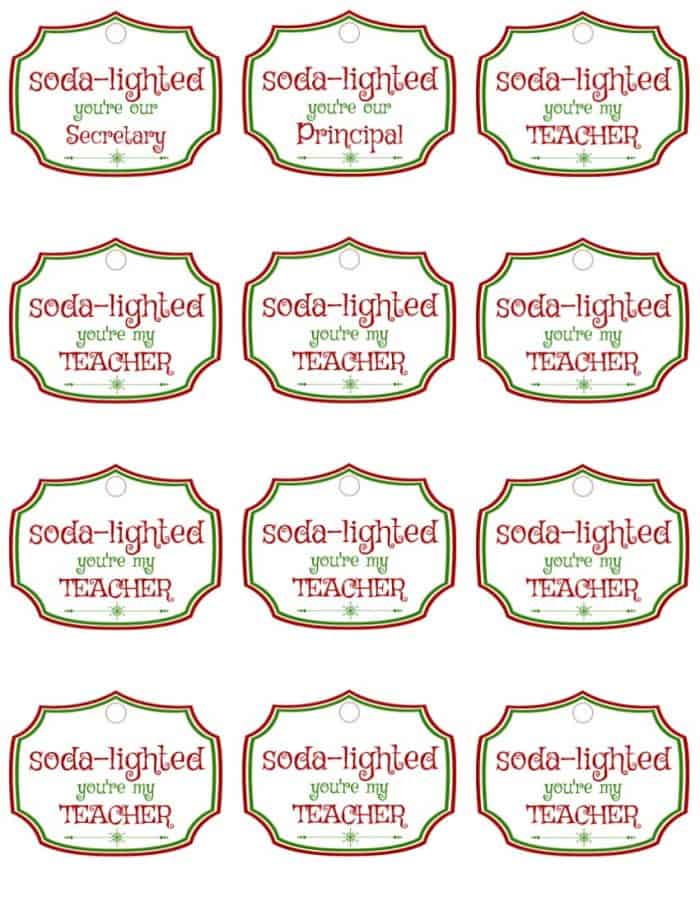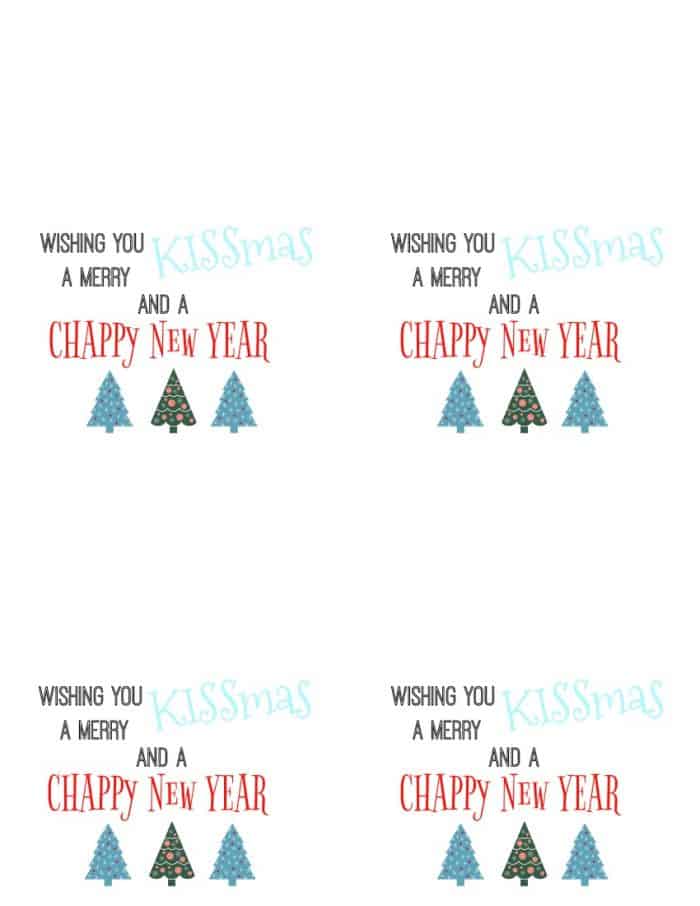 Cut out the tags.
Fill the treat bags with the Chap Sticks and Chocolate Kisses and fold the bags over.  Fold the "Merry Kissmas" tags in half and place them over the bags.
If you want to keep this super simple, you could just staple the tags to the bags.  I wanted to make them a little prettier so we used a hole punch and punched a hole through both sides of the tag and the bag and then tied them together with ribbon.
We made 6 of these gifts for about $15.
For the "Soda-Lighted" punch a hole where the little circle is using your hole punch.  Slip a ribbon through it and tie it around the neck of your soda bottle.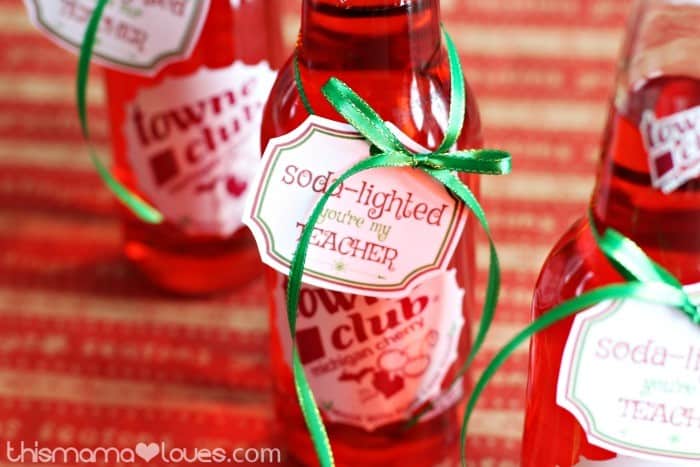 We made 11 of these gifts in a short time for less than $15 and used a Michigan made soda.  You could use any brand.
These Last Minute Christmas Gift Printables for Teachers and Friends will make your life easier and brighten the days of those people who mean so much to your kiddos!