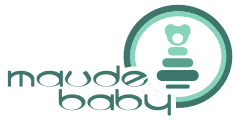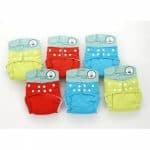 There are so many cloth diapers on the market today that it is sometimes hard to choose which one is best for your needs.  We have both (Brett & Jenni)  have tried our fair share of diapers and have concluded that pocket diapers are definitely the way to go.  However, within the pocket diaper category, there are still many many choices.  Some are not absorbent enough, some don't fit well and others are bulky. 
We reviewed the Maude Cloth Diaper.   A brand which I was previously unfamiliar with.  Upon reviewing the package, I noticed right away that this diaper had several innovative features not available on some other brands:
* Their one-size diaper fits 6 to 36 lbs.  These are our favorite diapers.  No need to size up or purchase extra diapers.  Not only is it more cost effective, but is much more convenient.
*  Sturdy snaps that are great for getting a customized fit.  I like snaps much better than velcro for longevity.
*  Comfort Elastic at the legs for comfort.  This brand is great.  The diaper did not leave elastic marks on my babies legs, but was snug enough to prevent leaking.
* An extremely soft waterproof lining that prevents leeks and staining.  I LOVE how soft the lining of this diaper is.  Much more comfortable than some other brands I have tried.  I have had no problems at all with staining.
*  A nice wide pocket insert for easy stuffing.  This pocket can easily accomodate an extra insert if needed.
*  This diaper comes with 2 adjustable leg straps.  Great for customizing the fit for your baby is grows.
*  Easy care.  Cold rinse.  Hot Wash.  Cold Rinse.  I just used a standard cloth diaper washing routine with good old fashioned Tide.  I know that some people would cringe at the idea of using Tide, but through many, many experiments, this is the only detergent that will truly get my diapers clean and stink free.  (Brett chiming in:  me too- and I think we tried about 20 brands.  Hard water in this town!!)
My Overall Impressions:
I really did like the Maude Cloth Diaper.  The fit was trim and snug.  I like how the bottom wasn't baggy, but fit my 30 pound 2 year old nicely.  I do have to say that my toddler is not extra chunky or tall and he was at the end of the diaper for his size.  I can imagine that the diaper works well up to 30 pounds.  I was able to keep him in the diaper for the usual 2 hours without any leaks.  Staining does not seem to be an issue either.  The lining is extra soft and comfy, but could get a little warm on a really hot summer day.  The color choices are unique.  Maude cloth diapers offers the following colors:  Biscayne (bright blue), Chili (red), Lemon Lime (lime green) and Bubblegum (pink).  I tried out the Lemon Lime.  It is almost like a neon green color.  Not my typical diaper color choice, but cute for the spring and summer.  I would love to try their Biscayne color.  The blue looks nice and bright.  Very cute.  I also really liked the fabric on the outer shell of the diaper.  It was stain resistant, soft and stretchy.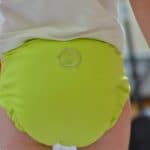 Follow Maude Cloth Diapers on Facebook for the latest product information and promotions.
I received a sample of this product to facilitate my review.  All opinions expressed are my own.
[ad#glam between posts]
0