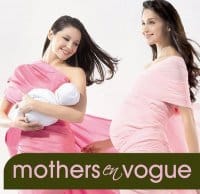 Looking for some stylish and sexy maternity or nursing clothing? Mothers En Vogue is an online maternity and nursing clothing store that has just that. I ran across this great site while searching for some transitional clothing after I had my baby 4 months ago. I was so tired of wearing stretched out maternity tops, but couldn't quite fit back into my regular clothing. I was absolutely desperate to find some stylish clothing that would look good on me as I was losing some weight, and motivate me to keep going! So many of their styles are flattering to that post partum body, but remain current with up to date design. I had such a hard time deciding which style to try! After much debate, I settled on the Honeycomb Swing Top. I love the honeycomb pattern on the top and the nice flowy drape of the body. The sleeves are 3/4 length, which is perfect for me this winter. I always find that I get so warm while I am nursing, and a full length sleeve is often uncomfortable. The best part about this top is the nursing access. There are two hidden slits on either side of the shirt, which allow discreet access. The first day I wore this top I found myself in a crowded bagel shop with a hungry baby and 2 rambunctious older kids. Needless to say, we made quite a site. I was SO thankful that I was wearing this top. I was able to discreetly nurse my little guy without drawing any further attention. It worked like a charm! Take a look at the Honeycomb Swing Top: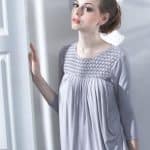 "This top has a super stylish fit and flare shape with lots of delicious texture.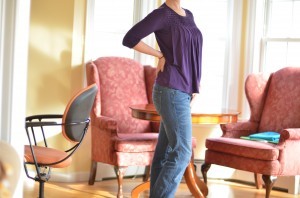 Hand-tacked honeycomb detail that releases at the yoke seam and creates a playful swingy hemline. Features 3/4 length sleeves that streamline and balance the billowy bodice." My top came in a beautiful Plum color. This is such a great, versatile color and very popular this season. The top works great with jeans and flats for a casual yet hip look. In addition, this top is part of their Eco line and is made from a super soft and earth friendly baboo fabric. I have a few bamboo items and they are truly my favorites. Not only are they good for the environment but they are extremely comfortable.
●
Organic Cotton – grown without the use of harmful pesticides and chemicals, this earth-friendly fabric not only feels good, it feels right too.
●
Bamboo – made from the pulp of bamboo grass, it is naturally anti-bacterial, breathable and silky – a great earth-friendly alternative for nursing wear.
If you are looking for some fresh, stylish maternity clothes that are earth friendly check out Mothers En Vogue Eco Collection. Follow Mothers En Vogue on Facebook for the latest updates and sales. "I was provided a sample of this product to facilitate my review. All opinions expressed are my own."