Philips Norelco S9000 Prestige Qi-Charge Electric Shaver
The electric shaver post has been compensated in the form of a Best Buy Gift Card and/or received the product.
Shaving really isn't a fun thing to do. Well, not for most of us. I hate it. So much so, that I rarely shave my legs. I know my husband- and most of my brothers and brothers in law hate it, because none of them shaves when they are " on vacation" and rarely do any of them shave on the weekends. As my dad used to say, it's a nuisance! Razors, blades, shaving creams, etc. Messy, expensive, an annoyance, risk of nicks and bleeding, razor burn, the list goes on and on. One of the positives to being furloughed for my husband is that he doesn't have to shave unless he feels like it when the Government shuts down and he's home. Silver linings?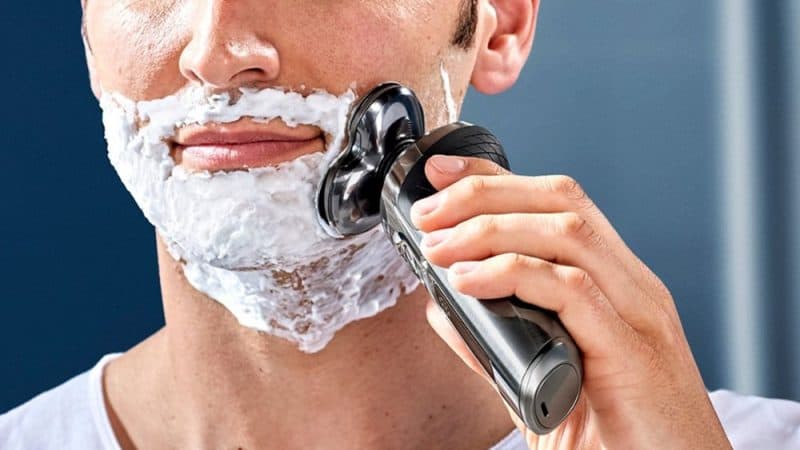 I can actually remember my dad grumbling about needing to shave in the summer, when we'd be at our family cabin on an island on a lake – no electricity ran to our island, which was a choice the residents had made decades before and all of us embraced. He hated shaving out there, because it was back in the days before you could charge something and expect it to last a few days. I know after time passed he did get a gyroscopic "electric" razor or something but it wasn't up to his standards. So he grumbled up until the day he sold that cabin. He'd be so happy with the new Qi-charge electric shavers out today, like the Philips Norelco S9000 Prestige, because he could get a good, quality shave without a razor, blades, shaving cream, etc. and he could charge it at home and just turn it on when he wanted to use it.
Maintain a clean look with this wet and dry Philips Norelco electric shaver. The sharp, durable blades support effortless shaving by following the contours of your face and neck, and the coated rings facilitate smooth gliding for a comfortable experience. This Philips Norelco electric shaver has three settings and an attachable trimmer to maximize styling options.
So why choose a Qi-Charge electric shaver?
NanoTech precision blades
Strengthened with thousands of nano particles that cut hair with the highest precision, delivering an extremely close shave at skin level.
Long lasting charges
You can get up to 60 minutes of
cordless shaving
per full charge with the Philips Norelco S9000 Prestige Qi-Charge Electric Shaver. The high-capacity battery also fully charges in as little as 1 hour. The battery indicator shows when it is time to recharge your shaver. The Qi Charger allows for wireless charging.
Excellent skin comfort system
Enables you to get a highly efficient shave even on a longer (up to seven-day) beard.
Shave wet or dry
With S9000 you can shave dry or use water, foam or gel for even better gliding and a smoother skin feeling.
Get a closer, smoother shave using the Philips Norelco S9000 Prestige
ContourDetect heads
Move in 8 directions to follow every contour of your face, even catching hair in hard-to-reach areas like the neck and jawline. Shaving heads are surrounded with SkinComfort rings, which have a special protective coating so the shaver glides smoothly over your skin.
BeardAdapt sensor
Effortlessly shave off even a dense beard. The BeardAdapt sensor checks hair density 15 times per second and automatically adapts the shaver to your hair.
Head over to BestBuy.com or to your local Best Buy location and pick up one of these awesome Qi-charge electric shavers!