Carseats are such an important investment for parents to make.  Our children spend a lot of time in vehicles, whether we like it or not, and we all want our children to be as safe as possible.  I was quick to jump at the chance to review the new OnBoard35 Infant Seat from Safety 1st with the matching pink Clic-It stroller, because I think carseats are a huge thing that we parents and caregivers ALL need to educate ourselves about.  Once we did our review of this, I happily brought the seat and stroller to my dear friend Sara's baby shower for her to use with her daughter-to-be, who, as it turned out, made an early appearance just a few days later, so the timing couldn't have been better!!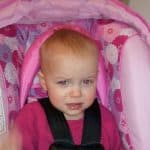 This carseat will hold a child up to 35 lbs in a rear facing position.  Due to the construction of infant car seats, this cannot be used as a front-facing carseat, but the experts recommend leaving children rear facing until they are at least 2 years of age.  Since my Baby B was just 21 lbs at 20 months when I took these photos, you can see that she fit very nicely in the seat- and knowing she was safely in a 5pt harness gave me piece of mind (yes, even in the basement, becuase my kids are as graceful as their mama!!).  Fit well, but not happy.  She'd prefer to climb furniture than be buckled into a seat.
The handle on this seat is comfortable for an adult to tote around (let's be honest- there's nothing that's comfortable after about 10 minutes of holding a carseat with a baby in it…not on your arm like that…) and very easy to move forward and back into place.  The harness straps glide smoothly as you release them to let out and also pull taut smoothly when you are tightening the straps around your child.  I found the buckles quite easy to click into place, and the chest buckles weren't hard at all to position across her chest.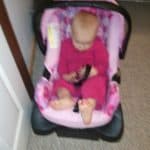 She's happy to climb in on her own, but isn't a fan when you buckle her!! You can see in this shot, however crummy the photo quality is (sorry, phone pics) that even at 20 months she's fitting quite nicely for length in this seat!!
There are instructions printed right on the strap tether which made me very happy- so if someone unfamiliar with carseat safety happens to need guidance, there's a visual reminder for them.  The seat comes with one base for your car, and you can use the tether or a lap belt to secure the base into your vehicle.  Additional bases can be purchased for a fairly reasonable price wherever Safety 1st carseats are sold.
This carseat came 100% assembled, even the canopy that you can adjust to cover baby's face from sun- something that I've not seen with previous infant seats I've had, and I loved this feature.  These are a pain in the neck to put on and I was very glad to not do it.
The Clic-It Stroller is super simple to set up and to put down, and snapping the carseat atop of it is a quick, easy process.  Like most strollers of this fashion, the basket underneath is quite large and roomy and fits a great deal of shopping purchases.  Ahem, I mean diaper bags and accessories.
This carseat, while only available at Target.com, can be found in lots of different prints, patterns and price points.  When asked, I always recommend that parents look into using a stroller like the Clic-It, because until you've had a baby and know what you have for stroller "needs" it isn't easy to just pick a stroller.  Having the universal strollers that just hold infant seats gives you some time to figure out just what you will want/need/use in a stroller.
The matchy lover in me gets all giddy that you can buy these 2 items together- how CUTE is a pink stroller that pulls a coordinating pink flower color from the carseat?  Plus with the 5pt harness and the higher weight limit, your little flower girl can be stylin' and safe in her seat for many many months.
The safety fanatic in me LOVES that this seat goes up to 35 lbs- and you can see by my photos that my August 2009 baby could still very easily ride in this seat.  She's in a convertible now (our seat didn't go past 20 lbs for weight) but given the choice, I'd choose the infant seat as long as I can.
I'm kind of particular about carseats and this one gets a great rating from me.  I like that there are several price points in addition to patterns and styles, none of which will break the bank.   Definitely something THIS mama loves!!
Samples were provided for review.  Opinions expressed are my own.
[ad#glam between posts]
0