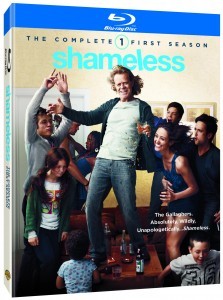 Have you seen The WB's Shameless?  Let me preface this by saying I am a sitcom girl through and through and my favorite shows are usually sitcoms.  Some dramas are good, or thrillers, actions, etc.  but sitcoms are where my heart is.  I love to laugh and I love the way shows like Shameless find humor and comedy in the most unlikely places and situations!
Frank Gallagher leaves his eldest daughter Fiona to hold down the house, donning the proverbial apron and making sure her younger siblings do their chores, keep a clean(ish) house and stay fed. Fiona, in a difficult position being the eldest of the Gallagher children, takes the responsibility of child-rearing which often results in humorous outcomes. For example: in Ep. 4, the middle Gallagher child Debbie, after becoming depressed with her Aunt's passing, decides to steal a toddler from a birthday party. Fiona and the rest of the siblings devise a plan to return the boy to his family while going unnoticed by the increased police presence in the area.

I can't imagine being in poor Fiona's place, having to hold down the fort and returning a stolen little boy, who my siblings dressed as a girl, without being caught.  The situation itself is highly unlikely but that's what makes it funny, and what makes it work!!  But bless her heart, trying to take the world on full force, and do what's right, whether she wants to or not.  I still can't stop laughing at the scene when Fiona says "Why would you steal a baby? And dress him as a girl?" With those kinds of lines, you know there's more funny to come!
0