"ShaToBu – The Workout You Wear – is the revolutionary shaper that helps women shape, tone and burn more calories during everyday activities.
The benefits go beyond ordinary shapewear – ShaToBu instantly gives a sleeker silhouette, but women can also see and feel a difference in their bodies with regular use over time. By incorporating resistance bands right into the garment, muscles work a little harder and more calories are burned during daily activities."
Alright, I'll admit it.  I occassionally suffer from the lovely "muffin top".  I blame this on those last 10 pounds of baby weight I need to lose.  I don't like having to cover up my rolls, or avoid wearing certain outfits.  Therefore, I decided it was time to try out some shapewear.  I've never worn any time of shaping garment before, but I do know that there are many brands to choose from.   I was able to try out the ShaToBu High Waist Get Fit Tight.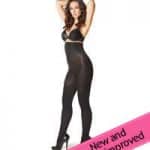 Company Description:
Turn your wardrobe into one that is fashionably fit with our High Waist Shaping Tight. This style slims and smoothes your waist, hips and thighs to refine your whole figure! Soft, snug and opaque, these tights with Lycra® look great with any outfit while helping you tone your muscles and burn up to 12% more calories. Designed for those women who prefer slightly more form with their function, our classic-cut, High Waist to Knee ShaToBu slims and smoothes your waistline for an enhanced hourglass figure.  You'll look great and feel even better.
Helps tone muscles and burn extra calories
Extra smoothing for tummy & love-handles
Eliminates panty lines
The perfect shapewear under a skirt or dress
Ideal body shaper for special occasions or with fitted clothing
ShāToBu™ is the Workout You Wear
Independent scientific studies from the University of Virginia show that women who wear ShaToBu during daily activities burn UP TO 12% MORE calories during daily activities like walking or climbing stairs. With the modern woman's hectic schedule it can be hard to find time to get to the gym, but with ShaToBu, women can fit a workout into their daily routine while enjoying a more shapely silhouette!
How DOES ShāToBu™ Work?
ShaToBu is based on the principle of resistance training. This simple, ingenious technology uses seamless resistance bands to make muscles work a little harder during natural movement, like walking or climbing stairs, while remaining comfortable underneath your clothes. Non-binding, stay-in-place waist and leg bands prevent marking, bulging and rolling. ShaToBu is made of Nylon and Lycra with overall moisture-wicking properties, and a cotton CoolMax gusset, to keep you cool and comfortable. Easy enough to wear every day (and even replace underwear), ShaToBu offers a smooth route to a better-looking you!
Review: I used the sizing chart to help determine the correct size for me, which was right on.  When I received the Get Fit Tight, it reminded me of a very thick tight.  I was skeptical as to wether it would provide the shaping and support that it claimed to.  Once I put the tight on (no small feat, it took LOTS of pulling and tugging) I felt immediately supported and THINNER.  I wore the tights underneath my "mama uniform" (yoga pants and a fitted top – which is prone to showing muffin tops and panty lines).  Wow, it felt good!  I think I even stood up a little taller.  The shapewear is tight, but it felt good to be supported.  After a while I didn't even notice that I was wearing it.  I love that this shapewear helps burn more calories, but mostly that it made me feel good.  I would definitely recommend Shatobu if you are looking to try some shapewear for yourself.
Buy it: You can purchase a ShaToBu shaper online
.  The high wasit get fit tight retails for $38.
Follow Shatobu on Facebook for the latest product updates!
"A sample of this product was provided to help facilitate this review.  All opinions epxressed are my own."
0