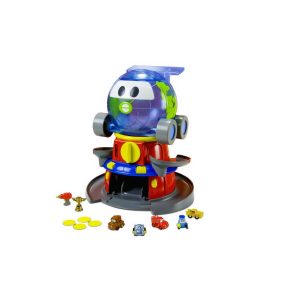 We love Squinkies around the Bargains house. They're cute, they're fun, they fit in pockets (and radiator grills) and don't hurt when you step on them in the dark (tested multiple times on multiple floor surfaces). Squinkies hit the stores last fall and flew off shelves lightning fast- and in the past year they've grown their products considerably, even branching out to appeal to boys. Of course, my littlest one may be the biggest Mater fan ever so the Cars themed Squinkies will be hers one day…
The folks at Squinkies sent us a surprise box of Squinkies Boys goodies, filled with squishy fun.  The box was intended to showcase the Squinkies for boys- with Cars 2, Marvel, Vehicles, sports figures, skulls and more.  As I have said before my littlest one adores Mater (and "A-Queen" lately) and she had her toddler vice-grip on that packaging before anyone could blink. 
Squinkies and Squinkies Boys are sold where most toys are sold. I like them because they are fun and affordable- and adorable.  Even the little skull guys are super cute!  They come in bubble packs, play sets, which almost always double as storage (yay for storage!) and accessory kits.  These are great gifts for friends and stocking stuffers.
We actually sent almost all of our package in to the Kindergarten teachers at our school here in town, because these just seemed PERFECT for the reward prize box and I know that teachers spend their own money on things like that…and Squinkies are the perfect sized item for that!
I received samples of this product in exchange for my post.  Opinions are my own.
0