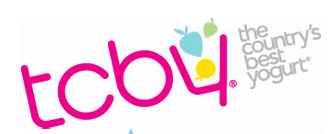 This has been a really crazy week for me.  I was all excited that I was asked to be part of an insight shop for TCBY Cookies & Cream Frozen Yogurt because the kids were finishing school on Thursday June 21 and I was thinking hey! We can make this into a little party and have a celebration, on a healthier note.  It was going to be a super fun end to a crazy month at school.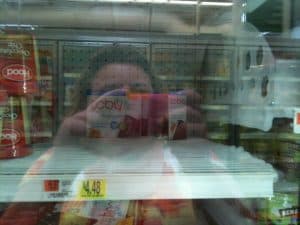 Except that Tuesday morning when I woke up and tried to sneak super quiet down the stairs, I FELL down the stairs, and landed with my upper arm on an outer corner of a wall.  Pain, pain and more pain ensued— and things got a bit jumbled for a few days.  (You can see the bandage on my arm compressing my muscle in the reflection above). The shopping for TCBY got delayed until the weekend because I couldn't use my arm.  (Not broken, but mashed muscles…going to be a while before I'm back to normal).  So off I went on Sunday afternoon to grab some TCBY Cookies & Cream at our local store.  They didn't have it.  Went to a different store on Tuesday.  They didn't have it either.  Third time was a charm.  (Phew)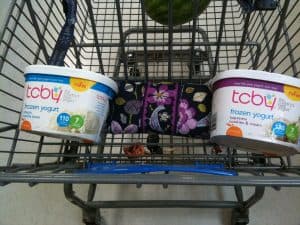 I'm almost glad that it was so hard for me to find this stuff.  It made the victory that much sweeter when I finally got to sample some of this deliciousness….It was heavenly.  It happened to be a very special boy's birthday today….and since we were having a birthday lunch party at his house, I decided that I'd bring the yogurt to his house to share.  So after we sang happy birthday and stuff, I gave the kids each some of the Cookies & Cream.
I'm in love.  The kids are in love.  Fun containers, healthier than ice cream, but full of creamy, delicious frozen delight.  TCBY's Cookies & Cream frozen yogurt (and the vanilla bean, if you are wondering) are AWESOME.  We're excited to go get some more different kinds of the novelties and try those next!  I didn't tell the kids that they weren't getting ice cream- I simply asked them if they wanted vanilla or cookies & cream.  They didn't know nor did they notice that they were eating frozen yogurt and not ice cream.  This yogurt tastes exactly like any traditional ice cream in the same flavor to me.  I have a very serious love for cookies & cream and I'm kind of particular about the cookies that are  included in those recipes.  National Oreo Day just passed last week and those are the perfect pairing for cookies & cream ice cream…I had visions of crushed oreos making a pie crust for the frozen yogurt to make an ice cream pie…that'll have to wait.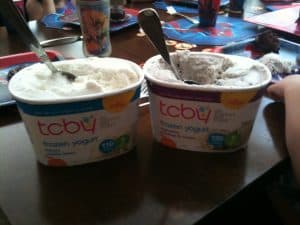 I think the packaging is one of my favorite parts of this product line.  It's fun, its simple, it's clean and it works.  I love that the calories and fat grams are included and very easy to spot and identify on the packaging.  No guessing.  The novelty line is also impressive to me- recreating the regular products that we consumers tend to (over) indulge in frequently and making them a bit healthier for us was a really great idea.
I am still bummed that my arm prohibited me from getting the end of year party I wanted, and the images I wanted- but all in all, we've discovered a delicious, healthier-than-ice-cream option that we're all enjoying, and got to celebrate my son's best friend's birthday with him.  All in all, even if there were some (major) bumps along the road…we have a happy ending.  And a new brand to purchase!!  We'll have plenty of time over the summer to be creative and attempt some parfaits and milkshakes like I'd planned.
Check out my whole shopping experience and party photos right here!
Have you tried the TCBY grocery products?  What did you think?  If you find it at your local Walmart, GRAB it.  If you don't, ask them to order some.  I think you'll be very happy you did!!
We're having a Twitter party TOMORROW, June 28th from 1-2 pm EST and we'll be discussing the new product line and giving away PRIZES.  Won't you join us?  You can RSVP here!
Stay up to date with all things TCBY!
I am a member of the Collective Bias™ Social Fabric® Community.  This content has been compensated as part of a social shopper insights study for Collective Bias™ and TCBY #CBias #SocialFabric #TCBYGrocery
0