This beef salad recipe is a delicious creation from our friend Catalina at Sweet & Savory Meals. Can't WAIT to make this next week!
Thai Beef Salad is the perfect summer salad recipe made by searing skirt steak and marinating. Then it's mixed with fresh herbs, romaine lettuce, mandarin orange slices, tomatoes, cucumber, and onions before being tossed with a delicious marinade. You can enjoy this salad at a backyard barbecue, family picnic, or the next time you are in the mood for Thai food.
Rather than going to a Thai restaurant for this salad, you can make this Asian dish at home yourself with a much better result. And you know exactly what goes into it so no worries about that. This is one of the easiest recipes for Thai beef salad and it has the perfect combination of spiciness, sweetness, and savory flavors.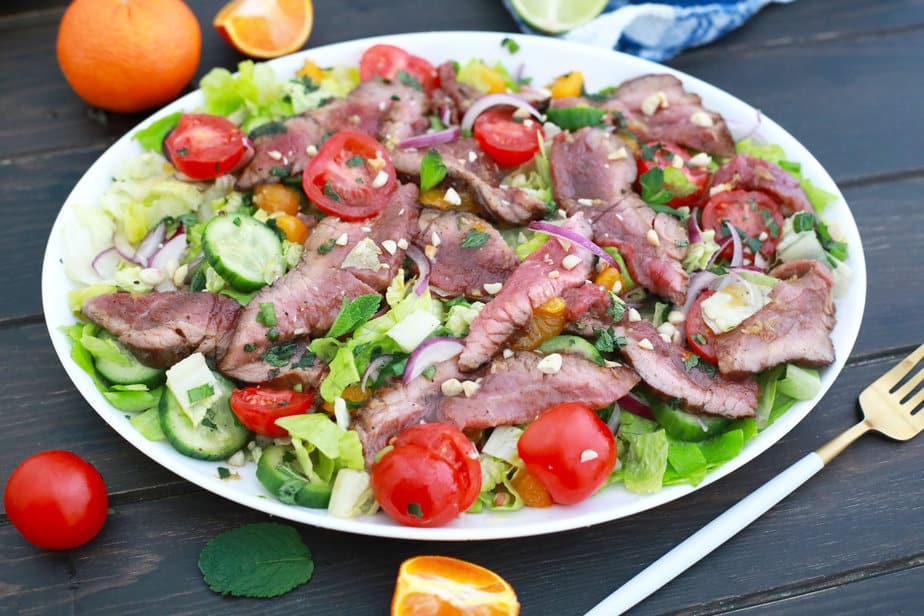 Thai beef salad
This easy Thai beef salad is a great recipe to try if you are a fan of Thai cuisines with very little prep time and simple ingredients.
Filled with juicy steak, fresh veggies, and a spicy-sweet dressing, it is one of my family's favorite salads and can be used as a main entrée, side dish, or appetizer. It is even better the next day!
If you are looking for another easy dinner that is filling and easy to make, try this classic shrimp salad recipe. You can serve it as a main dish, appetizer, or even use it to make sandwiches and wraps.
Ingredients needed:
These are the main ingredients you need for this recipe. Scroll down to our recipe card for the step-by-step directions and exact measurements.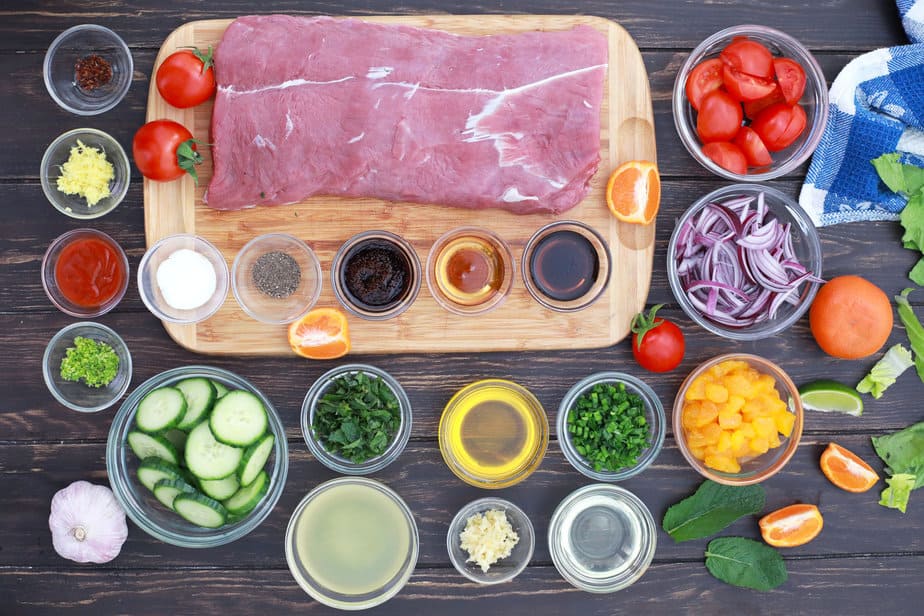 Steak Ingredients:
Skirt steak: Trimmed of excess fat.
Unsalted butter
Coarse ground black pepper
Kosher salt
Salad Ingredients:
Peanuts:
Canned mandarin slices:
Green onions: Or spring onions, thinly sliced.
Red onion: Sliced red onion.
Mint:
Cilantro:
Pint grape tomatoes:
English cucumber: Sliced but not peeled.
Romaine lettuce:
Dressing Ingredients:
Garlic cloves:
Fresh ginger: Very finely minced.
Crushed red pepper flakes
Sriracha
Fish sauce
Vegetable oil
Sesame oil
Molasses
Honey
Lime zest
Lime juice
How to cook air fryer Thai beef salad from scratch?
Make the marinade: First, whisk together the salad dressing ingredients in a medium bowl.
Marinate: Then, coat the steak with half the dressing and let it marinate for 20 minutes.
Sear the steak: Next, using a large heavy skillet on high heat, add the butter and let it melt. Place steaks in the frying pan, making sure not to overcrowd them, and cook for four minutes on each side.
Rest: After, rest the steak for 10 minutes before slicing thinly against the grain. Toss it in the dressing.
Prepare salad: Then, add lettuce, mint, mandarin slices, onions, cilantro, and cucumber to a large bowl.
Serve: Finally, toss the salad gently with the rest of the salad dressing, steak and chopped peanuts before serving.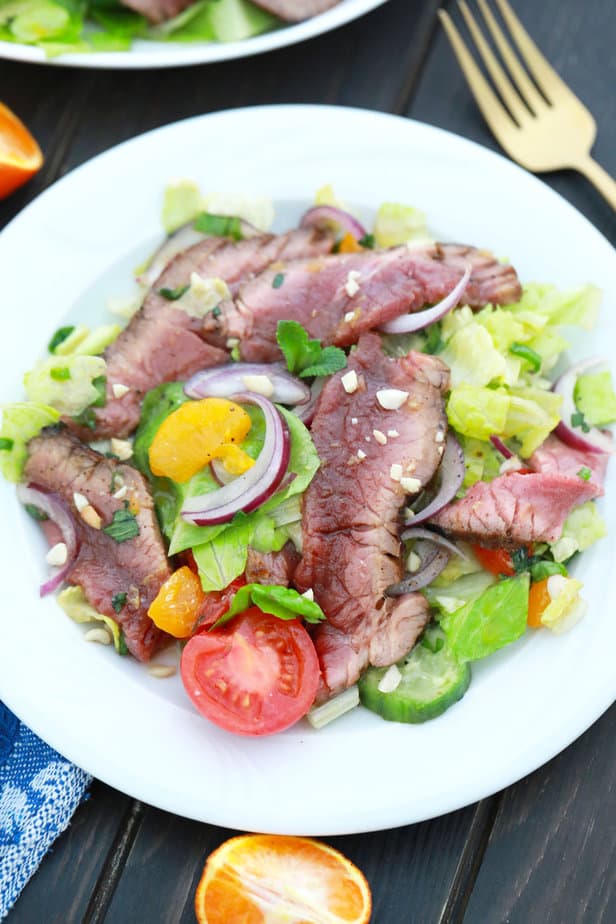 Recipe variations:
Different tomatoes: You can use cherry tomatoes instead of halved grape tomatoes. Just cut them into quarters to make them smaller.
Sirloin steak: Feel free to use any kind of beef steak for this recipe such as sirloin steak or hanger steak.
Other meats: In fact, you could also use chicken, pork, or even fish in your salad instead of beef. Slice it up into long pieces or chop it up before adding it.
Sweeten it up: Add ¼ cup of brown sugar to your dressing if you want it a little sweeter. Palm sugar is another good choice and is healthier than other sugars.
Spice it up instead: If your family is a fan of spiciness, add some jalapenos, red peppers, or Thai chili to turn this into a spicy Thai beef salad recipe which is also known as Nam Tok.
How to serve:
This delicious Asian dish is perfect for a main dish served with spring rolls or sticky rice. You could also try one of these great serving ideas:
Add parmesan or shredded cheese on top of your salad before you serve.
For an even heartier meal, serve this salad over a bed of steamed rice or noodles.
Squeeze a bit of lime juice on your salad when serving.
Your family may enjoy a small bowl of Thai steak salad with chili sauce on the side.
A nice accompaniment to serve with Thai salad is crusty French bread.
Toss some beans or olives on top before serving for a different twist.
Frequently asked questions
What does it mean to cut the steak against the grain?
The grain of your steak refers to the direction that the muscle fibers are going in the cut of meat you are cooking. When you cut against the grain it makes the muscle fibers shorter. Because skirt steak is mainly made of muscle fibers, cutting it against the grain makes it more tender and easier to cut.
Can I use a different kind of steak?
Yes, there are many different kinds of steak you can use for this dish. Any cut of meat that you can slice thinly and marinate will work in this recipe. The best choices include the brisket cuts, chuck steak, ribeye, sirloin, flank steak, and tenderloin. You could also use shank or round steak if you cut it against the grain.
What can I use instead of fish sauce?
Fish sauce is a savory ingredient made with anchovies that have been fermented. The strong flavor is savory as well as a bit spicy. One way to substitute fish sauce is to mix soy sauce with minced anchovies. You can also use oyster sauce, tamari, or vegan fish sauce.
How to store leftovers:
Store: Do not leave out longer than two hours. Refrigerate in an airtight container.
Freeze: Because of the lettuce, freezing is not recommended. However, if you plan to freeze some of it, put some individual servings in small containers without the lettuce. They will keep for up to a month in the freezer.
Recipe tips:
Let the meat come to room temperature before you cook it. This typically takes about 30 to 40 minutes.
Make sure you do not overcrowd the steaks in the skillet for best results. They will not sear properly if they are too close to each other.
Also, be sure to pat the steaks dry with paper towels to get the best sear.
For thicker dressing, add a teaspoon of toasted rice powder, or Khao Khua. It also adds a delightful nutty flavor.
Let the meat come to room temperature before adding it to the lettuce so it does not get wilted.
Do not overcook your steak. Even if it is still pink, it will continue to cook as it rests. You can always cook it more if you think it needs more cooking, but you cannot "uncook" anything.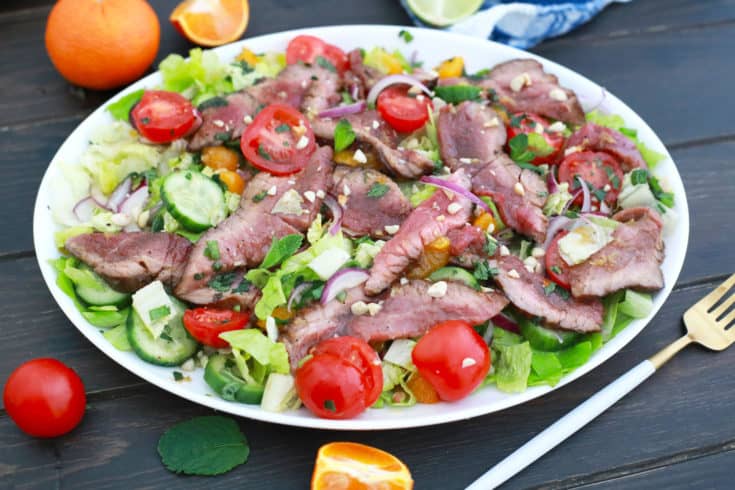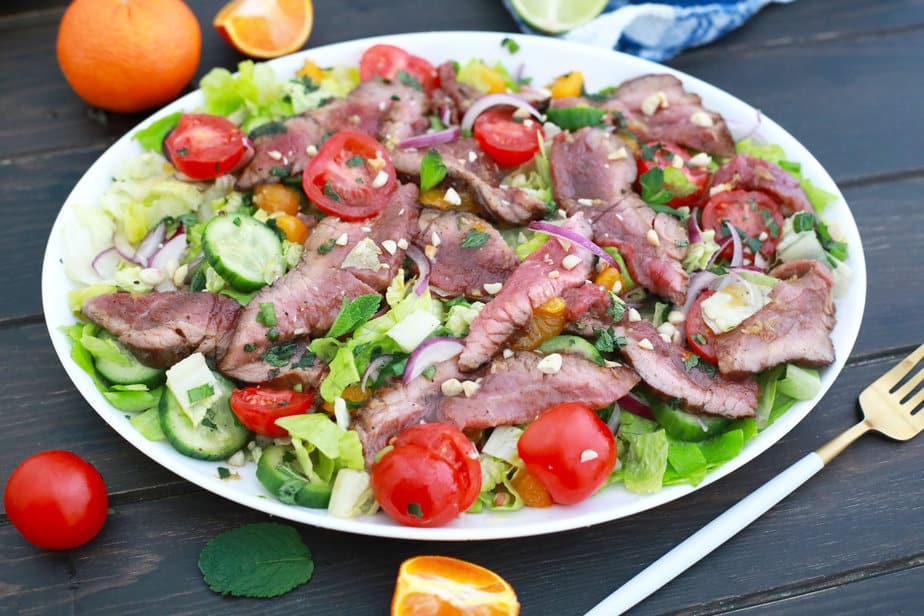 Yield:

4
Thai Beef Salad Recipe
Ingredients
Steak Ingredients
2 lbs Skirt steak: Trimmed of excess fat.
2 tablespoons Unsalted butter
1/2 teaspoon Coarse ground black pepper
2 teaspoons Kosher salt
Salad Ingredients
1/4 cup Roasted Unsalted Peanuts: Chopped.
1 Can mandarin slices: Chopped.
1/3 cup Green onions: Or spring onions, thinly sliced.
1/2 Red onion: Sliced red onion.
1/4 cup Mint: Chopped.
1/4 cup Cilantro: Chopped.
2 cups grape tomatoes: Halved.
1 English cucumber: Sliced but not peeled.
6-8 cups Romaine lettuce: Chopped.
Dressing/Marinade Ingredients
Garlic cloves: Minced. 4 cloves garlic, minced
2 tablespoons Fresh ginger: Very finely minced.
1/4 teaspoon Crushed red pepper flakes ·
1 teaspoon Sriracha
1 tablespoon Fish sauce
1/4 cup Vegetable oil
1 teaspoon Mirim
1 tablespoon Sesame oil
1 tablespoon Molasses
1/3 cup Honey
1 teaspoon Lime Zest
1/2 cup Lime Juice
Instructions
In a medium bowl whisk together the marinade ingredients.
Add steak to a bowl or Ziplog bag and pour half of the marinade over it. Reserve the rest. Marinate the steak for 20-30 minutes.
Place a cast iron skillet over high heat and add the butter, immediately add the steak too and sear it for 4-5 minutes on each side.
Let steak rest for 10 minutes on a cutting board, and after that thinly slice it against the grain.
Add it to a bowl with the reserved marinade and toss it to coat.
To a large serving plate add the lettuce, cucumber, tomatoes, cilantro, mint, red onion, green onions, mandarin slices.
Add some of the dressing from the steak and toss to combine.
Top with steak slices and garnish with chopped peanuts before serving.
Recommended Products
As an Amazon Associate and member of other affiliate programs, I earn from qualifying purchases.