Right now, I'm wishing I lived nearer to a "major" city.  Why? 
Because…if you live in one of 10 lucky cities (Los Angeles, New York, Chicago, Detroit, Charlotte, Philadelphia, Atlanta, Baltimore, Houston and Dallas-Ft. Worth), grab your girlfriends, mothers, sisters, etc. and groups of 5 or more can purchase tickets to a special Tuesday night, August 9th, 7:00pm showing of THE HELP so you can see it first! Call 1-800-347-6396 for more information.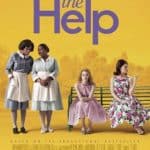 Also make sure that you "Like" THE HELP on Facebook so you can add your own voice through our THE HELP Social Player: http://www.facebook.com/#!/thehelpmovie?sk=app_190322544333196!
What a great girls night!! I wish I could do this, but we're 2.5 hours from NYC *pout pout* but I'm sure some of my awesome readers can take advantage of this.
Like I said before, BRING TISSUES. 
And, while you wait, read the book.  Worth every single second.[ad#glam between posts]
0