Like many men, my husband is in charge of the outside of our house.  This often means using loud machines like a weed wacker, chainsaw, tractor, rototiller, woodchipper, log splitter, etc.  This is 1. not good for hearing and 2. not the most pleasant of things to listen to for any duration of time, especially being so close to the machine.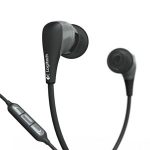 When I heard of the Ultimate Ears 200vi Noise-Isolating Earphones, I really wanted to try them for my husband.  He doesn't ever "treat" himself to things, and I know he loves listening to his music while working, so I figured a nice set of earbuds that can allow him to hear his music (or my too-frequent calls to his cell while he's at work, on the road)…might be something nice for him.  I was right.  Its nice for him to be able to pop his earbuds in and be able to hear his music while doing things in the yard- I know for me, having fun music on or at least music I enjoy really makes the time go faster so why not him? 
These earphones are full of features.  Something that was great for me to see right off the bat is the 5 different sets of 'cushions' for different ear sizes- I swear, I have a very large head and tiny ear openings- most earphones actually HURT my ears when I try to wear them and ultimately just don't.  I did try these and was happy to see they have a range of sizes, glad to see a company that realizes we aren't all the exact same size.  I know my husband likes the control being on the cord so if he has his iPod tucked away safely he doesn't have to pull it out to adjust his volume.  I can't speak to how these work with a phone because he's not tried it with a phone, nor have I- but judging by the quality of sound with the music I'd not hesitate to use these with any phone!! Plus, they are made by Logitech and my experiences with this brand have been nothing but excellent.  Definitely something I recommend.
Calls + music
No need for two headsets—you get detailed sound, crisp calls and noise isolation for your music and phone calls.

On-cord controls
On-cord controls let you answer calls with just one touch, change tracks and adjust volume—all without taking your iPhone® or iPod® out of your pocket.

Ultimate acoustics
Tuned by the same engineers who makes our Custom Stage Earphones and preferred by the world's top touring musicians—for professional sound.

Five sizes of soft ear cushions
With five pairs of soft silicone ear cushions from XXS to L, you won't have to worry about getting the right fit—even if you've got small ears.

Durable, sweat-resistant design
Whether you're exercising or moving around town, your headset is designed to guard against moisture and wear.

Simple, stylish
Start listening to your music right away. Just plug in your headset and get in the zone.

Noise isolation
Noise-isolating design keeps out background noise so you can listen to your music—not the guy next to you.

Sweet sound
Engineered for faithful audio reproduction, this sweet-sounding headset makes it easy to enjoy your music.

Protective case
The pocket-ready hard case keeps your headset safe while you're on the go.

Available in three colors
Pick the look that expresses your own personal style.

Ideal for audio
Works with iPhone, Made for iPod and compatible with BlackBerry® with 3.5 mm jack.
Also compatible with audio sources with a 3.5 mm jack.
I received a sample of this product to facilitate my review.  Opinions expressed within are my own. [ad#glam between posts]
0