Would you like to lose weight and get healthy on Nutrisystem too? Visit
 Nutrisystem today or call 888-853-4689
Are you on a weight loss journey? How are you doing?
Well, this isn't exciting at all- I stayed exactly the same!  Not even a .1 variance on the scale.  But that's ok.  I stuck to plan and that's what mattered. This included several days of me having to stick to plan with no breakfast or lunch items from Nutrisystem because I totally spaced on sending my order in – so I'm feeling pretty darn good about staying the same! I did learn by this happening, though, that I CAN function without Nutrisystem food, and also that perhaps I have a tiny bit of willpower in me somewhere after all…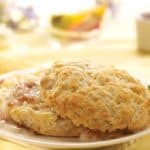 Obviously things got easier when my order arrived- and one of the items in my new shipment was the brand new Southern Style Biscuits and Gravy for breakfast.  YUM.  Love it.  VERY filling and there's a little bit of kick to the sausage- delicious!! I had ordered two and already had both of them so I have a whole month before I can try more.  Sigh.  This is my new favorite breakfast.  OVER chocolate. 
I did try on some tops that I COULD fit in March but looked more like a sausage in this week.  Lo and behold- they FIT.  No sausage effect!  A friend saw me and said she can't believe the difference in how I look- and also, how I'm carrying myself.  That was a big confidence booster.
Funny- I'd never think a week with no loss would be such a victory, but it was.  Can't wait to see what the scale says this Friday morning!
Want to see more of how Nutrisystem is working for others just like me and you?
Check out some of my fellow Nutrisystem Bloggers' pages for updates: (Let's show them some love and support too!!)
Dealicious Mom
Closer to Lucy
All products have been provided to me free of charge as a selected blogger of the Nutrisystem Nation Blogger Program. All opinions are 100% mine and no monetary compensation was given for my opinion.
[ad#glam between posts]
0