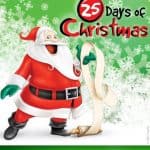 I am Christmas Crazy.  I fully admit it.  Seeing the little Santa guy in the corner of my tv screen frosting up the glass with his breath and the 25 days of Christmas come up makes me giddy. 25 days of Christmas and holiday programming!! It's great!!  Plus, I can share so many of my childhood favorites with the kids- and some new ones…you'll want to check out that site if you are a fan- there are coupons, games and contests on there with some big prizes!!
Here are some of the programs on the slate that I'm looking forward to:
6:30pm Winnie The Pooh and Christmas Too 12/1
12/3-4 seems to be all Harry Potter, all day long (DVR!!)
12/7 6:00pm A Very Pink Christmas – Television Premiere
12/11 8:00pm 12 Dates Of Christmas – World Premiere Of The Abc Family Original Movie
12/15 6:00pm A Chipmunk Christmas – ABC Family Premiere
12/17 8:00am Pinocchio's Christmas
And hey, there's even an app for THIS!!  I have a new phone coming any day and I am definitely going to download this app as soon as it arrives!!
I received a promotional item in exchange for this post.  Opinions are my own.