This post about Brawny's pledge to the Wounded Warrior Project in support of our injured soldiers is brought to you by our friends at Lunchbox.  We are one of the lucky families who have not had a loved one come home from combat injured.  Really, it's hard to not know someone who's been injured serving our country.  If it's not your neighbor, it's someone else's.  Those who have sacrificed so much need our support- and one such organization to offer that support is the Wounded Warrior Project.  Brawny has pledged to say thank you to our heroes by making a $10,000 donation to the project! By you and I pledging OUR support of the project, we'll all get a printable $1 off any Brawny product coupon.  I pledged- will you?  (I pledged with my Facebook account- it took less than 30 seconds to pledge.  Don't use Brawny? Take the pledge, print the coupon, and donate the paper towels to a local food bank.  I'm sure they'll appreciate it)
Those who serve our country in combat are giving up so much- and risking everything.  So are their families. We try to support our nation's heroes when we can- and that means supporting campaigns like this one, but it also means that when we see men and women in military uniforms, we make a point to go up to them and say thank you for serving.  I do it, and I encourage my children to do it.  They've given up so much, and there are so many ways we can say thank you to them.
Say Thanks to Our Nation's Heroes

For every US Solider killed in Operation Iraqi Freedom and Operation Enduring Freedom, seven are wounded. The maker of Brawny® is a proud supporter of Wounded Warrior Project®, an organization dedicated to honoring and empowering those heroes injured in combat. The maker of Brawny® has teamed up with Wounded Warrior Project® and Walmart to say thanks to our Nation's Heroes. On July 6th and 7th, Walmart shoppers pledged their support to our soldiers and Brawny®'s donation of $200,000. Now, you have the chance to show your support for our Nation's Heroes as well. Head over to Walmart.com, join your state of supporters and the maker Brawny® will make a total donation of $10,000 to Wounded Warrior Project®.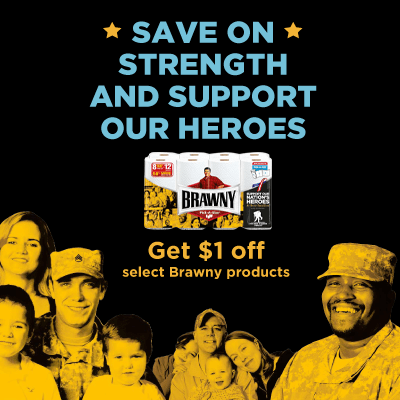 Spread the Word

Help spread the word from the maker of Brawny® and Wounded Warrior Project® by sharing your support button on Twitter, Facebook and Pinterest!

Our Thanks to You

As a thank you for your support from the maker of Brawny® and Wounded Warrior Project®, be sure to pick up the $1 off coupon for Brawny® products to use at Walmart for an every day low price.
Disclaimer: This post is sponsored by Lunchbox. All opinions are my own.