DK Eyewitness Series is a collection of amazingly beautifully photographed nonfiction series.  They offer readers a very thorough and comprehensive look at a huge array of subjects using words and images.  They are made for kids ages 8+ but really, they are a pleasure to look through and enjoy for even my 4 year old.   They are a wonderful addition to any reference set for any home, classroom or library!  I think its really cool that these books all include a CD and wall chart now.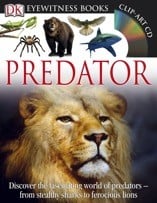 Eyewitness: Predator introduces readers to the world of lions, tigers, wolves, eagles, sharks, and more animals that prey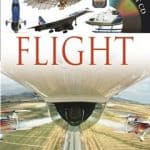 on other animals to survive.
Previously published as Eyewitness: Flying Machine, Eyewitness: Flight is a spectacular and informative guide to the fascinating world of aircraft. Superb color photographs offer a unique "eyewitness" exploration of the history of flight, and provide a close-up view of the many different types of aircraft in use today, how to keep an airplane flying straight and level, and more.
Check out the Eyewitness series' page- they have tons of cool quizzes, facts and information to enhance your book experience, or just for fun.  The Eyewitness Series is available online and in most bookstores.  The books retail for an average of $19.99. 
With over 120 titles focusing on fascinating topics just right for kids ages 8-12 — including space exploration, inventions, vikings, weather and the American Revolution (just to name a few!), DK Publishing's legendary Eyewitness Series has grown to become the most trusted nonfiction series written for kids. The Eyewitness Series has sold over 20 million copies and has been a staple on library, classroom and home bookshelves for over 30 years. This summer DK is unveiling its newest generation of titles that boost the fun factor and enhance the learning experience for even for the most reluctant of readers. In keeping with focusing on subjects that complement student's interests and their areas of study, Eyewitness' newest generation of enhanced titles features new multi-media components like clip art CD's, an interactive Eyewitness website and full-color wall charts!
One of my readers will win a copy of both Eyewitness: Predator and Eyewitness: Flight.



I will receive copies of these books in exchange for my post.  Opinions are my own.
0