Some people call me picky. However, when it comes to stylish accessories I will not settle for less. This is particularly true of baby items. I had been searching for years for that perfect diaper bag. They all seem to fall short in some way. Either they aren't structured enough, too big, too small, not enough pockets, ugly, poor construction, etc…. I have found that a lot of diaper bags are cheaply made and don't even last that long.
I recently heard about Kokopax when they were featured on The Ellen DeGeneres Show special Mother's Day Show. Ellen featured several high end giveaways, including the Kokopax City Carrier (so gorgeous!) I LOVED the pink owl print that the carrier was shown in. I looked Kokopax up on the internet and found that they make not only the most beautiful carriers, but also diaper totes, sun hats and accessories.
Here are some of the details about their diaper tote:
"A fun and funky new diaper tote that mom will want to use on her own, not just for baby! Made of 100% cotton canvas with a custom designed water-resistant lining, durable webbing and striking leather accents, the tote's magnetic closure offers added convenience and makes it a one-hand wonder. A zippered pocket, adorned with a custom kokopax logo zipper pull, three extra-deep pockets and a beverage compartment make this beautifully designed bag exceptionally functional. Available in eight custom fabric designs: flutter, watson, sprout, pax, licorice, and bubbles 3.
" Features:
made of 100% cotton canvas
durable nylon lining
three deep convenient pockets
separate zipper pocket
bottle/beverage compartment
dimensions: 18" x 5" x 14"
I had the opportunity to try the Samantha Diaper Tote in the Pax design. It has a Chocolate Brown background with a Cream Peace Sign Detail. The colors are perfect and match almost everything! This bag is truly gorgeous. The fabric is a thick cotton canvas, and the inside lining and changing pad is waterproof vinyl. There is a great no-fuss magnetic closure that is a breeze to use. It practically closes itself! It is very generously sized. When it arrived in the mail it was much larger than I anticipated, which is a good thing. I can fit TONS of stuff in here. In fact, right now I am using it as my everyday bag because I love it so much. I think it will work great this summer for toting around extra toys, clothes and swimsuits too.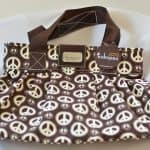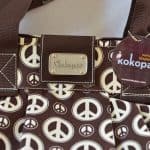 There is plenty of side pocket space and an inside zippered pouch. This makes for easy organization. There is something about the shape of this bag that is so ingenious. It is nice and large, but because of the shape and design I don't lose things in it. I have had other large bags and I am constantly searching for that one item that always ends up in the bottom corner. Never once have I had that problem with this bag. This is MY FAVORITE diaper bag ever. No kidding. Did I mention the totally scrumptious inner lining and coordinating changing pad. No? It's MONKEYS!! Cute monkeys. That coordinate in a light brown and cream. Ohhhh, the cuteness. I highly recommend in investing in one of these diapers totes. Not only will you use it for multiple children because it is durable, but you can use it as an everyday bag when you don't need a diaper bag. The designs are funky and fresh, and won't go out of style anytime soon. No other mamma will be toting around a bag like this. I get complimented on this bag every time I wear it. What else can I say, other than I LOVE this bag. Maybe I need to get one in the Flutter design too. It never hurts to have an extra bag right?
I haven't tried their baby carriers yet, but I definitely think they are worth mentioning here. I am a tried and true baby wearing mama. I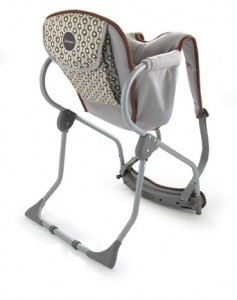 typically like unstructured carriers. However, in all fairness I do have to say that I have never tried a structured carrier. When I saw the carriers that Kokopax has to offer, with their lightweight design and adorable prints, I began to rethink my ways. Now I am thinking that I need to try one of these carriers. Wouldn't it be great for the grocery store or running errands? The baby is high enough that they can see over your shoulder, and they are behind you so your hands are free. Adorable!
They also offer sun hats. These are fabulous for this time of year. I just love a cute bucket hat, and these are adorable. They have it all:
"Adorable strap-on shade for wee ones! Offers the ultimate in sun protection."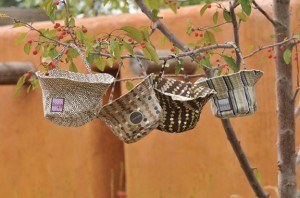 Features:
made of 100% cotton canvas
no-fuss chin strap
available in: 6-12 mos, 12-18 mos, 18-24 mos
To receive a 10% discount on your order, just visit www.kokopax.com and enter promo code "thismamalovesherbargains2011"! Don't forget to follow Kokopax on Facebook for the lastest product news and promotions.
One very lucky reader will win a Kokopax Sunhat.
Mandatory Entry: Leave a comment with your name and be sure to include a valid email address in the comment form! Extra Entries: 1. Follow Kokopax on Facebook 2. Follow me on GFC, Facebook, Twitter or RSS/Email Subscription (+1 each) 3. Leave a comment on any non giveaway post +1/post up to 5 comments 4. Share this giveaway on any social networking site: #win sun hat @Kokopax from @mamatomjr @jendpt http://wp.me/p1qA6G-1Po (can be done 2x day at least 1hour apart) This giveaway will end on June 23, 2011 at midnight, EST. US only. Winner to be chosen randomly. Winner has 48 hours to respond to my email or a new winner will be chosen. I received a sample of this product to facilitate my review. All opinions expressed are my own.[ad#glam between posts]
0