These Owl Always Love You cake pops will make a fun treat for Valentine's Day!  They're easy to make and you can really get creative with decorating them or letting the kids have some fun with them too.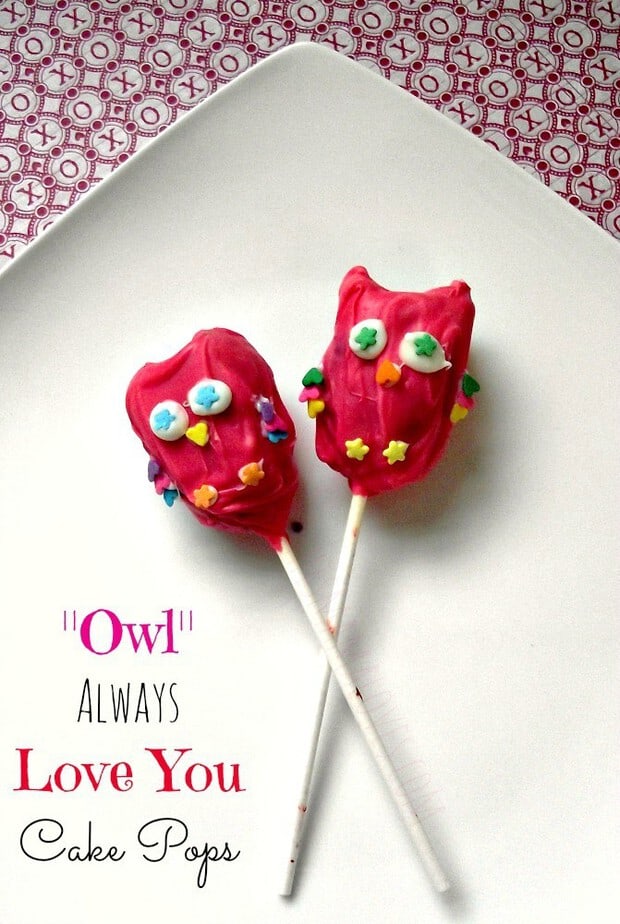 Ingredients and supplies:
Cake scraps or broken up cake ~ I used red velvet for a more festive color for Valentine's Day.
Pink & White Candy Melt (or white chocolate colored pink or red)
Variety  of sprinkles for decorating – including hearts and flowers
Lollipop sticks
Most cake pops are created either by baking in a cake pop pan or by crumbling the cake and putting it back together with frosting.  The latter of the two methods can be a little too rich and with the first, you are limited on shapes and sizes by the pan you purchase.  This is an easy alternative.
Step 1
Crumble your baked cake into small pieces.  I used the scraps from leveling a cake that I baked for something else.  It's a great way to not be wasteful and to make some really cute treats!  Place the crumbled cake in the freezer for approximately 30 minutes.
After the cake has chilled, remove from freezer and begin packing the moist crumble into your desired shape around your lollipop stick.  For these owl pops, I made an egg like shape and used my thumb to make an indentation in the top which created the ears.  Once you've made your shape, return to the freezer for 15-20 minutes.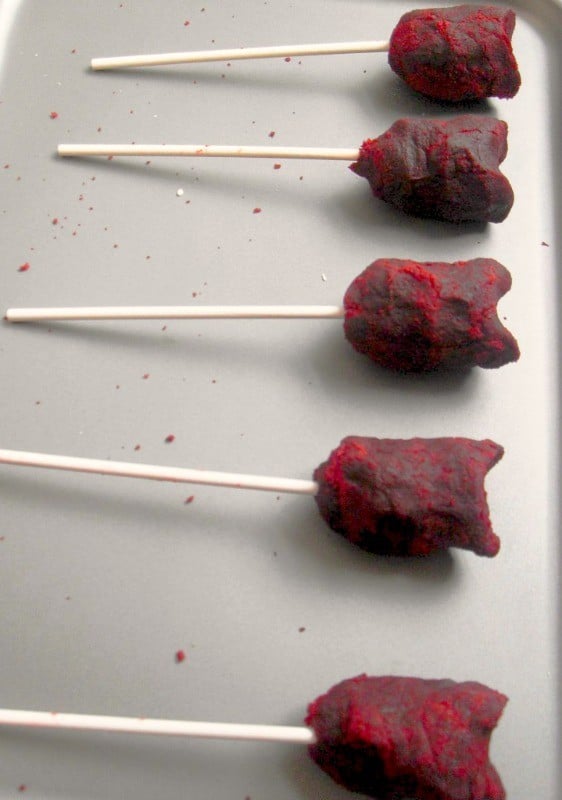 Step 2
Heat the candy melt (or chocolate) according to package directions.  Stir until smooth.  Remove cake pops from freezer and using a spoon or spatula completely coat each pop with the candy melt.  Stand in a glass until candy melt sets.  It will harden fairly quickly with the cake chilled.
Step 3
Heat a small amount of white candy melt or white chocolate to use for attaching the sprinkles to create the face, wings, and feet of the owl.  You could also use a contrasting color melt to make a heart shaped breast on the owl.  For these owls, I used a flower shape sprinkle for the eyes against a larger dot of white chocolate, an upside down heart for the beak, flowers for the feet, and a series of hearts to create the wings.
Allow the white chocolate to completely set.  Place in a mason jar or vase to create a bouquet or slip a treat bag over each owl and tie with a ribbon or attach a tag with the phrase "Owl Always Love You"!
What are YOUR favorite ways to celebrate Valentine's Day?
Google+ Comments