>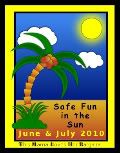 So here we are starting the summer, and we're all using sunscreen, and hitting the lake, pool or beach- My summer will be spent doing lots of reviews showcasing products that are safer alternatives to traditional products for summertime fun or they will be just plain fun ways to enjoy the fun.
Some of the companies I'll be showcasing include: KineSys, TruKids, EcoMom, SmartMom, Topsy Turvy, Scentsy and more…so stay tuned.
If you make something you would like me to showcase, please contact me so I can add you to my calendar!! (Or if you have a suggestion for me, please feel free to share).
Happy Safe Fun in the Sun!

And a BIG thank you to Melissa from A little of this and a little of that for her help with my button needs, once again!