I had my iPad 3 for almost a full year and never ever dropped it.  I had this adorable case on it, that was super cute, and everything was alllll kinds of hunky dory and happy.  I even would read books or watch episodes of True Blood on my iPad while in the tub.  NEVER did I drop it. I was so careful!  Always! And then one sad morning, my poor little iPad slipped from my hand in the bathroom.  It dropped onto the floor, maybe from a foot above the floor?
And it shattered.
It was a very, very sad day.
Then I ordered this cool kit to replace the glass and I was all 'Oh yay me, I can totally fix this myself" and I did. I totally replaced that glass properly.  It's just that this little thingy was supposed to be clicked into the motherboard, and not just taped in place and I kind of missed that minor detail and so there I was with a fixed glass iPad 3 that wasn't going to work because I MISS things…and wasn't about to touch the glass again.  So my poor little iPad sat unused and unloved for a few months (and I did try to hook up with a few "repair" places via Twitter who didn't respond to my inquiries. I was giving up on things.
But then I found out about iheartrepair.com and things changed.
My sads were over.
I bundled up my iPad and sent it away, using the prepaid label that iheartrepair.com sent to me, figuring I had nothing to lose. We'd gone months without seeing one another- I wasn't sure we'd ever be "together" again. Within a week…I had a box come in the mail.

iHeart Repair is dedicated to providing high quality repairs for Cell Phones & Tablets. They offer ship-in repair services that come with an incredible 24 Hour Turnaround and a 2-Year Warranty.  Look how badly it was shattered – even with a screen protector and case!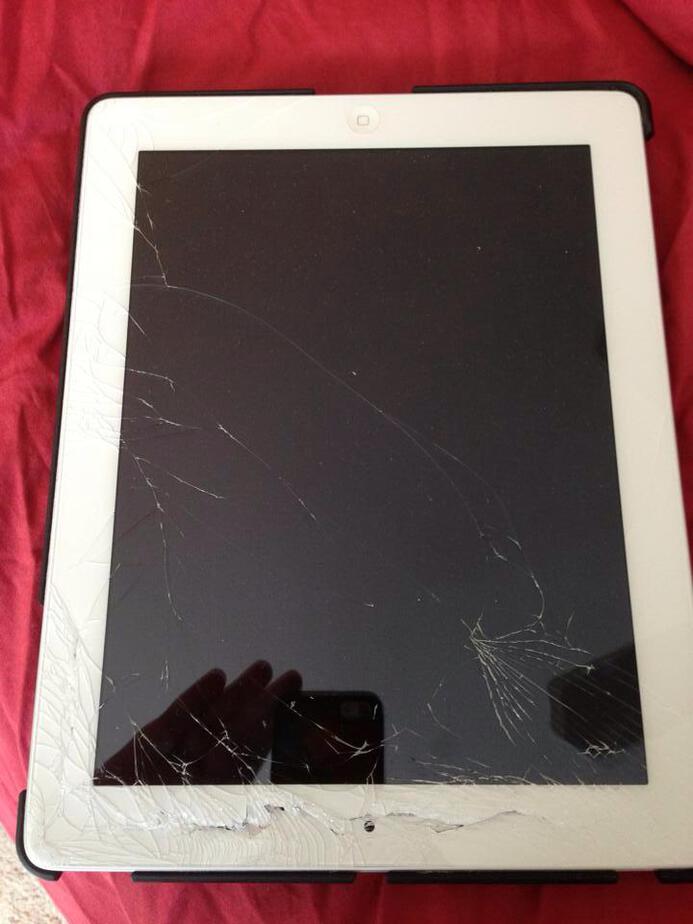 My lesson is learned.  Protective cases are key.  Especially when Brett Martin owns them.  And if and when you want to learn the hard way, remember iHeart Repair.
I called around and iHeart Repair would have cost me less than anywhere I could have found locally.  Combine that with their 2-year warranty, and it is a no-brainer!  If your mobile device needs a new screen, be sure to check out iHeart Repair.
Have you ever dropped a tablet or a phone? My readers can use the coupon code, TML10, for $10 off any ship-in repair, (iPad, iPhone, iPod, other smartphones & tablets).
iHeart Repair fixed my iPad screen at no cost to me.  I was not compensated in any other way.  These opinions are solely my own and may vary from others.