A few weeks ago my friend Liz posted a Peppermint Oreo Cookie Balls recipe using Peppermint Oreos.  That made me REALLY want Oreos.  I'd never seen the peppermint variety before, so naturally, that's what I had my eye on.  I brought them home and realized, well, hey! I could eat these and enjoy these, but I *could* also have a little fun with them and turn them into something more.  It got me thinking about cookie balls and the holidays and ultimately led to the idea of making cookie balls into snowmen!
Ingredients
1 pkg. (8 oz.) brick cream cheese, softened
36  peppermint OREO Cookies, finely crushed (about 3 cups- food processor, Magic Bullet, food chopper make this a lot easier)
4 pkg.  (4 oz. each) semi-sweet baking chocolate, melted
You will also want to have some longer sized toothpicks. The size I use is about the width of a sandwich container.
Mini chocolate chips
Orange starburst candies (you can also use orange icing)
Shimmery sugar crystals
Directions 
MIX cream cheese and cookie crumbs until blended.
SHAPE into 48 (1-inch) balls. Freeze 10 min. Dip balls in melted chocolate; place in single layer in shallow waxed paper-lined pan.
Sprinkle shimmery sugar crystals on the snowballs
REFRIGERATE 1 hour or until firm.
Stack "snowballs" onto toothpick 3 high.
Using some icing or frosting for "glue", add 2 eyes and a mouth using the mini chocolate chips.  


Cut a trianngular shape out of your Starburst candy for the nose.  Glue onto face using icing/frosting

Chill to set the icing.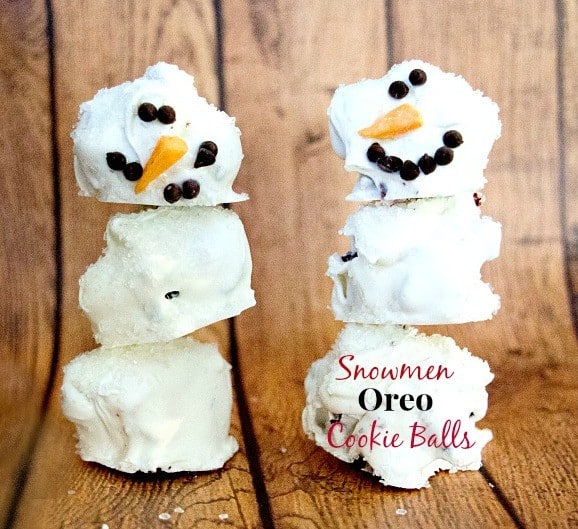 You can learn more about OREO cookie balls and find fun takes on the classic recipe at Snack Works, and make sure to follow @oreo for cookie ball inspiration and recipes all season long.
Google+ Comments