>http://rcm.amazon.com/e/cm?t=this0a9-20&o=1&p=8&l=bpl&asins=B000OV4G5A&fc1=000000&IS2=1&lt1=_blank&m=amazon&lc1=0000FF&bc1=000000&bg1=FFFFFF&f=ifrSince I took my cake class in April, I'm all gung ho on doing all of my kids' cakes and cookies, cupcakes, etc. for birthdays, class parties, etc. I contacted Wilton and asked if they might be interested in my doing a review and giveaway – and to my excitement, they WERE!! A few days later, a large box showed up from UPS and inside was my little girl's delight: The Wilton Princess Ariel Cake Pan, Ariel Icing Decorations (2), Ariel Baking Cups, Ariel Icing Colors an Ariel Birthday Candle and Ariel Party Toppers (2). My girlie and I were squealing. Busy B. has been hoping and hoping for an Ariel cake for a while and thanks to Wilton, I can make that happen.
We are set to go, and I have until July xxth to get good at making Ariel. In the spirit of letting you have a good laugh, I will share my first Ariel cake attempt. (Anyone who has good tips on how to make a mouth with icing gets a bonus entry!! No joke!)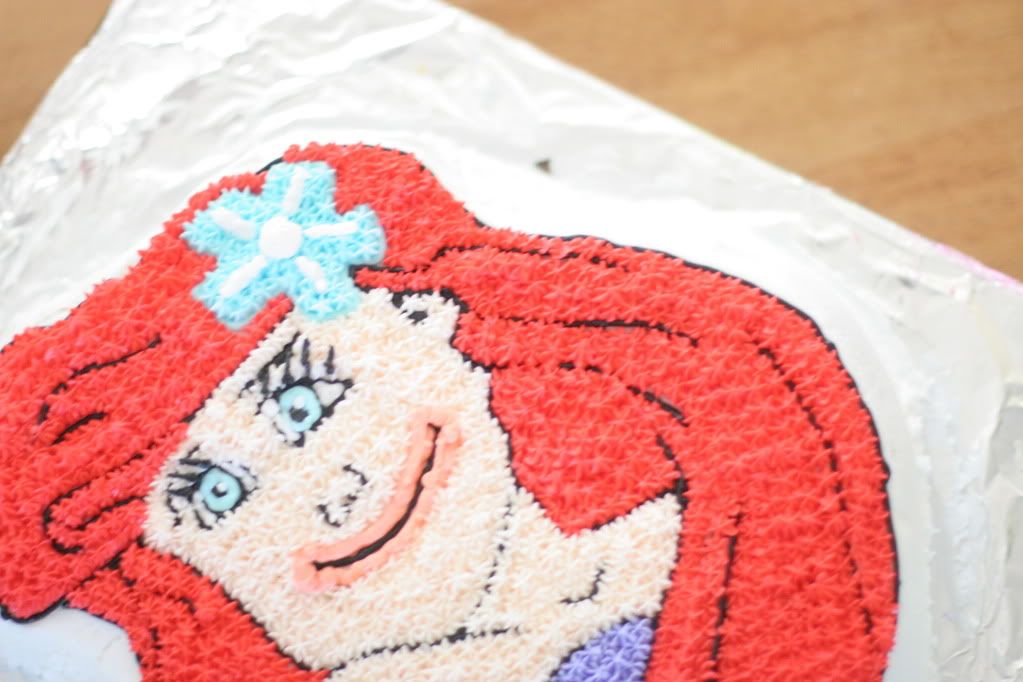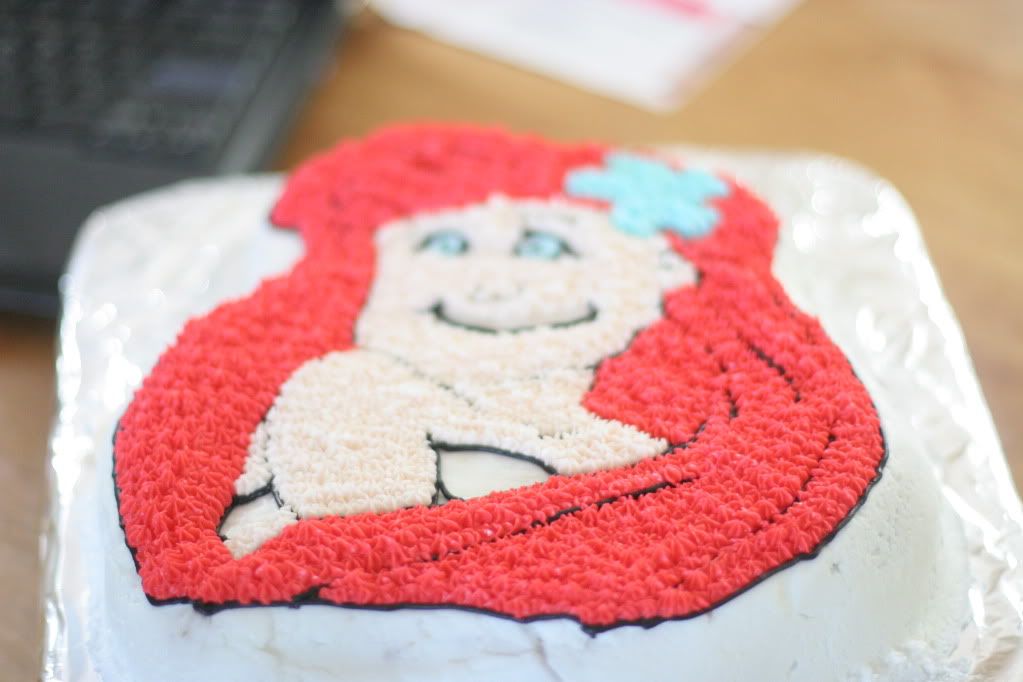 (You can see I needed to do the bikini top still in this shot but the mouth looks more normal here!)
I have a little neighbor who likes Ariel as well and her birthday is in a few weeks- I'll be making another practice cake for her!!
I love Wilton. Its quality. Its trusted. Reliable. They know what they are doing. (They make all sorts of cool matchy sets of things, which is one of my favoritest things in the world!)
We have used the cake pan (to bake with and then to kind of imprint on the icing) and icing colors so far. The icing decorations- well, they have been sampled and declared yummy by the little Bargain children, but not actually used on a cake. Rest assured, we've used other Wilton icing decorations in the past, they rock. The candle cannot be used until it is really Busy's 5th birthday but again, we've used Wilton candles before, they are quality!!
I love Wilton icing- and like with most icing colors, you have to play with these until you are happy with the color you are seeing in your buttercream. When we make this cake next, there will be at least double the amount of the teal, as well as the skin tone used. I also need to get some no-taste red from Wilton to make Ariel have red hair and not playdough red hair. I think we will make the lavendar in the bikini a few shades darker as well, to make all of the colors pop. I will say, even though pale, the skin tone icing color really did look like Ariel's skin tone!! I do like how the icing gel colors don't thin icing- they just color it. The drops wreak havoc on whatever I'm trying to decorate, to be honest. I'm a full on icing gel color girl now!
Now for the fun part- one of YOU is going to win ALL of the Princess Ariel Items from Wilton (Est. ARV $35) that I reviewed!! One Ariel cake pan, one Ariel birthday candle, two packs Ariel party toppers, two packs Ariel icing decorations, one Ariel icing color set and one package of Ariel baking cups. An Ariel lover's dream come true!!
How to Enter:
MANDATORY ENTRY
: If you don't put this as your FIRST entry, your other entries will not be counted. I want you to head over to
http://www.wilton.com/
and tell me what theme set YOU might like to have, or try, or what cakes you would like to try and make (themed or not).
***Remember, if you do not tell me who you are either by having your email visible in your profile or putting your email in each entry, I won't be able to contact you if you win. ***
Extra Entries (1 entry EACH)
Follow me on Google Friend Connect
Follow me on Twitter
Subscribe to my RSS feed (orange button —->)
Follow the Wilton Cake Blog
Follow @WiltonCakes on Twitter
Extra Entries (1 entry each PER DAY)
Share this giveaway on FB (comment needs to include the URL to your post)
Tweet this giveaway must include:
"@wiltoncakes Princess Ariel Giveaway http://bit.ly/9djuZQ @mamatomjr" #win #giveaway #wiltoncakes (comment needs to include URL to your tweet)
Vote for my blog here (again, 1x/day)
Comment on ANY post on this blog or enter any other giveaway, 1 entry per comment/entry.
Oh and as promised, if you can tell me an easy way to make the lips properly, you get a bonus for that. (We'll do 2 entries for that).
For TEN extra entries, grab my button and leave me the link where I can find it!! (leave 10 separate comments)
Please do NOT forget that you need to do a SEPARATE comment for EACH entry or they won't count as separate. And again, leave me a way to contact you!!
This giveaway will end on Friday, June 11, 2010 at 11:59PM CST. Winner will be chosen by random.org and will have 48 hours to respond, or will forfeit prize and I will choose a new winner. GOOD LUCK!! US only.
I did receive these items in order to facilitate my review but all opinions expressed herein are my own.