At the end of August, I was invited to visit Door County, Wisconsin with several other travel writers and bloggers. Having never been to any of the Great Lakes, I assumed I'd be visiting a place that echoed my childhood memories of growing up on an island on Lake Winnipesaukee in New Hampshire. In some ways, I was right. In many ways, I was so very wrong!
10+ Things you MUST do in Door County, Wisconsin

Door County is a peninsula on Lake Michigan that's got Green Bay on one side and open waters on the other. You're not going to find much in the way of "chains" in this county, and to be really honest, it's one of my favorite things about the whole area. The lack of franchises and chains has kept Door County feeling like my childhood memories of my time at the lake- lots of amenities, but holding tight to the time honored traditions of lake life. The parts of lake life that make it so enticing, and make folks want to move there, or at the very least, visit over and over and over again.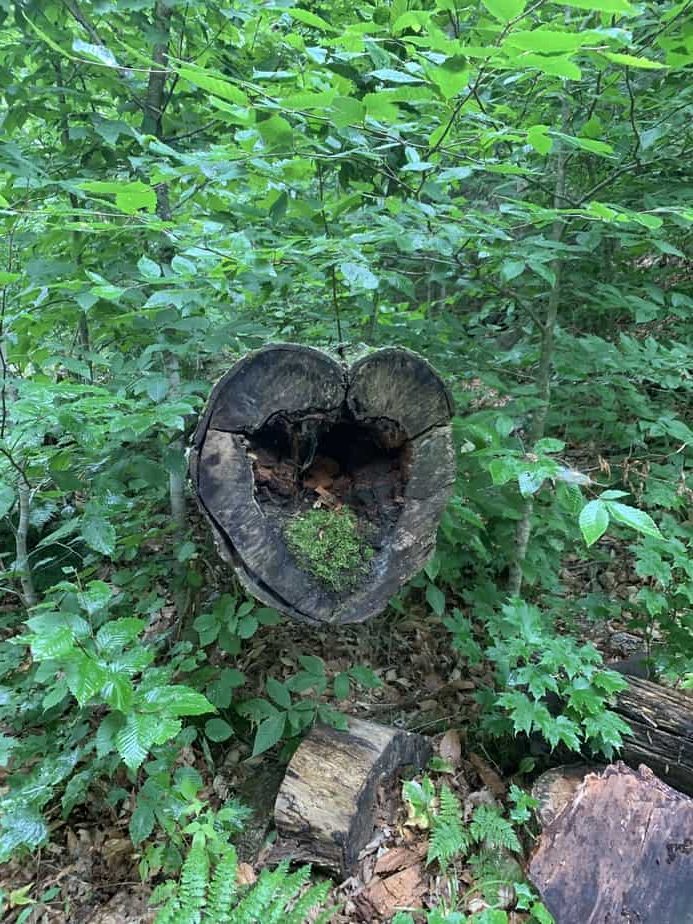 Eat all the cheese, cheese and more cheese, plus cheese curds.
Just as you enter the county, you will need top stop at Renard's Cheese. Why? Because, cheese. Cheese curds. Yummy sandwiches, great food, and cherry soda that's made how soda used to be, and should still be made. Mostly, though, it's about the cheese. Chris Renard is one of just 62 Master Cheesemakers in the US- he knows the family business quite well, and is in an elite group of cheese makers from coast to coast.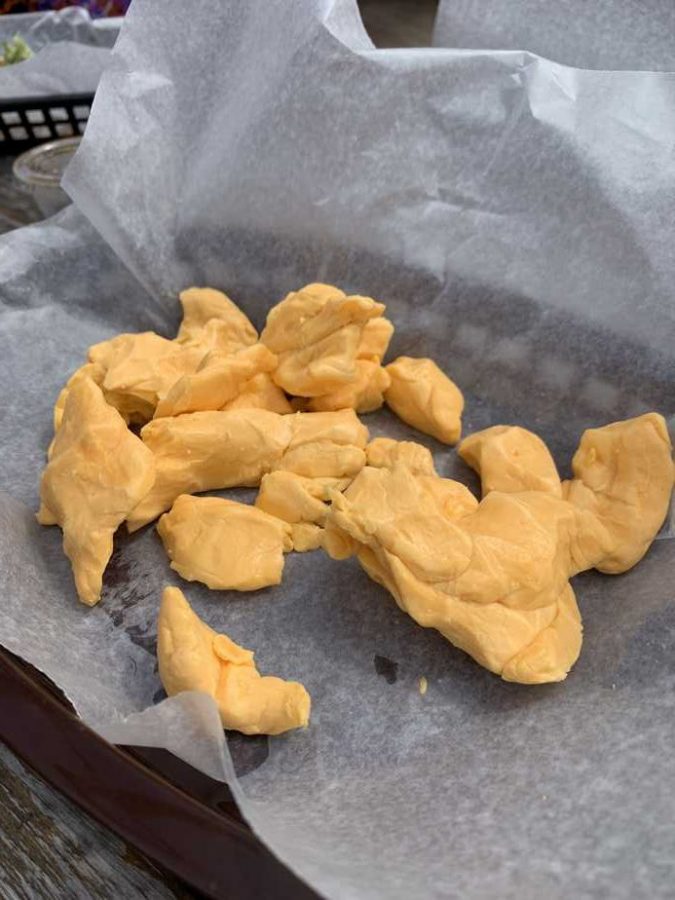 Plus, if you have kiddos with you, it's a great place for them to stop and get some energy out at the playground adjoining the patio, and lots of space to walk the dog for some relief and exercise while everyone eats.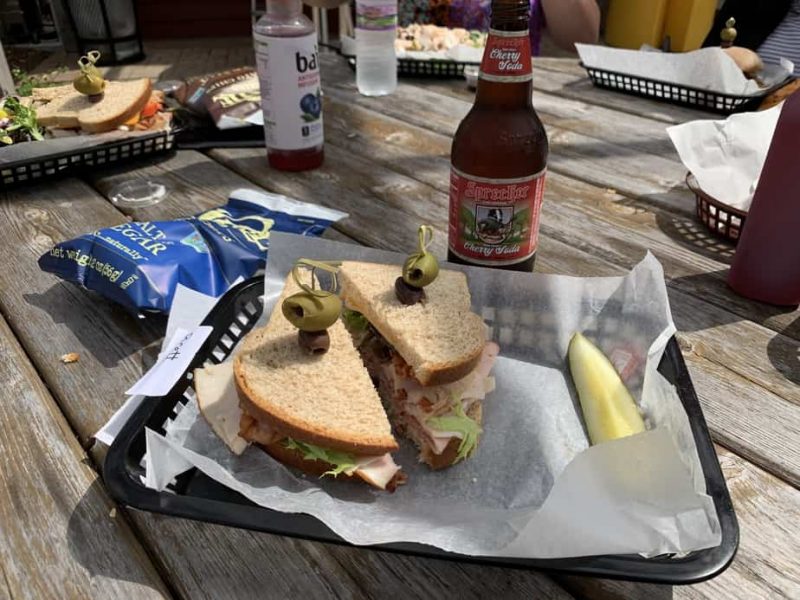 Don't forget to take a photo with the Melvin Mouse. He's adorable, but also iconic. Renards was kind of the "signal" that you'd entered Door County, I imagined, just as certain sights signaled to us that we were nearing our beloved lake as a kid, a teen, and an adult.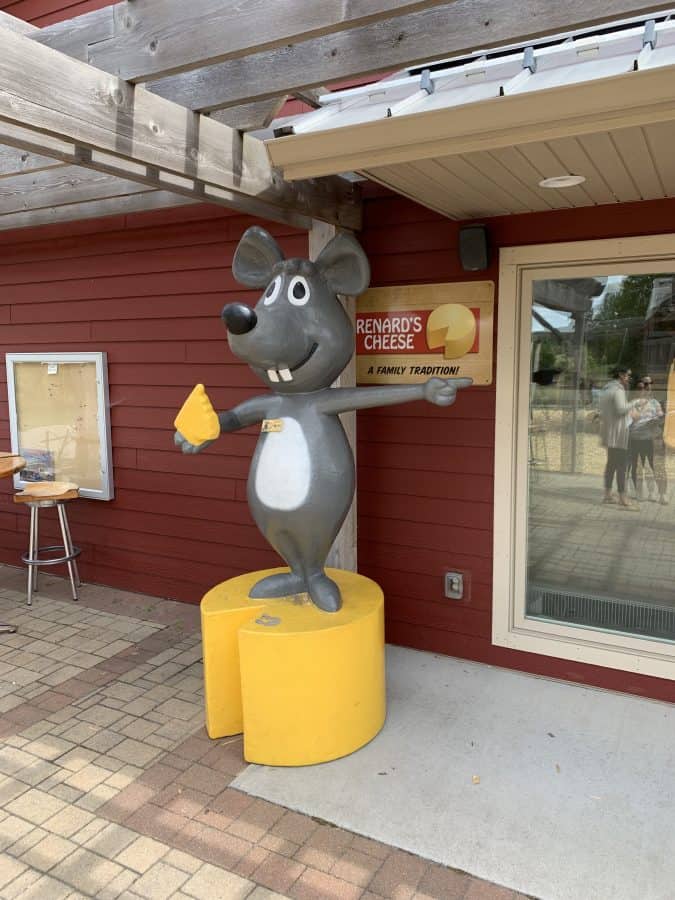 Wide open spaces abound
Door County has recreation activities for all four seasons. As the Dixie Chicks sang, we do need "Wide Open Spaces" and there are several state and county parks across this county with bountiful passive and active recreation available all through the year. Hiking, camping, biking, fishing, swimming, surfing, boating, kayaking, speed boats, water sports, cross country skiing, bird watching. The list is endless. But the folks in Wisconsin understand how important it is to preserve open space in a land so full of wildlife and plant life in so many varieties. You can camp at many of the state parks, but in some, you're hiking in on foot. The rewards? A view of the sky with no light pollution and some serious time to connect with nature, and your companions.
Cave Point County Park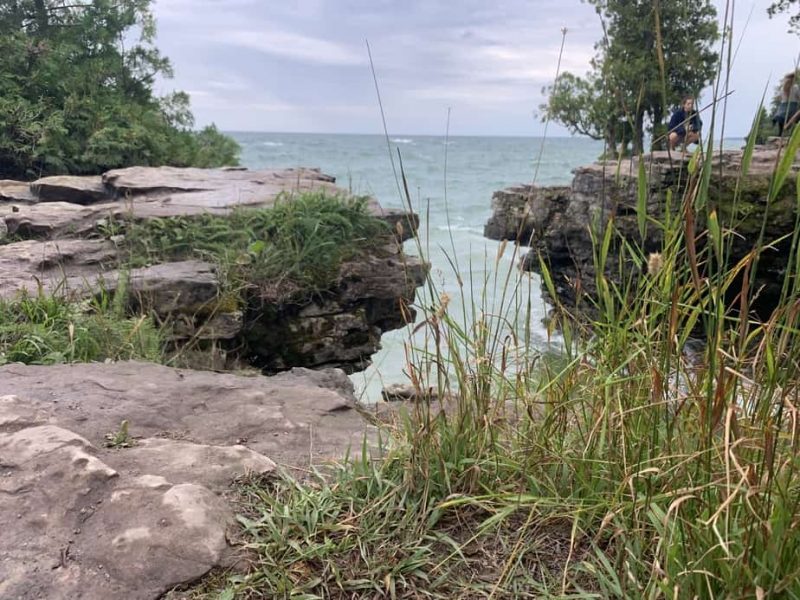 This park is a must see- it's free, but it's also a place to hike, walk, be a daredevil (in calmer waters, people do jump and flip off of some of the rocks, but please understand that you do so at your own risk) and really, just enjoy being outside in fresh air and a beautiful view of Lake Michigan.
The surf is powerful, which when you stop to see the way the waves have carved into and worn down the rocks over time, truly shows how powerful water can be.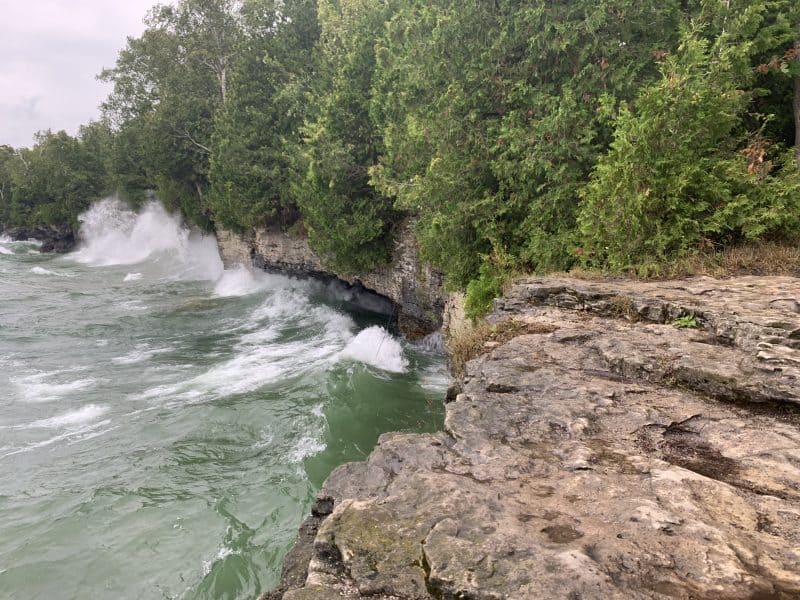 It wasn't even super windy that day! On days it's not windy, people kayak around this area. I hope I can go back and try that myself someday soon.
Whitefish Dunes State Park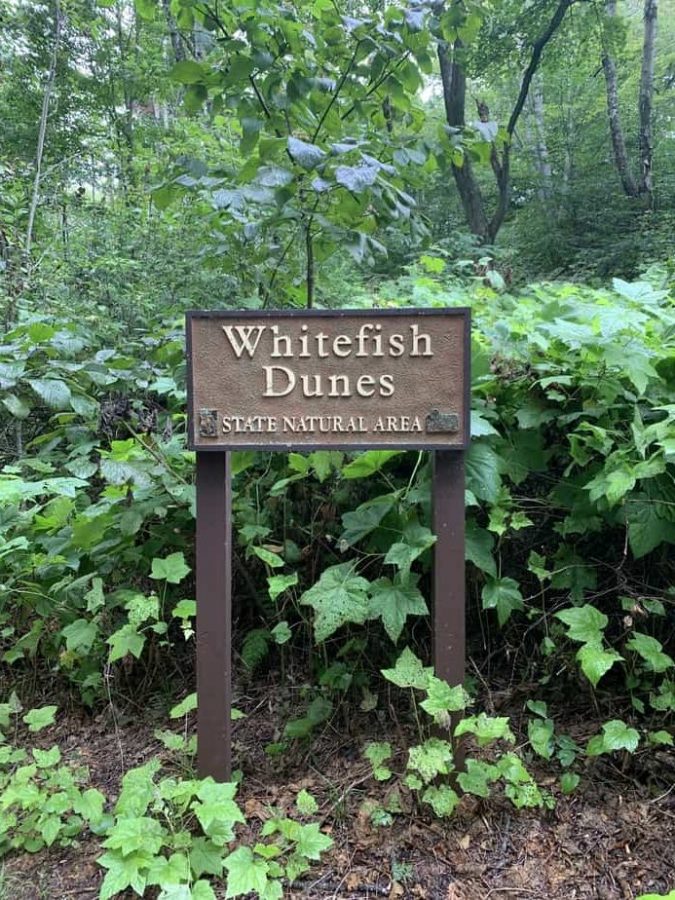 There's a carefully crafted campsite replicated from the indigenous people to the area at the start of the walking trails.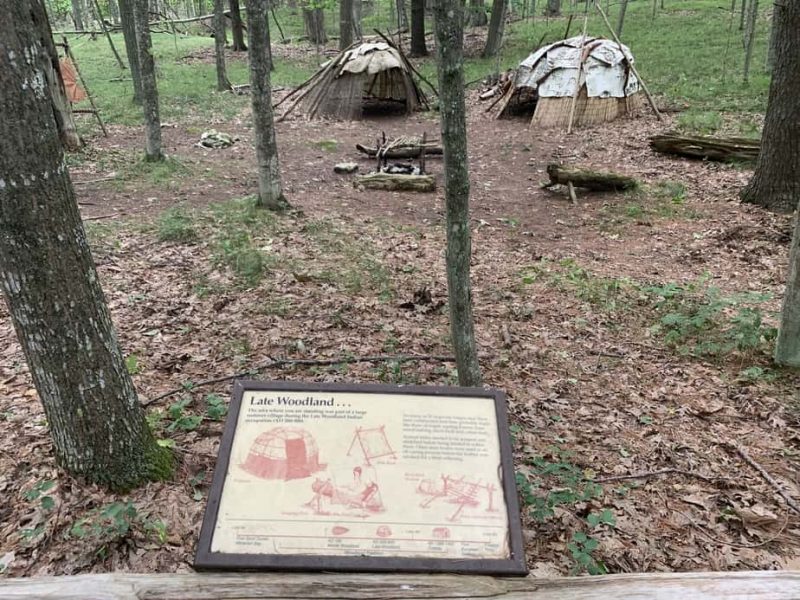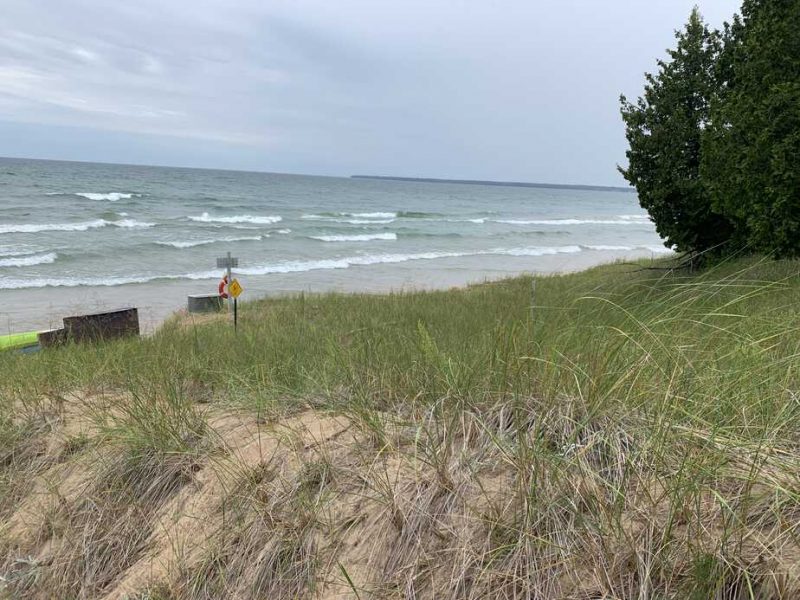 On calmer days, around the lake you can see lots of shipwrecks in varying places. It's amazing to me that this lake is deep enough for shipwrecks to happen- and such large ships!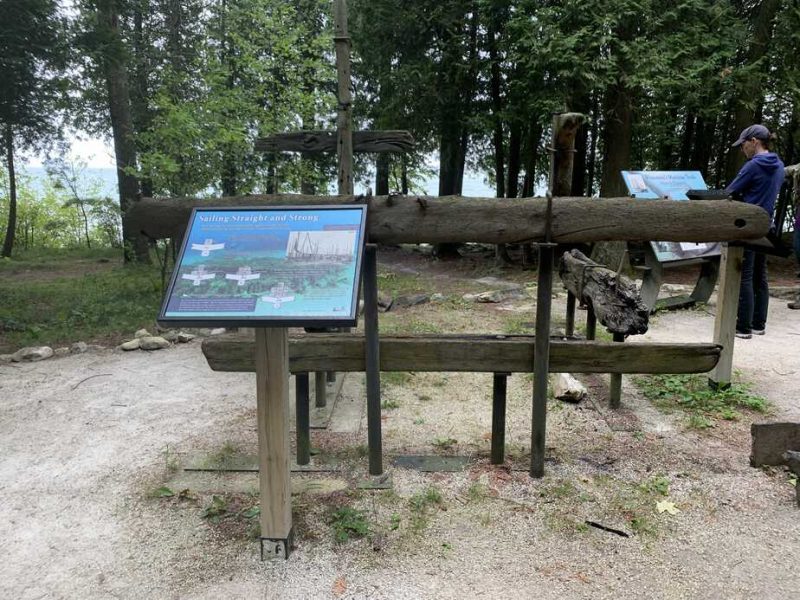 The Ridges Sanctuary
The Ridges Sanctuary itself is a really cool place to visit. My FAVORITE thing about it though, that makes it pretty over the top amazing, is that they have a boardwalk that creates fully accessible hiking. Folks in wheelchairs can access the whole thing along with those not in chairs.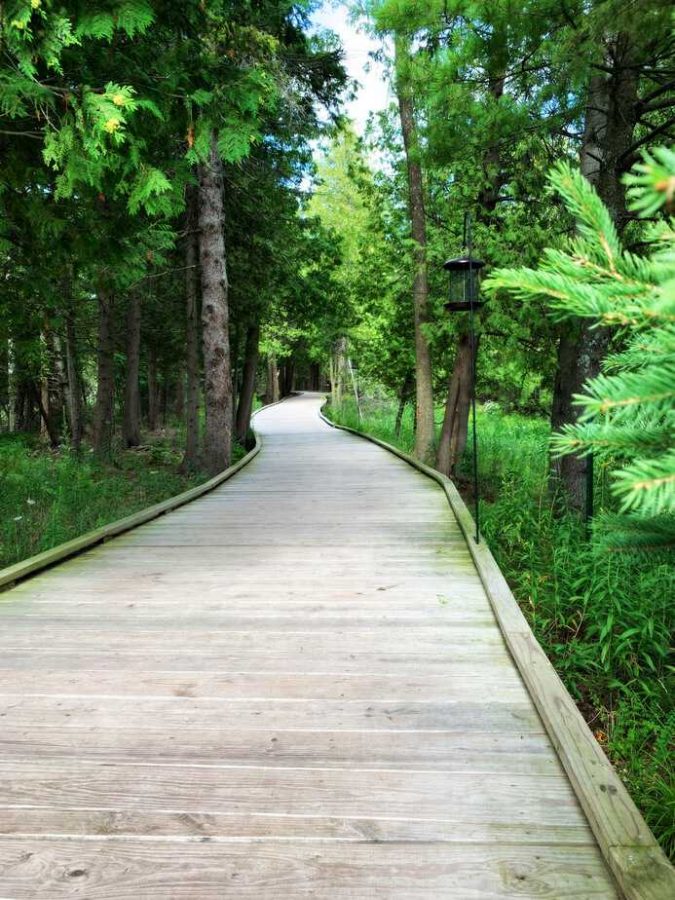 Plus, there's a whole lot of interesting science information to learn
Because of the way the lake levels have changed over many many years, there's some cool effects on the land and ecosystems- that's what The Ridges show.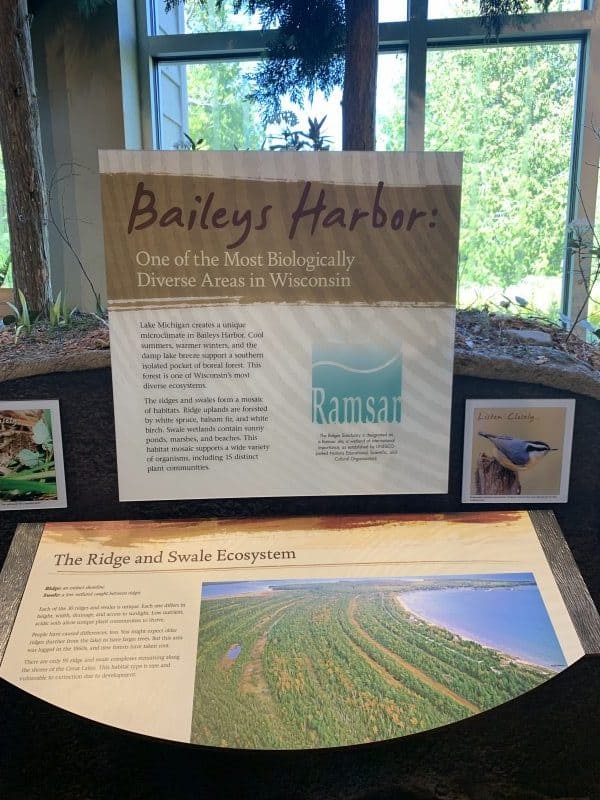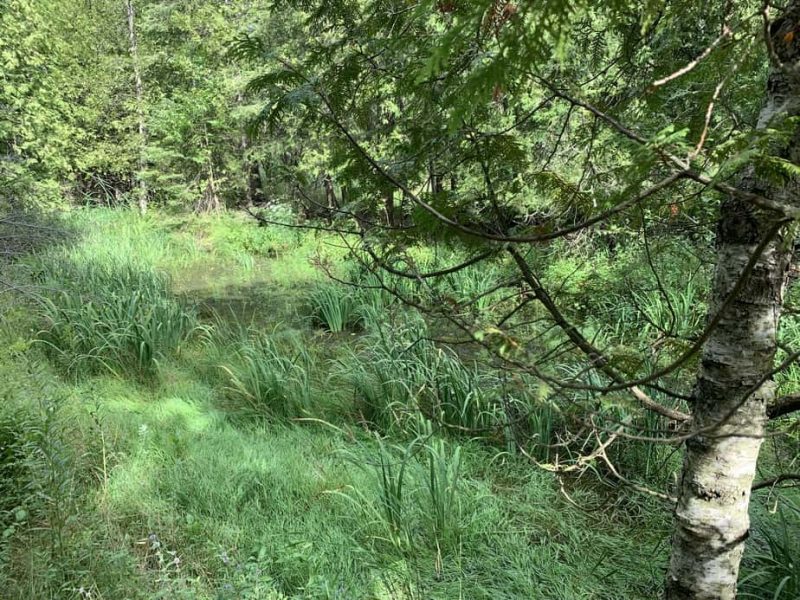 Lighthouses
We got to visit Cana Island Lighthouse, in a bit of a rainstorm, which normally isn't done on rougher days but we were given an absolute exception and brought out bouncing around, laughing and getting ourselves soaked to the bone from the rain and lake water splashing above us. Worth every second, although my sides hurt from laughing on that "tractor and wagon ride" we took to Cana Island.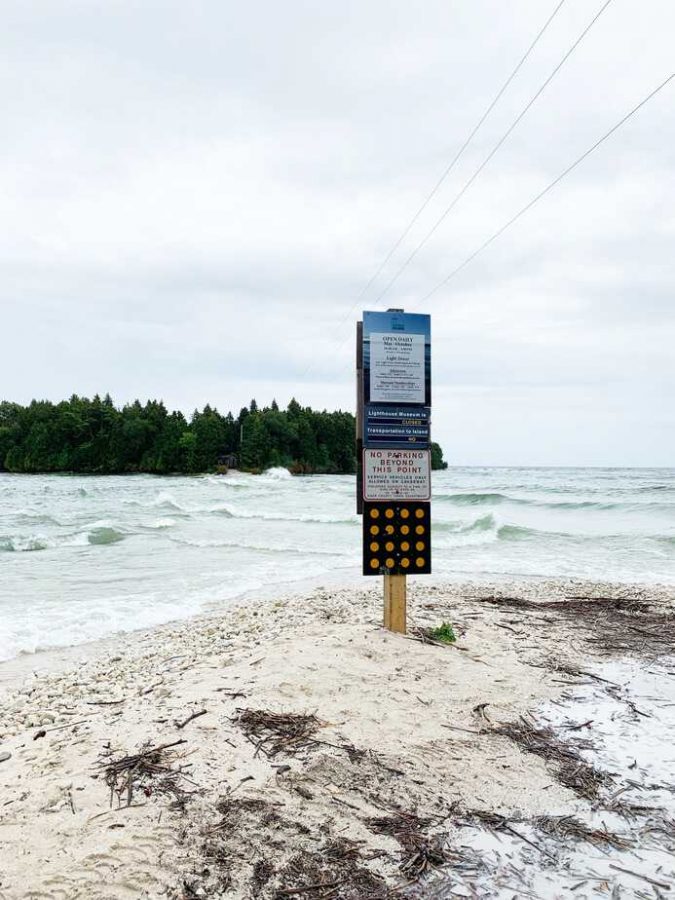 On a normal, calm day when the lake's level isn't really high, you can actually walk out to Cana Island on foot, or wade, as it's generally not over 18 inches of water. We happend to visit on a higher lake level year in general, but adding in some rain and some wind, there was more than 18 inches of water and I'll just let you watch the video below.
Cana Island's lighthouse was established in 1869 and while it's not been used steadily throughout as a lighthouse, it's still actually got the Fresnel lenses up in the lighthouse that stands 89 feet above ground- which means 97 steps to climb in a spiral fashion if you want to see the views from the top. The reason I mention this distance is because I kept thinking about being the lighthouse keeper and realizing on step 62 that you forgot your coffee. Or needed to use the bathroom. Or forgot to bring the lard or oil to keep the light going at the top. That's a long long walk to go down and back up again!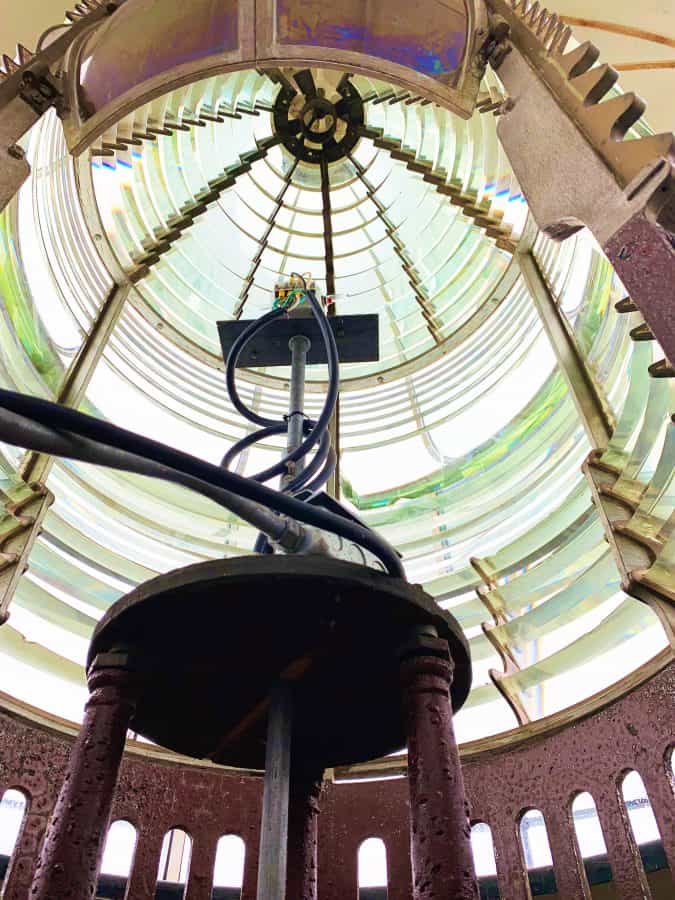 97 steps or not, it's definitely worth the climb, and perfectly acceptable to take a quick second (assuming it's not packed with visitors) to take a small break and pretend like you're just looking out of the portals at varying spots along the stairwell climb. Or so I've heard. Just duck when you reach the top and prepare to be amazed because when you step outside, it's all worth it. Such views, and so much beauty to see. If you happen to not love heights, don't look down on the lawn of the island to look for friends or to see what you find.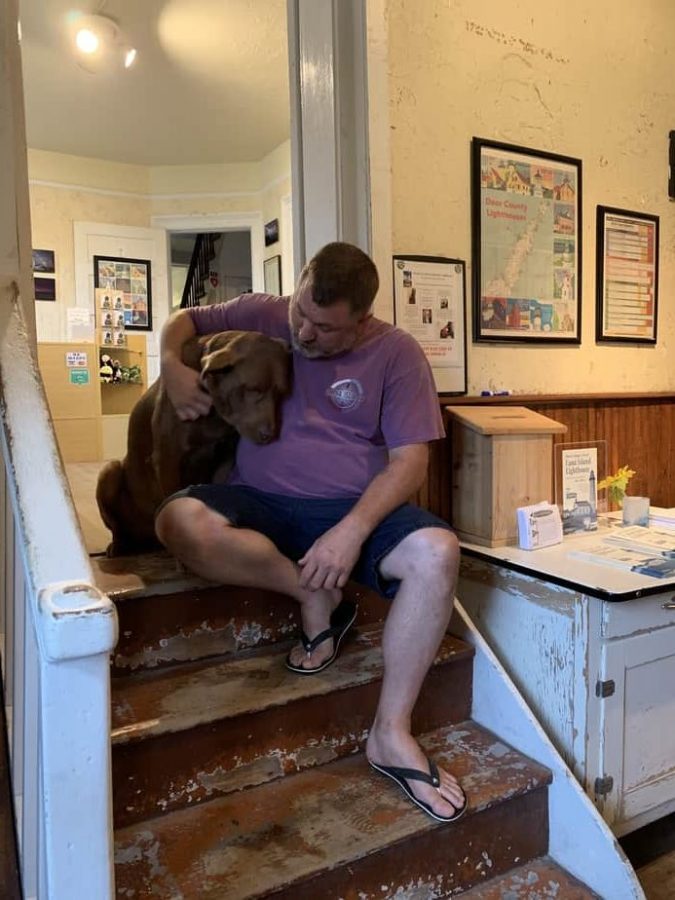 If you're lucky, when you are out on Cana Island, you'll get to meet Cooper, the sweetest dog and a very good boi who loves to say hello to visitors. He likes scratches behind his ears.
There's many other lighthouses around Door County, including the Bird Cage Lighthouse, only seen from the water due to its location on a private residence.
Fish Boil
We were invited to attend- no, experience the Rowley's Bay Resort Fish Boil. By the time we were ready to attend the fish boil itself, I'd heard several stories about what a fish boil was, the process, and kind of knew what to expect.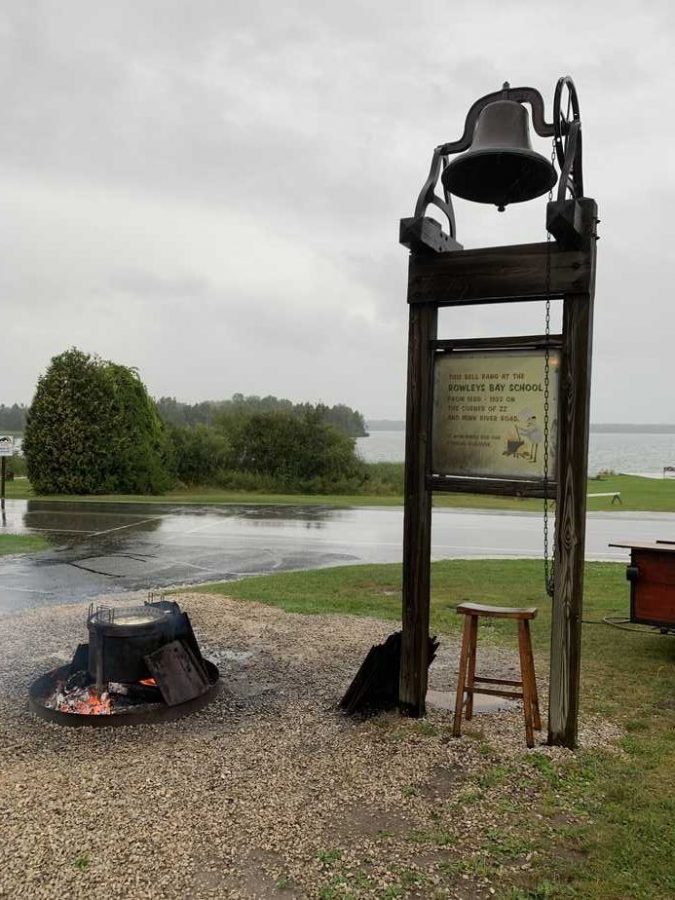 But at Rowley's, it's not just a fish boil. The folks at Rowley's have the most charming and enigmatic older gentleman named Charlie who summers in Door County and passes his time by storytelling at the Monday fish boils that Rowley's does.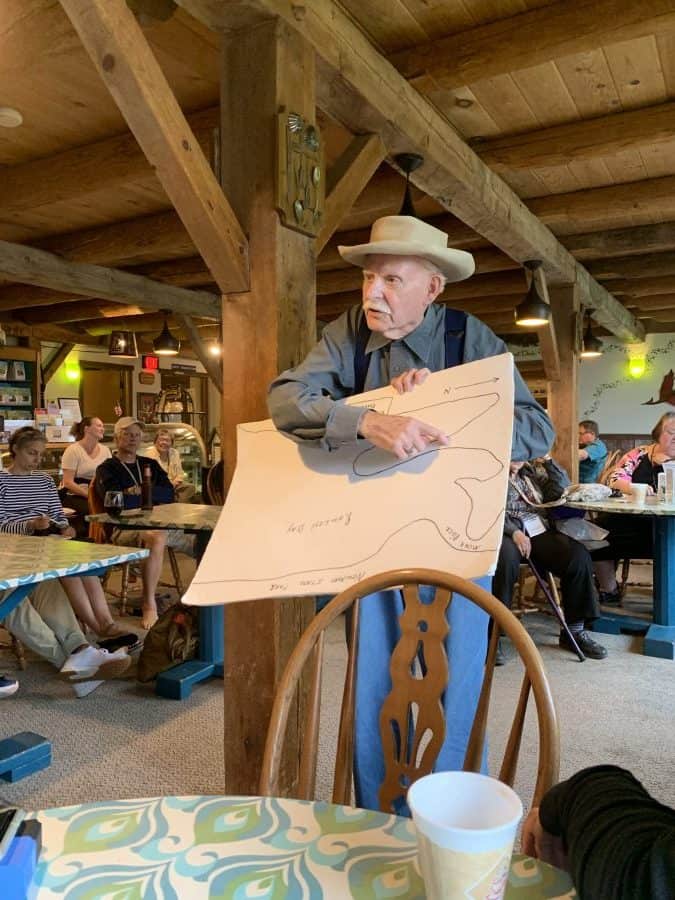 Charlie makes the fish boil magical. He's pretty amazing at what he does, and his dad jokes are on point.
For those who don't know, a fish boil is a meal that consists of white fish, potato, onion, butter, salt and oil. It's all kind of cooked together in varying stages over an open flame. It's a really fun and festive meal that's often done for gatherings and usually served with rye bread and cherry pie. You'd assume I remembered to take photos of the food when it was cooked, but you'd assume incorrectly. I was soaked to the bone and really hungry and just plain didn't get photos. It was delicious!
I'm going to tell you exactly how many photos and videos I got during this boat ride. Zero. Or perhaps I got one as we left the docks, but let me make something clear to you.
A "big lake" on the east coast has N O T H I N G on a great lake when it comes to waves, and this girl right here? The one who was all "oh hey, let's sit right in front, the bow is always more fun on the water" ate.those.words. My phone was in hand ready to record some fun video footage and snap photos of everyone on the boat and within probably eleven minutes tops, another writer offered to stow my phone because I was carrying on like this was my last moment on earth with each and every wave we went over on the boat. So, total photos from ME? Zero.
Great Lakes make lakes like Winnipesaukee look like little hot tubs. Great Lakes have WAVES, you guys. I was all brave and stuff at first, but was clearly clueless that we were still in a pretty protected part of the bay/in a cove. Let me tell you something, friends. These boat rides are no joke. I laughed and laughed and screamed until my throat felt dry and raspy. I'm praying no one else has video footage of me because in my cocky 'oh I love riding in the bow" comment times, I was not only regretting my decision to sit up front, but could not even signal to the driver that I needed to move my seat because I was hanging on for dear life. I do remember numerous colorful phrases streaming from my mouth as my ample bottom flew yet again off the seat, with me clutching one railing on the boat with one arm and hugging the boat's life buoy ring with the other arm right to my chest.
Guys, the water wasn't even super rough. What you're all reading is my admission that I am a big (literal and physical) chicken who talked a big talk and when it came time to walk the walk, squacked like a chicken and couldn't hang. What I spent my childhoods thinking was rough waters on a lake was, well, not much at all. Much merriment was had on that boat ride, which you should definitely do and if Matt is driving your boat that day, please tell him I've almost forgiven him for the eleven grey hairs I gained on that fateful early evening in late August of 2019.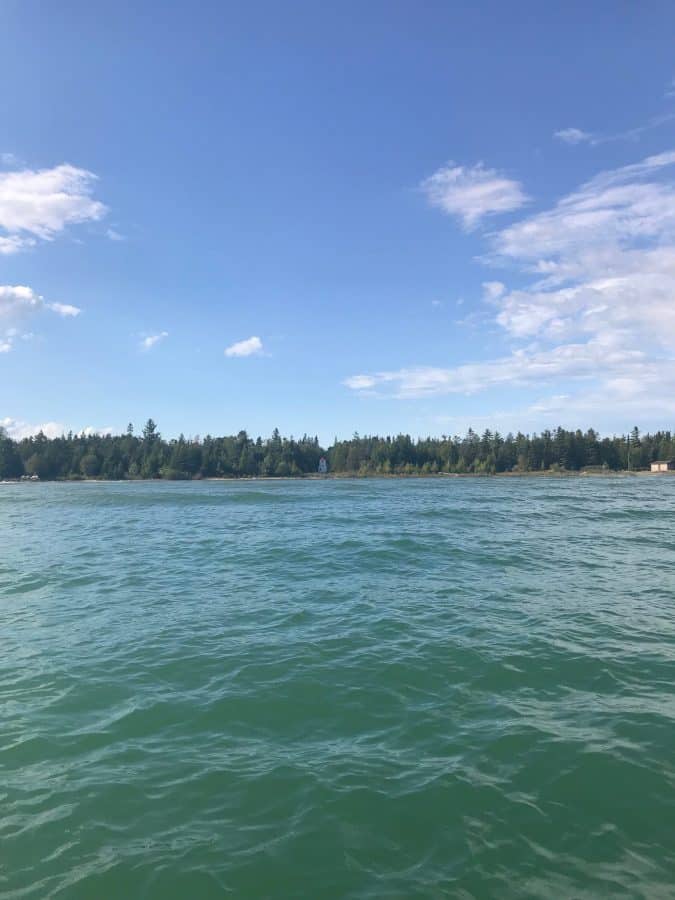 This is a fun, fast ride. At no time are you at any risk nor danger, for real. I am 1. very dramatic and 2. from New England, so as I have explained a few times already…had zero experience with just how massive Great Lakes are nor how their waves are on a typical day, let alone a mildly windy day. It's an absolutely breathtaking way to experience some of the from water sights of Door County, but I'm going to tell you to leave the kids on shore for a different activity, at least if they are under 10. There is bouncing around, and you will want to hold on. Worth it though, for the speed, the views and the soundtrack that plays. Plus, you're going to get to see and hear about some cool historical sites and stories that you cannot see from the road, which makes these tours extra special.
Door County Brewing Co
If you love beer, you're going to love this place. If you don't love beer, you're going to love this place. It's quaint. It's rustic. It's got charm and oh so many beer varieties to enjoy. But it's also got a whole lot of non alcoholic fun to offer, from beverages like blonde root beer, to dozens of table top games, to a stage where musicians play but you can also sprawl out and play a giant game of checkers.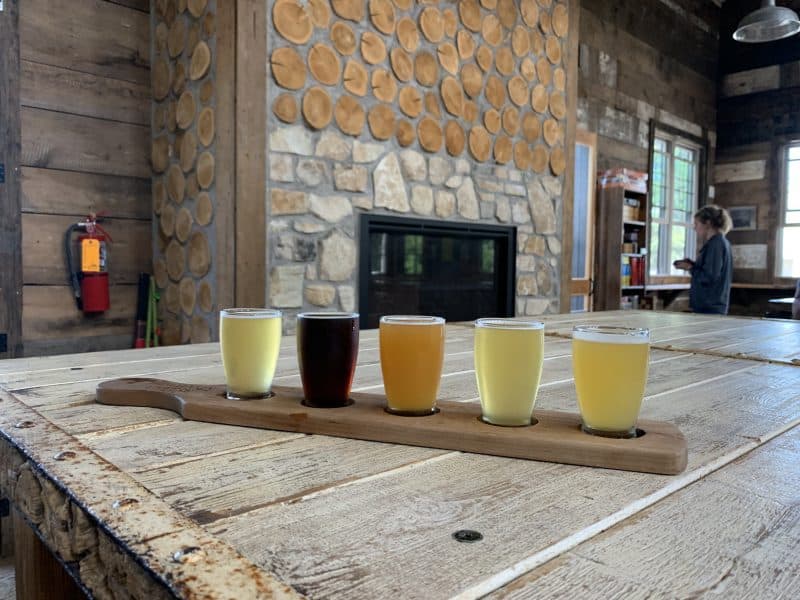 You won't find small, intimate tables and seating, because the idea at Door County Brewing is to make friends and talk to one another. So, if you drink beer or not, stop on by and sit down for a while. It's great company, great food, amazing beverages, and a lot of fun.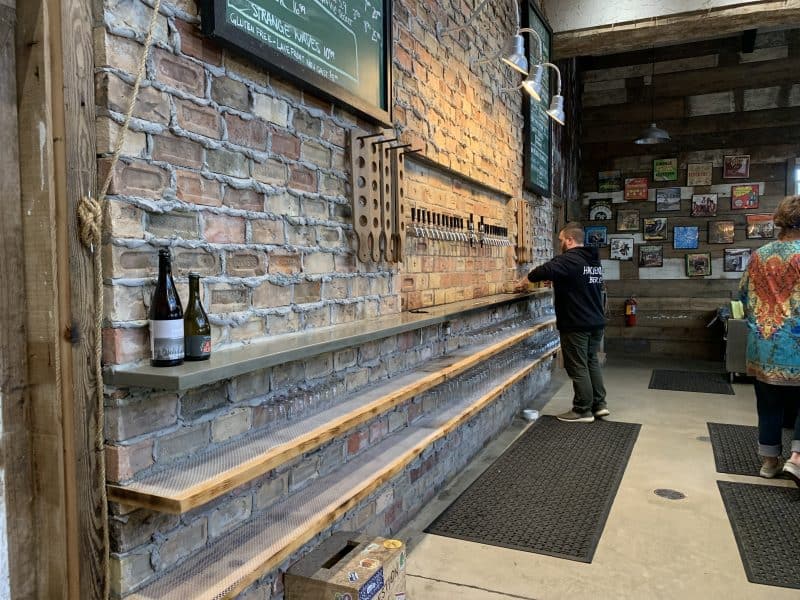 We happened to visit during a cooler, windy and rainy day, so it was fun to see groups of kids and families hanging out, playing cards, one of our favorite games Suspend, drinking beverages, talking, laughing. This is a must-visit regardless of weather, because I feel like it embodies the whole vibe of Door County so well!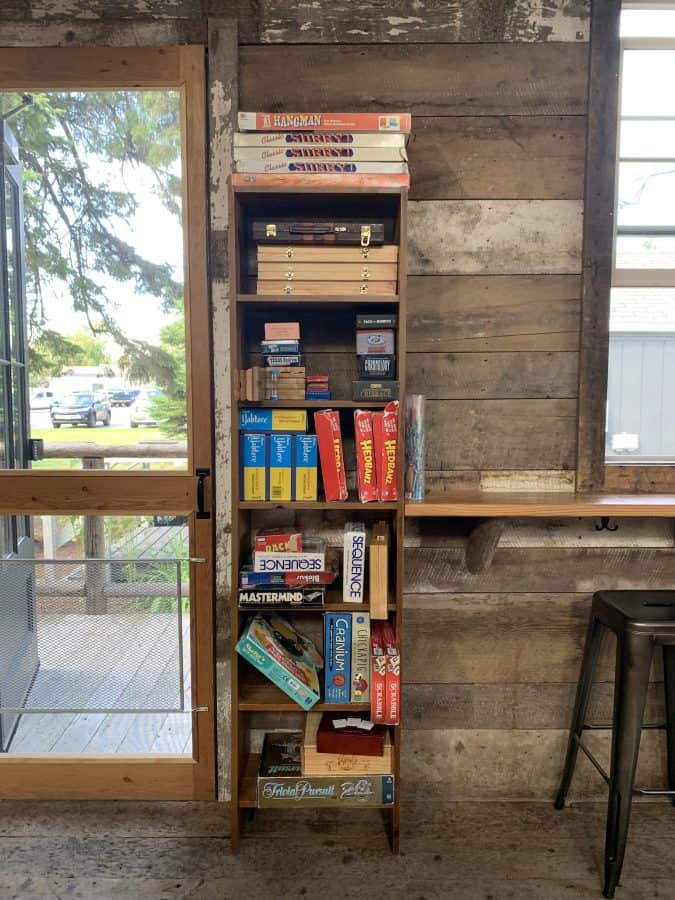 Have you visited Door County? What other must do things do you suggest?