With the majority of the country's children now utilizing eLearning aka distance learning for their daily classroom lessons, parents have suddenly found themselves in the role of teacher and educator. This can be intimidating for parents as they navigate these daily lessons and try to establish a new routine, but the good news is there are simple steps you can implement to make the task easier. Take a look at these 10 ways for parents to engage children when eLearning, so you can accomplish more and stress less. Here are 10 practical tips to get you started.
10 Ways Parents can Make Distance Learning Easier for Kids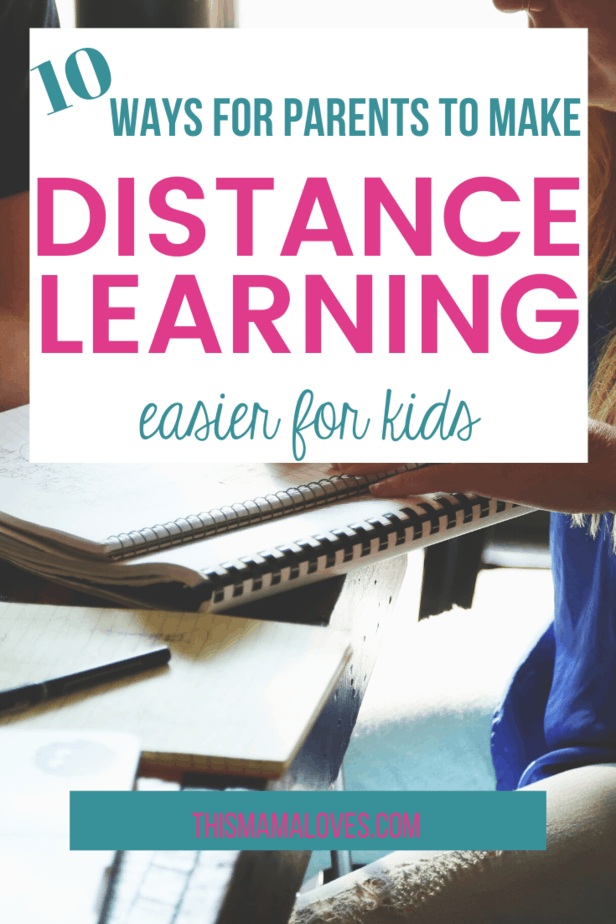 1. Designate a specific workspace.
One of the best ways to stay focused and keep productivity up is to create a specific work area. This can be a spot at the counter or kitchen table, or even a child sized desk and chair. Make this area fun and visually appealing. Let children display their artwork, make them a name tag, and add pops of color with plants or the child's favorite stuffed animal. This way the child feels comfortable in the space and knows when he or she arrives, it is time to work and engage. We rarely use our dining room except for holidays, so that's our schoolroom for distance learning. When school time is done, we close the laptops and chromebooks and leave the area. I think being able to close down for the day is helpful!
For those who don't have a room to designate, find a place to "shut down" schooling for the day/night. Close the laptops, chromebooks, and put things as out of sight as you can. I learned long ago even just blogging from home that if I left my laptop open, I was far more likely to go look and check emails/work stuff and not stay logged off when my day was done.
2. Plan a daily eLearning routine.
Don't pressure yourself to make a minute by minute routine for each day. Instead, plan for 2 hours of eLearning to get the assigned tasks done. Decide when these tasks will take place. It can be after breakfast, prior to lunch, at 2 p.m. each afternoon, etc. Choose a time that works well for your child, when you know he or she will be at their best and have energy to stay engaged. General routines are good for all of us right now!
3. Ask your child what motivates them.
Ask your child what type of activities they enjoy. Ask what they enjoy learning about. What motivates them to do these these activities? Take this information and keep it in mind when completing daily lessons. This information can help you develop a daily routine that feels more personalized.
4. Ask your child about the parts of eLearning that may intimidate or confuse them.
Kids can become scared and intimidated when presented with a new way of learning. eLearning is no different and can be off putting. Talk to your child and ask them to share what parts of the process make them nervous. Taking this information can also help you adapt the lessons to their needs. When children feel afraid they may shut down, but addressing these fears can instead keep them engaged.
5. Keep child friendly supplies on hand and ready.
Kids love using fun school supplies. Use these bright pencils, erasers, and other items to keep them engaged and motivated. Keep all supplies readily accessible so the child is not having to get up and look for them. The time you spend looking for supplies is wasted time and can cause the child to become disengaged. Instead, prep your supplies ahead of time and keep their attention. I used an old plastic storage thing with 3 drawers to put supplies in that wasn't really being used for anything except "stuff" recently…so now it has a home and a purpose.
Just because they have to have the tools doesn't mean we can't make them fun! All the fun and silly pens I have accumulated over the years are available for use. The kids vetoed the pen with jingle bells attached on day one, sadly. No one enjoys my musical pens!
6. Don't hesitate to offer positive reinforcement.
Adults typically thrive off positive reinforcement, and kids are no different. Cheering them on even when they complete the smallest task can be beneficial and keep them motivated. Make it a point to give at least 3 positive compliments or offer small perks when they finish the task at hand. The perks can be something as simple as screen time or a favorite snack. Maybe your kid loves to play games with you- so a reward for that kiddo could even be a game of cards after you eat lunch before returning to school/work.
7. Make time to virtually connect and learn with friends.
Utilize Zoom, Google Hangouts, Messenger Kids or Facetime to connect your child to their classroom friends. They can complete certain tasks such as reading together, taking turns to read to each other or ask questions about the text they are studying. This is a fun way to stay focused on the task while also having a connection with their peers. Especially for younger kids, Messenger Kids is my preference, because parents have to approve who their kids' friends/contacts are on there. Kids have lots of snapchat style filters available, they can do group video chats, and you know they are in a safe environment.
My youngest and her friend are planning to try to play one another in a game of Battleship from their respective bedrooms- via video chat. Definitely not the same as playing in person, but a fun way to connect all the same.
8. Take your classroom outdoors.
Help children stay engaged by changing the scenery. If you have the chance to take a reading or journaling activity to the yard safely, then do it! The fresh air and nature can help them feel more relaxed and even inspired as they complete the task.
Fresh air and exercise are good for all of us. Physically and emotionally! Let kids practice math or spelling words with sidewalk chalk. That's a favorite activity for all ages, and you might just find that older kids want to participate as well.
9. Charts can work wonders.
Visual charts can help children stay on task and engaged with the task at hand. You can create charts that monitor their daily reading minutes, or create a daily reading log. A reminder too that reading can be whatever they WANT to read or will be interested in. Graphic novels may not be your ideal for content, but reading is reading.
You can also do a simple chart that they can check as daily tasks are done. We are doing this with my kiddo who rushes through school assignments and just wants to finish and takes zero time to double check that all assignments are complete and submitted online. We're using a checklist system each morning that we fill in assignments with a dry erase marker, which is tucked into a plastic sleeve, so we can erase things as they are finished. Week one was HARD hard hard hard hard for that kid. Week 2 with this new system was somewhat easier. The patience and dedication to double checking things are done is tough.
At the end of the week, offer a small perk for all boxes checked. There's lots of great movies being released for home viewing immediately right now, so you could have a special movie night at the end of a week and rent a brand new movie!
10. Frequent breaks are ok!
When you notice a child is becoming burned out or frustrated, it is a good idea to take a 10 minute break. This is a great time to get some water, go to the bathroom, or stretch. New activities or hobbies should not be attempted at this time, just the simple suggestions mentioned above. This way they can get the break they need, without becoming distracted.
Hey teachers! Looking for tips for keeping kids engaged on zoom? My friend Julie has some awesome ideas for you, too!
Consider these 10 ways to keep children engaged when eLearning, making distance learning easier for kids (and yourself) and see how these simple ideas can help kids stay focused while you stay inspired to keep at it! eLearning is no doubt a new territory for everyone, but implementing some of these tips can make a huge difference in the amount of success you feel!