Let's face it; the challenges of 2020 saw all of our lives spin out of control. After all, we spent several months not really knowing what was happening. While the pandemic is far from over, a new year provides the chance to regain control. Making yourself more organized is the central focus.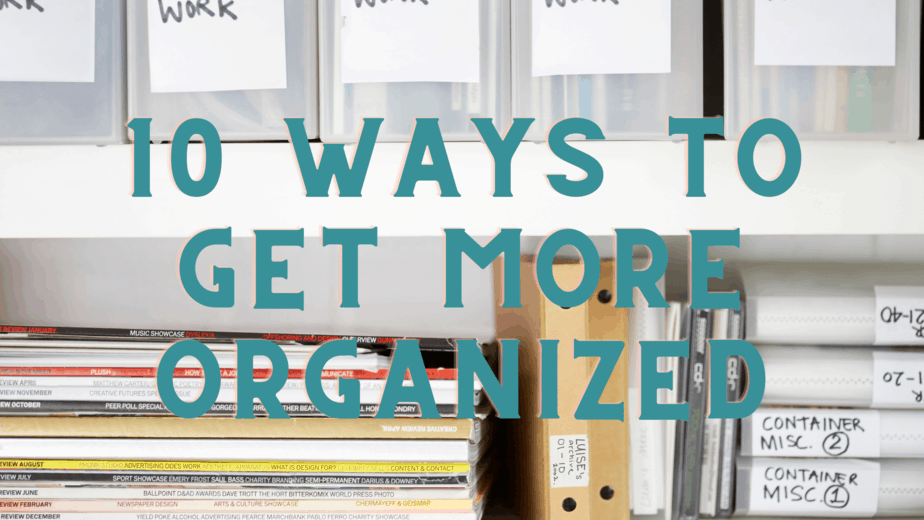 From significant changes to seemingly trivial upgrades, here are 10 steps from a visiting author that you can complement in 2021 for a far better year.
10 Ways To Get More Organized In 2021
#1. Track spending
Financial organization is probably the main concern for most people. This is especially true for anyone who has experienced job insecurity in recent times. Therefore, learning to track your expenses should be the first thing you do in 2021. There are plenty of Apps to help with this, or you could choose the traditional pen and paper process. Either way, monitoring where your cash is spent will help identify ways to trim the fat from your bills.
#2. Maximize your holiday time
Establishing a solid work-life balance can have a telling impact on your year. Therefore, booking time off at the most effective moments is essential. Familiarize yourself with the Federal Holidays 2021. it will subsequently let you plan your time off for greater efficiency. You could, for example, get a two-week break while only losing eight days. However, it's likely that colleagues will look to do the same. Act fast.
#3. Organize your cell phone
Whether you're team Apple or Android doesn't matter. Your smartphone is virtually glued to your hand. So, learning to declutter and organize it in a winning fashion will inevitably encourage you to make changes elsewhere. This can range from organizing the Apps to removing duplicate photos on iPhone devices. Once you have regained control of your cell, tablets and other gadgets can follow suit.
Plan for your leisure activities
Following the major disruptions in 2020, 2021 is a year in which you'll want to enjoy yourself. Days out and family vacations will feel even sweeter than usual. If you want to create those truly magical memories, though, it's not just about the destination. You must also ensure you have the summer essentials in place. If going overseas, vaccinations and visas will be vital too. Likewise, you'll have to advise the bank and cell operator of your plans.
Declutter the home
While there are many areas of your life that deserve attention, the home is where you can build the best platform. If the property feels messy, untidy, and unorganized, it will impact your mindset. Therefore, decluttering the home in an effective way can transform your whole life in 2021. Not least because you will continue to spend a lot of time here. Besides, it's a process that can make rooms look bigger.
Set a bedtime routine
You spend around one-third of your life sleeping. So, it would be madness to think that the nighttime routines wouldn't impact your health, happiness, and lifestyle. You do not have to be totally regimented in what you do, but there should be a clear pattern in place. Allowing your body and mind a chance to prepare for sleep is crucial. When you get it right, you'll sleep better and longer. Perfect.
Set fitness goals
Not everyone wants the athletic physique or has desires to get in phenomenal shape. Still, a little exercise on an almost daily basis will aid your life in many ways. It makes you happier, healthier, and more confident. Moreover, when you find time for workouts, it teaches you the discipline needed to organize your time. Similarly, when you set appropriate and achievable goals, you will learn to focus your energies in a winning manner.
Limit your social media time
Nobody is going to suggest that you should cut out social media altogether. After all, it can be a great way to stay informed with the news while interactions with friends are also rewarding. Nonetheless, it is possible to have too much of a good thing, which is why you should limit your time. You can set restrictions on your accounts. Alternatively, you can tell yourself that you'll only look at certain times.
Go paperless
Going paperless with household bills and account details isn't only great for the environment. It allows you to easily track all accounts from one place. This can be supported further by the use of automated payments and reminders. For the sake of your finances and mental wellbeing, it is one of the easiest and most effective steps of all. Do it in January to reap the full rewards.
Know your response to setbacks
Almost everyone will encounter setbacks with their resolutions for the new year. Yours are no different. It is inevitable that you will lose your sense of organization from time to time. For example, an illness could have a negative influence on many aspects. There is no point in dwelling on the mistakes. Instead, you should set a clear plan of action to bounce back in style. When you do, a successful 2021 is assured.