Being pregnant is one of the coolest, weirdest, amazing, awe inspiring, scary, blissful, terrifying things that a human being can experience. It's like nothing else and really, there isn't much that can prepare you for it.  When you think about it, it SHOULD be that way.  We are growing tiny human beings, after all!  I've been pregnant 5 times, officially.  I have 3 children who are now 9, 7 and 5.  I've had 2 "on the record" miscarriages, and had about 10 other chemical pregnancies- enough to yield a positive pregnancy test only to have the cycle end a few days late in heartbreak.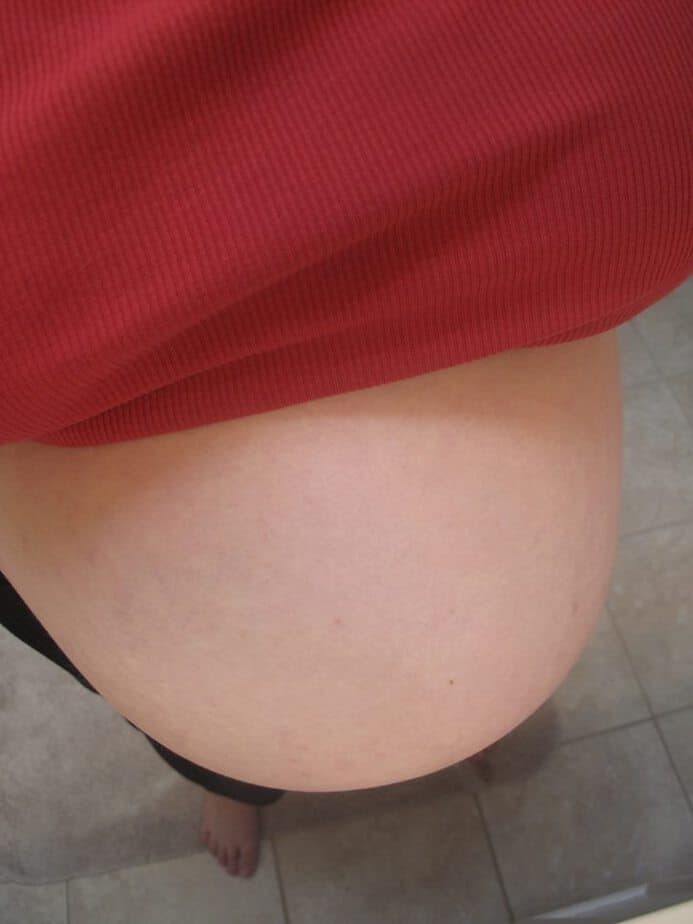 Being pregnant, though, what an experience.  Both for the woman doing the actual baby growing and for those around her. The emotions, the hormones, the effect of the hormones on the emotions, the physical changes, the comfort, the cravings, the discomfort, the tests, the appointments, the anticipation, the movement, the planning, the excitement… it's a wild ride.
I can honestly say I LOVED being pregnant overall but there were some parts that were just not fun. Once that little baby is conceived, life as you know it is changed forever.  It's not a small thing. For good (and for bad), you've just taken a turn from the road your life was on. Navigating it, well, that can be hard.  There are so many myths and wives tales and superstitions and books and experts and it's a lot to digest (if you can digest, maybe you get morning sickness around the clock like I did for many months).
I spent HOURS watching a baby story (or whatever it was called) on TV when I was pregnant with Bachelorette #1.  I didn't have quite as much time to do so when I was pregnant with our little guy, and definitely zero time (I'm not sure it was sitll airing by 2009 when I was pregnant) with Bachelorette #2.  It helped, a little, in my head, to see other couples experiences.  But really, it wasn't- it was a quick snapshot of the end of a pregnancy. I always wanted to know about the WHOLE experience of others. Which is what brings me to the 40 Weeks Movie.  There are others who feel the same way I do.  Specifically, Christopher Henze and Dominique Debroux, husband and wife team and the creative minds behind Big Belli LLC, which produced the 40 Weeks Movie. 40 Week sis for moms AND dads, and it shares families' experiences on the journey to parenthood.  It's awesome. It's like the folks at Big Belli took notes when I was awake and not sleeping during pregnancies about wanting to know for real what it was like for other people and made it into a film.
Henze, director, and Debroux, producer, created 40 Weeks to be a vehicle to offer emotional and informational support to pregnant women as well as present them with trusted products they will need.
40 Weeks is made for both moms and dads — presenting a beautiful palette of families' experiences on their journey into parenthood. In the film, universal milestones of pregnancy are presented hand in hand with the personal experiences of the film's generous and amazing expectant couples. Their diverse backgrounds will resonate with audiences, reassuring any mom-to-be that she is not alone.
To ensure that all health care information in the movie is accurate and current, 40 Weeks' key partners include the Association of Women's Health, Obstetric and Neonatal Nurses, the world's largest nursing authority dedicated to the health of women and babies, HealthyWomen.org, the nation's leading independent health information source for women, and the March of Dimes, the most respected non-profit organization dedicated to helping moms have full-term pregnancies and healthy babies.
Henze assembled a group of talented and respected professionals to film, score, edit and craft the movie in an intimate and personal manner. Executive producer Kurt Engfehr ("Bowling for Columbine", "Fahrenheit 9/11", "Fat, Sick, and Nearly Dead"), casting director Lisa Singer ("The Bachelorette", "Queer Eye"), and editor April Merl ("2012: A Time for change," "The Yes Men Fix the World") join Henze in telling this story.
Kate Rolston, a 15-year veteran of the mom and baby world with her brand, Real Savvy Moms, also serves as executive producer.

Sounds like a cool film to see, doesn't it?
40 Weeks invites audiences to sign up to stay in the know about screening details and opportunities to meet the families featured in the film. To learn more and watch the videos, please visit http://www.40weeksthemovie.com.
Join the 40 Weeks Movie community at https://www.facebook.com/40weeksthemovie.
About the Screenings
Big Belli is partnering with Gathr to bring screenings to theaters across the country. Gathr's Theatrical On Demand® is a new and exciting online crowd-sourcing approach that is rapidly changing film distribution.
With Gathr, it's easy to become a 40 Weeks Champion and hold a screening in your area. Just go to https://www.40weeksthemovie.com/about-movie/find-screening/ and sign up to hold a screening or be notified if one is coming to your area. Big Belli and Gathr will support you in reaching out to your friends, family and community to create a successful event.
Gathr screenings can only happen if a minimum number of people reserve tickets before a screening request expires. On every screening page you'll find an update that shows you the number of current reservations, the number of additional reservations needed to tip the screening, as well as how much time remains before that screening request expires. When enough people reserve tickets to a screening before time expires, the screening takes place. If the minimum number of reservations is not met, the screening does not take place and nobody is charged.
Join us for a 40 Weeks Movie Twitter Chat!
What: We are honored to share with you the first-of-its-kind movie on pregnancy! 40 Weeks, a documentary from Big Belli, follows the entire journey of the pregnancy experience, celebrating one of the most powerful things women do. This beautiful, touching and informative film combines personal experiences from expectant mothers with accurate and current information from experts. 40 Weeks helps women educate themselves and feel empowered, supported and connected to each other.

Join this Twitter chat to share your own pregnancy experiences with other moms as we learn more about Big Belli's movie 40 Weeks, including where to find a screening and how to host your own screenings around the country!

When: Tuesday, November 18 at 2 p.m. ET

Where: We'll be on Twitter – follow th e #40WeeksMovie hashtag to track the conversation. You can see the details and RSVP via this Vite: http://vite.io/themotherhood

Hashtag: #40WeeksMovie

Prizes: We will be giving away five prizes to randomly selected participants who answer the trivia questions correctly. Each prize includes a $50 gift card and some special products that moms will love! Prizes are limited to U.S. participants only.

Hosts: @TheMotherhood, @TheMotherhood25, @CooperMunroe, @EmilyMcKhann

Co-hosts: @somethewiser, @brettbmartin, @LittleUsBlog, @simplybeingmom, @TaterTwins, @JennsRAQ, @bkeepsushonest, @CoconutRobot, @kaylaaimee, @OurOrdinaryLife, @SeriousKrystyn, @intheknowmom
This is a sponsored post with The Motherhood. Opinions are my own.