When I was little, we lived in a pretty close knit neighborhood. A few times a week, my mom would give my sister and I $.50 (yes, that is two quarters) to spend at the corner store. This was the hub of the neighborhood. The best way to explain it is if you were to take your local convenience store and stick it into a cozy cabin in the woods. You could buy candy, gum, ice cream, a loaf of bread, eggs or a screwdriver! There was something magical about being in that store. As an adult, I still try to re-create that magic when I shop. I will choose to shop in a Mom and Pop store over a large chain store anytime. Here are 5 advantages to shopping small business!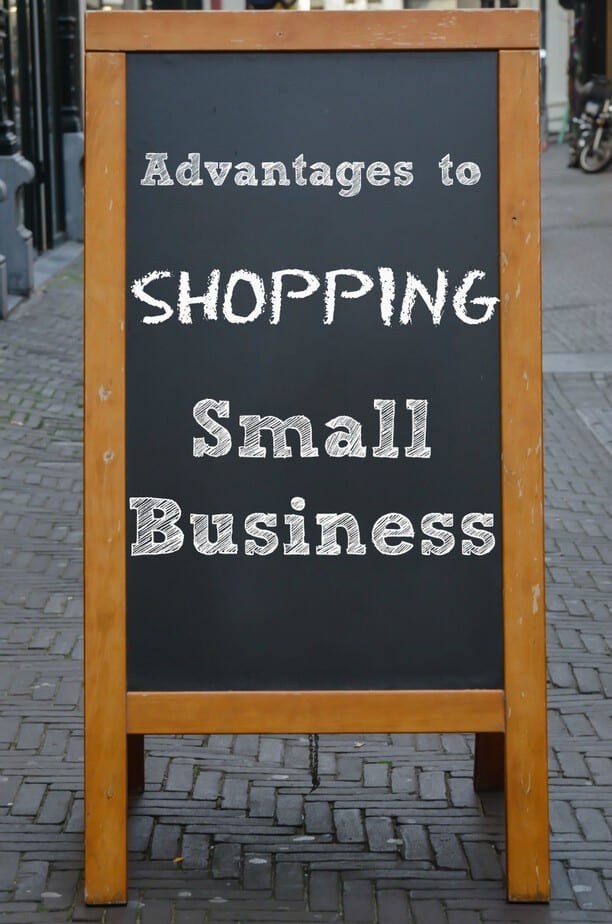 Customer Service: I HATE to go into a large chain store and it is like the zombie apocalypse has happened. You couldn't find an associate to save your life. With a mom and pop store, you are greeted like an old friend. Like, sincerely greeted. Like they are genuinely happy you are there, and not just because they make money from your purchase.
Relationships:When you shop at a mom and pop store, you are being welcomed into the family. You are actually building a long term relationship with these people that will last as long as that store is living and breathing.
Prices: Often, the prices of the merchandise at a mom and pop store are extremely competitive. I mean, think about it; these people are competing against these huge brick and mortar stores. Because of the sheer volume of business a larger store does, they are able to offer fairly low prices. In order to compete, the mom and pop store has to fly under those prices to get your business. These stores are also able to offer discounts a larger store won't offer you. But you also get customer service that you won't ever get from a big box store (back to #1!).
Small Businesses:When you shop at a mom and pop store, you are promoting small businesses in your area. These small businesses are the fabric of America. We need to support them any way we can, and not just on National Shop At A Small Business day.
Selection: A smaller mom and pop store may not have the huge selection the chain retail stores do. But, this is not a bad thing. A mom and pop store can offer you quality products from name brands like Speed Queen. If you are looking for a specific item and the mom and pop store doesn't carry it, they will break their necks to get that for you. The larger stores have the "If we don't have it, you don't get it" attitude.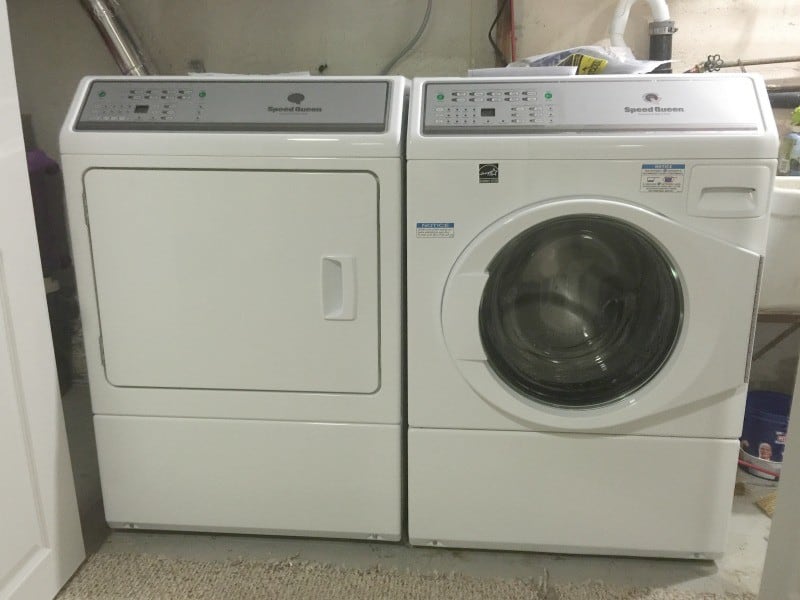 These reasons to shop small business fit in so many applications, especially when we are looking for appliances in our home. We had a washer dryer we purchased thinking it was going to last.  And it did.  The set lasted with zero issues for about 6 months. Fast forward to a year ago when our washer died for the last time, and wasn't to be resuscitated, and we needed to start looking into a new machine immediately.  We got lucky and were able to borrow an old, workhorse washing machine with no frills until we found what we wanted.  It didn't take a lot of research when looking for quality washing machines, washing machines that will last for 25 years, etc., for the name Speed Queen to start popping up over and over again.  Quality, small business supporters, built to last, American made- Speed Queen had everything we were looking for.  We knew it would likely cost us a bit more to purchase a washing machine made by Speed Queen, but given that we'd already paid for the old set at least 2 1/2 times with repairs and new parts, that wasn't an issue.  We wanted to buy something we knew we could rely on for many years to come. Lucky me, I got invited to be part of the Speed Queen blogger program, and as part of that, we were able to both experience the Small Business customer care and service AND get a washer and dryer set that are actually built to last…and last…and last some more. The biggest bonus? Speed Queen is made right here in the USA!
Portland Electric delivered our Speed Queen washer and dryer to our home.  They knew me by name the moment I opened the door.  Not from the name on the delivery sheet, but they knew me by name because Mike was the one I'd spoken with about our delivery day and time, and it was Mike who spent 20 minutes on the phone with me making sure of measurements and which kind of outlet we had for the dryer to plug into, so that the install was as quick and seamless as possible.  It's pretty nice to be greeted with a Hey, Brett! How are you this morning? It's also pretty nice to know that the folks who are putting my investments into my home have a really good understanding of the machines, how they work, and how to fix them in case something goes awry.
Buying from a small appliance shop in the New England area means you're buying from a network of shops- they share a warehouse, so that they can keep a smaller inventory in house, and still get the best product at the best price for customers.  It's kind of like a co-op for small businesses.  Pretty cool, isn't it?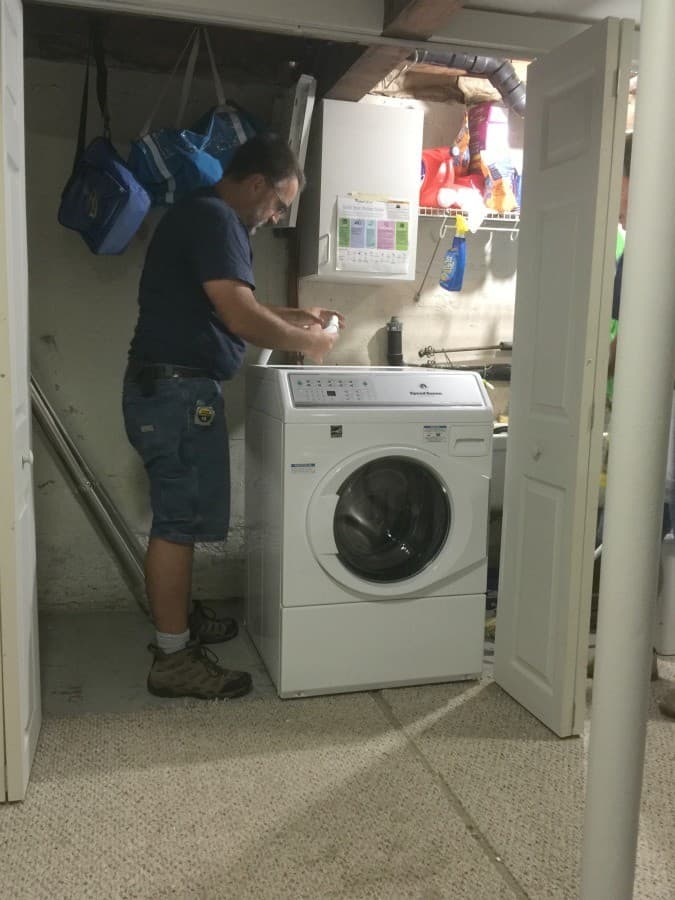 Out with the old and in with the new was a smooth, easy process.  For me, anyway. But I wasn't the one using a hand truck to move laundry machines in and out of my basement. I did supervise, and was thrilled at how quickly and how smoothly the whole removal and install of the old/new machines went.

Thanks to Speed Queen for sending us the washer and dryer and having Portland Electric come to install!