I may hate it, but I'm the person who handles finances in this family.  Kind of seems to make sense since I'm home full time.  I was kind of freaked out at first- I mean, what if I messed up? But I was determined.  As with all things- hey, guess what? I'm NOT PERFECT!! But I can handle the finances.  (I still hate it).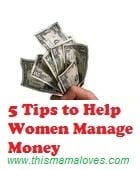 We women NEED to be able to handle our own finances. Lots of money or little money, we have to know how to budget and handle money.  I'd much prefer someone did it for me- but what if something happened and suddenly I was left to handle things on my own? That could be disastrous!  In no particular order, here are some tips to help women manage finances:
1. Educate yourself.  Don't know how to balance a checkbook?  Find out how.  Get a book.  Check a tutorial online.  Ask your bank.  Ask a friend.  Learn what to do with your money and where to put it, no matter how much.
2. Know your income.  From $100 a week to $10,000 a week/month/year, you need to know what money is going to be coming INTO your family. At least a ballpark. You aren't going to get far without knowing!
3. Know your expenses.  There are certain things that you likely spend money on each month- for us- mortgage, gas for vehicles, electricity, cable, internet, phone, food.  There are also "regular" expenditures that won't be monthly but you can count on incurring- like car insurance payments (we pay 1x/year because I can't stand to give $4 a month to a company for absolutely no reason and want to keep my $48 in my pocket), heating oil, property taxes, etc. It isn't that you have to know the exact dollar amount of these, but having at least a general ballpark figure will help you to make a plan.  Which brings me to item 4.
4. Have a plan. You can call it what you want- a budget, money plan, I don't care what it is.  But have a plan.  Then, live within that plan.  For us, our plan is that we pay bills off in full each time they come in.  Period. We actually put anything and everything we can onto one particular card- we accrue reward points/moneys that benefit us and we pay it off monthly.  Win, win.  Part of that plan is a deposit into a savings account.  Even if it's $5 a week, something goes into savings.
5. Stay organized.  Keep records.  You need to be able to find things and reference them- and if anything happens, you've got it already set aside.

Articles like this one on Women and Money from Time Magazine are also great resources for information about women and money.
What are your tips for managing money?
This post was inspired by Genworth Financial.  Opinions are my own.