Easter is just a few weeks away.  I'm excited to partner with HoneyBaked Ham to bring you this post with ways to save time for Easter Dinner.  Prepping holiday meals can be very time consuming and time isn't something most people have a lot of these days. I keep thinking about my sister who almost always hosts Easter- she's taking 3 courses at her college and she's my dad's Power of Attorney so she's got a very, very full plate (pun intended) and yet, I'm sure she's still going to offer to host for Easter. It's what she does. That has gotten me thinking about some ways to save time for Easter dinner… who wants to spend the whole day cooking and not being with family?  Especially a year like this one where Easter is later in spring and there's a good chance (I hope ) for a nice WARM day for everyone to be outside together!
5 Ways to Save Time for Easter Dinner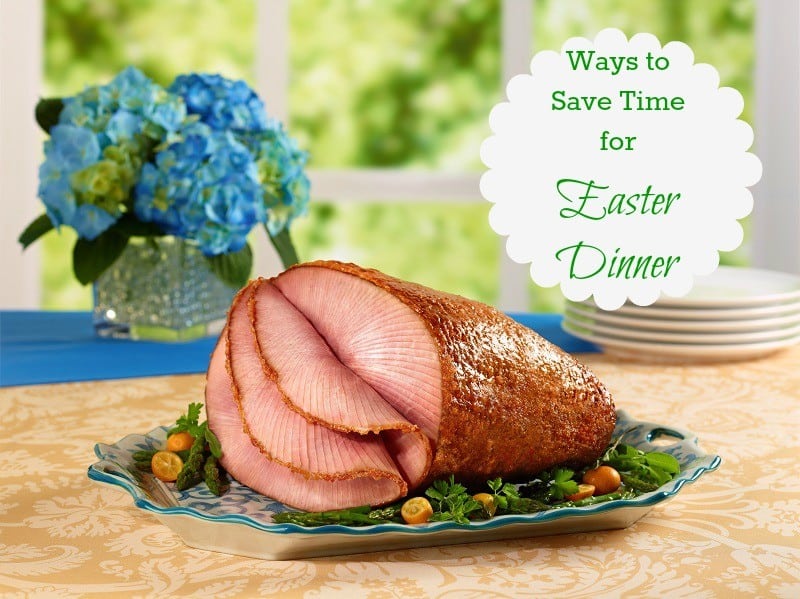 1. Plan ahead.
Seriously.  Write the menu down.  Write ingredients for each recipe down.  Check your pantry for those ingredients.  Take note of how long dishes take to cook.  Even diagram what needs to be cooked or warmed, for how long and at what temperature.
2. Delegate.
I can't stress this enough.  As I got older and left home, I was given things to bring for dinner.  It started with rolls (store bought) and slowly I was able to handle actually cooking something that wasn't going to make my family ill… Just because you are hosting the meal doesn't mean you have to do everything!
Ideas for others to bring:
beverages
rolls
salad
crudite
dessert
sides
eggs for egg hunt
centerpiece
If you really feel like you want to do ALL of the cooking, that's fine. I mean, more power to you. But you can delegate other things.  Like most of us have egg hunts at some point on Easter.  So have others bring fillers for eggs and be in charge of hiding said eggs.
3. Set up the night before.
This is a big one.  Set that table for Easter dinner the night before.  Better yet, have your family set it with you or for you.  Even little kids can handle putting napkins on the table, or serving spoons.  Don't be a martyr.  I promise, it's a good thing to let the kids help.  Even if the forks are upside down.
4. HoneyBaked Ham-
They have hams.  They have turkey.  They have sides.  If you are short on time, pop in to you local HoneyBaked Ham store and check out what they have to offer.
 5. Clean Up
Plan ahead for clean up.  Make sure if you are planning to send leftovers home with anyone that you have some containers that you don't expect to see again (because no one does remember to return them).  Make sure your dishwasher and/or dish drainer are empty before anyone arrives on Easter.  Who wants to clean up from a big meal when the dishwasher is already full of dishes?  Make it easy on yourselves.  Have them ready to fill with dinner dishes and save some time.  (Also, delegate.  I'm a firm believer if you have done the cooking you are NOT going to be doing most of the cleaning.  Totally fair.  Anyone gives you grief, you send them my way).
So why do I suggest HoneyBaked Ham?
HoneyBaked is currently partnered with Feeding America to give 1 million meals this spring! So when you go to HoneyBaked to fill your belly, you are helping to fill other bellies.  That's a pretty cool partnership, don't you agree?
HoneyBaked makes serving the best tasting ham the easiest part of your Easter/Mother's Day feast.
Each HoneyBaked Ham is fully cooked and ready to serve, so you can spend less time in the kitchen and more time with family and friends.
Underneath that sweet, crunchy glaze is the leanest, most flavorful moist and tender hams and turkey breasts you'll find anywhere.
Hams are available in all sizes to suit any size gathering, and of course, the leftovers that everyone looks forward to.
To complete your meal with time to spare, HoneyBaked offers more than 20 side dishes and premium desserts.
Stop by your local HoneyBaked store or visit locator.honeybaked.com to reserve yours today.
HoneyBaked Ham would like to send one of my readers a $50 Gift Card to their store!
0