There's nothing quite as beautiful or comforting as a gorgeous garden, well-kept. Regardless of size, a properly formatted and healthy garden space can help dissolve your stress, allow you to spend some time with nature in its most curated form, and of course, improve the general value of your property.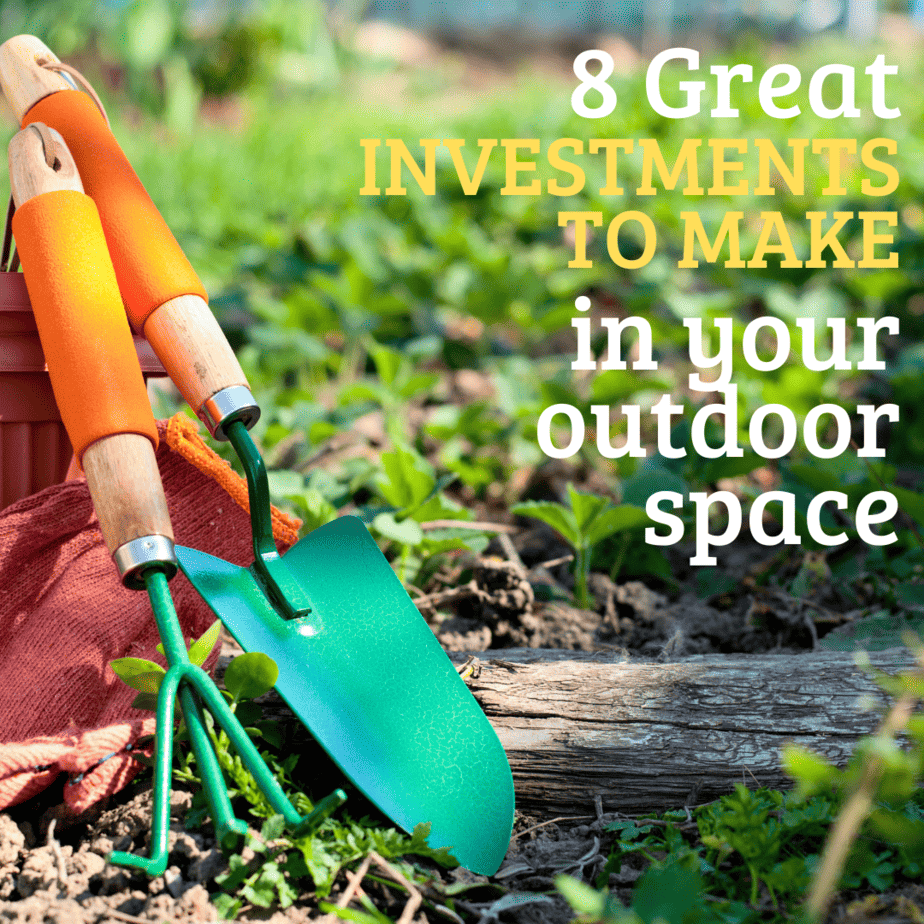 For this reason, investing in your garden is always a smart approach. There are several advantages to this effort. For one, a well-curated garden can be adequately protected, preventing issues such as flooding by implementing proper water runoff and drainage methods. Second, a well-curated garden space can be formatted for other purposes, such as implementing a vegetable patch or even laying a worthwhile path or driveway depending on which garden you're working on. 
In addition, gardens aren't just areas that add value to your home but help you live a healthier life. New adventures like learning to garden, becoming more self-sustainable with a vegetable patch, or giving your children or grandchildren somewhere safe to play are all worthy advantages.
With that in mind, please consider these great investments to make in your outdoor space as shared by a contributor. We hope this can give any homeowner a helpful list of recommended next steps to take, especially for those coming into home ownership/having a yard for the first time.
Implementing A Garden Layout
A comforting garden layout can make all the difference in the world regarding how you use and view your outside space. For example, it might be that you've moved into a household that paved the entire front lawn in exchange for more driveway space. Perhaps you only have one or two cars, and so hope to relay the turf after having this foundation removed.
Measuring the dimensions of a front and back garden is key, and can help you create a to-scale map. From there you can use measuring wheels to better outline certain areas of the garden to use. Here you can determine how much space you'll need for a vegetable patch or a greenhouse for gardening, or how wide your patio slabs might be for a staging area.
This can be part of the landscaping effort of course, but it's essential to consider breadth, depth, and your navigational pathway through a garden before you make any hard and fast decisions. From then on, you'll be able to ensure a better outcome, familiar with your garden and its specific needs.
Conduct Soil Analysis
Conducting a soil analysis can be very helpful for many reasons, but of course, if you hope to grow vegetables or plants it's always good to make healthy improvements. A soil analysis can help you understand the fertility of the soil and what may be impacting it. This way, you can implement remedial measures to help against that.
This might require using nutrients, organic matter (like manure or compost), or other fertilizers to help improve its quality. While not all soil can be perfected to grow, you'd be surprised just how much wriggle room there is here. For instance, you can even grow a vegetable patch in relatively clay-like soil if you implement proper fertilizers and manage its condition over time. For anyone even slightly interested in gardening, this can be a fruitful approach. Of course, adding functionality (like a compost bin) can also allow for enhanced eco-friendliness and sustainable living.
Have Your Treeline Pruned & Managed
Having your own treeline is quite wonderful, especially for those who may never have had trees on their property before. This can be a great way to add some privacy to your property, increase its historical value, and trees just look great all around.
However, they also require care, especially if they're rather old. Trees can become infected, and brittle, and may suffer from harsh weather effects. The last thing you need is for falling branches to injure someone in your garden, or rot to spread to the rest of your garden, affecting its health and the health of wildlife.
That's why using a tree surgeon to come and prune dead branches and treat infections can be key. In some cases, they may suggest the safe removal of one tree to help others. This is always a worthwhile investment, saving you money and worry, and keeping one of your garden's best assets in suitable condition.
Consider Water Runoff & Drainage
Drainage solutions such as a trench drain can help maintain landscaping. This way, your water runoff is collected and conveyed in a reliable manner, allowing you to avoid pools of water or flooded areas. 
This can be especially important if you live near the bottom of a hill, or in a wet area generally – especially during the colder season where rainfall and melting snow can all contribute to drainage issues. This could be considered one of the most important steps on this list, because, without good drainage and water management, all other investments may be damaged or limited.
Consider A Water Feature
Of course, it's not just water you need to deflect or redirect that matters when managing a garden, you can also use water to implement beautiful decorative features or functional spaces worth considering.
Now, while garden sprinklers may keep your garden in good health during the summertime, they're hardly the only consideration worth keeping in mind. A fountain implemented with a pump to recycle that water can be a lovely way of adding some freshness and dynamism to your garden decoration, while small bordered ponds can be lovely if you hope to keep ducks or frogs in the area.
Of course, if implementing coldwater fish like Koi in a pond with the right Ph level, more of a structured environment is ideal. This should include proper lining and enough space for them, as well as good filtration to keep them healthy and protected from toxins. All water features require work, but you get to design the shape, breadth, and form they take.
Install A Wonderful Path
A garden you can't navigate comfortably may as well not be there, as it's more of a pretty space to look at than to use. Of course, you can always walk on well-kept turf, and never touching your grass can only prevent you from enjoying your garden well.
That said, it's always nice to have a good path that helps direct those visiting your space and helps you in the winter or in wet conditions. A path also looks clean and can make your garden stable and comfortable to occupy, especially if it's steeper than most.
You can line the path with a simple wooden border, opt for wood chippings, paving or slabs, or perhaps even inlaid bricks to add unique texture. What matters is stability and how easy it is to maintain. If you can implement that correctly, then the path is a perfect venue for our next step:
Consider Welcoming, Magical Decorations
Certain decorations can be a lovely addition to a garden, granting it personality and comfort. For example, you might line that aforementioned garden path with arches or a tunnel that allows a sense of separation from the garden. You can use climbing flowers or trellises to add vines and other flowers to decorate it.
On top of that, you might decide to implement perfect outdoor lighting in various forms to make even the dead of night comfortable. Sure, you may implement security solutions such as motion-sensitive floodlights that light up when movement is detected. But you can also implement lighting simply for ambiance, such as nice garden lanterns that light your garden path, or simple fairy lights over a garden arch, made waterproof and suitable for exterior use.
You're absolutely free to implement your own designs of course, such as hanging baskets, windowsill flower baskets, and interesting, unique additions such as chimineas that can also grill foods. Ultimately, letting your personality shine is key. Don't be afraid to have fun or change things if you're not happy with them. A garden should be dynamic and interesting, not tired and perfected. It's okay to work at a garden for ten years piece by piece, learning new things about your space and evolving your taste with time.
Invest In Garden Tools
A robust set of garden tools is a fantastic investment to make. This might include shears, a good lawnmower, a shovel, a wheelbarrow, a trowel, a hoe, a good workbench, and even an outhouse you can use to store all of this.
Investing in a great set of garden tools, and caring for them, can last you for years. This will quickly pay for itself the more you use them, and if properly ergonomic, can help you avoid strains and other physical issues while gardening. In some cases, those with limited mobility can also benefit by using tools designed for easier handling. 
As such, you can remain proud knowing you always have the tool for the job.

With this advice, you're sure to make the right investments in your beautiful new garden. It's important to have a good time working on it and feeling open and happy with the decisions you make. As such, don't feel you have to fit some standard. If you're not interested in a vegetable patch, you don't have to prepare one. In the long run, this natural space will provide you joy and comfort, which is exactly the purpose of the above investments.