Home renovations can be exciting, rewarding experiences with opportunities to create the perfect living space to fit your needs and lifestyle. To ensure that your project is completed on time and within budget, key steps must be undertaken to ensure success. Planning and having realistic expectations are essential, as is having clear goals.
Researching reliable and competent contractors, prioritizing tasks, comparing estimates, and selecting quality materials are also important. Additionally, budgeting for unexpected costs, obtaining necessary permits and inspections, and scheduling routine maintenance all play a role in the success of a home renovation. As you embark on your project, it is important to remember these ten essential tips from a contributor to ensure that your dream home becomes a reality.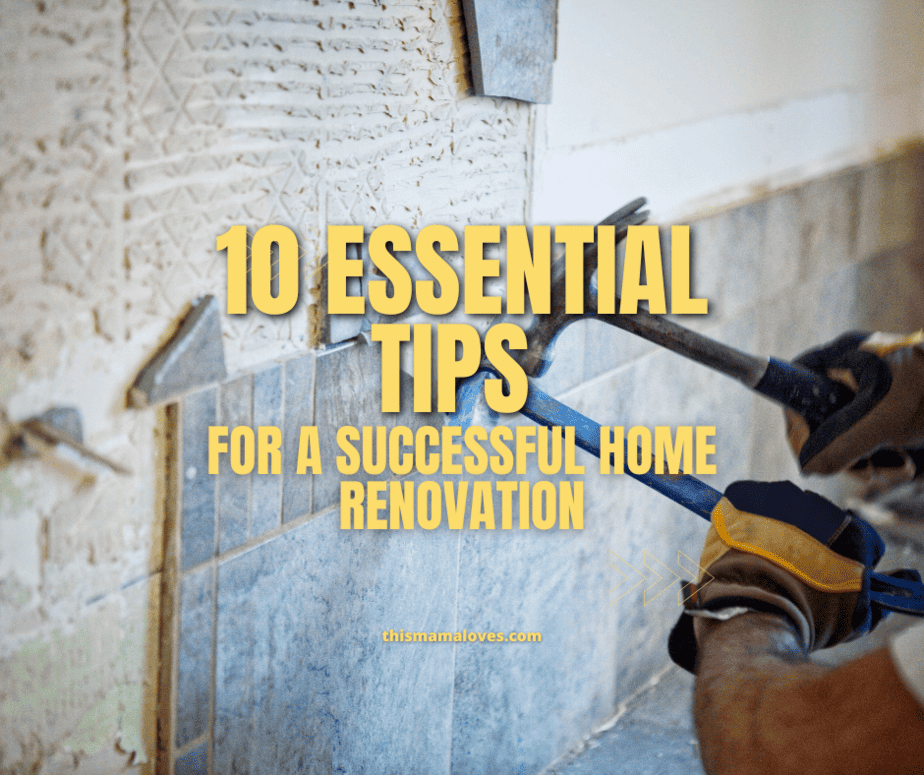 10 Essential Tips For A Successful Home Renovation
1. Set A Realistic Budget
When planning a home renovation, it is important to set a realistic budget. Consider all costs associated with the project, such as materials, labor, permits, and potential surprise costs. To get an accurate budget estimate, research the average costs of similar renovations, calculate the total, and set aside a contingency fund for unexpected expenses.
Using construction estimating software to estimate project costs more accurately is also advisable. With this software, you can get detailed insights into the expenses associated with the various tasks and make a sound budget plan.
2. Set Clear Goals And Priorities
Before undertaking a home renovation project, setting clear goals and priorities related to the project's desired outcome is important. By establishing what you hope to achieve with the renovation, such as improving energy efficiency or enhancing aesthetics, you can establish a focused plan for completing the project and remain on track during the renovation process. Additionally, having goals and priorities outlined upfront will help when speaking to professionals about the various aspects of the project and obtaining a construction estimate since they can provide more accurate cost assessments when they understand your specific objectives.
3. Research And Plan Ahead
Before starting a home renovation project, it's important to take the time to research and plan. Gathering information and exploring different ideas and designs can help you create a vision and guarantee project success. Look to magazines, websites, and social media for inspiration, and consider contacting professionals such as architects, designers, and contractors for guidance.
Additionally, obtain construction quotes from multiple sources to compare prices and ensure that the renovation stays within your desired financial range. Researching and planning provide valuable insights and can save you time and money in the long run.
4. Plan The Renovation Scope
Start by breaking down the project into smaller tasks, then prioritize them based on importance. Develop a timeline to ensure the renovation progresses smoothly; engage the help of professionals, such as architects or interior designers, to create a comprehensive plan to realize the space's full potential. Have clear goals and a budget to ensure the best outcome.
5. Hire Trusted Professionals
Take the time to research and identify reputable contractors, architects, designers, and other professionals. Seek recommendations from friends, family, and trusted sources and read reviews for overall reputation and reliability.
Interview multiple professionals and request portfolios of their past work. Ensure that you are working with experts in the field by asking pertinent questions and evaluating their styles and capabilities. Hiring trusted professionals guarantees a successful outcome for your renovation project.
6. Obtain The Required Permits
Any home renovation project must obtain the necessary permits from the local building department or permit office. Depending on the project's scope, codes and regulations vary, and the permit application process can take several weeks or months.
Obtaining the required permits is critical to ensure the renovation complies with local regulations and avoids legal issues, fines, and potential disruption. Allow ample time for the permit application process to avoid delays to the project.
Obtaining the required permits is critical to ensure the renovation complies with local regulations and avoids legal issues, fines, and potential disruption. Allow ample time for the permit application process to avoid delays to the project.
7. Focus On Quality Materials
Quality materials are essential for successful home renovations. Investing in high-quality materials enhances your space's aesthetics and is cost-effective in the long run. Consider materials that are durable, low-maintenance, and eco-friendly. Research properties and suitability of materials for your renovation and prioritize those that offer a good balance of aesthetics, functionality, and durability. Quality materials are key to creating a renovation that stands the test of time.
8. Maintain A Clear Line Of Communication
Maintaining a clear line of communication is essential for a successful home renovation. Keep everyone involved in the project informed of expectations, concerns, or changes and promptly address any questions. Regularly communicate your plans and ideas clearly and document important conversations.
Good communication helps to avoid misunderstandings and delays, fostering a collaborative environment and smoother processes. The ultimate goal is the successful execution of the renovation, so make sure that all conversations are clear and concise.
9. Prepare For Temporary Disruption
Home renovations tend to cause temporary disruptions in our lives. To minimize this, try planning by establishing a temporary living arrangement or dedicated escape areas.
Having a plan in place will help you stay focused on the goal of the renovation. This will make it easier to cope with any disruptions that occur as a result of the project. Keeping a positive outlook during the renovation will help you stay on track and enjoy the long-term benefits of successful renovations.
10. Regularly Review Progress And Finishing Touches
Regular meetings with contractors and other professionals involved in the home renovation project are important to ensure it goes as planned and meets desired results. During these meetings, the quality of workmanship and adherence to timelines are assessed, as well as the finishing touches, such as paint, flooring, fixtures, and trim.
Carefully inspecting these details is essential for a successful outcome, and any issues should be addressed on time so that corrections can be made. Reviewing the progress and paying attention to the finishing touches will result in a polished and well-executed home renovation.
In conclusion, success in home renovation comes from careful planning, attention to detail, proper execution, and trust in professionals. Setting clear goals and priorities, researching materials, and obtaining necessary permits are essential. Quality materials, maintaining communication between team members, and focusing on the finishing touches are also important.
Lastly, accepting potential temporary disruptions and reviewing progress regularly throughout the renovation process is vital. Following these essential tips can help you obtain the desired outcome and create a home that reflects your style and meets your needs.