I am a Windows Champion and have partnered with Windows and Staples to host this Twitter party. Opinions are my own.
I hope you'll join Windows and Staples (and me!) on Monday, April 7.  We're going to be talking about 8 reasons to Upgrade to Windows 8.1 at Staples during this party, because who doesn't want to have the most current technology? Really, as service for WindowsXP ends on April 8th, if you aren't using a newer form of Windows, you could be putting your information at risk.  Be smart. Be safe. Besides…I find  8.1 to be so much more FUN to use than XP ever was!
I myself have been using Windows 8.1 for many months and I find it so much easier to use than any other Operating System I've come across.  The touch screen devices only help to enhance the experience and make it even more user friendly.
I hope you'll come join us for some tech talk and fun… and a fabulous giveaway!  Of course Windows and Staples aren't going to have all this talk about upgrading and cool new operating systems without a fantastic prize for someone lucky!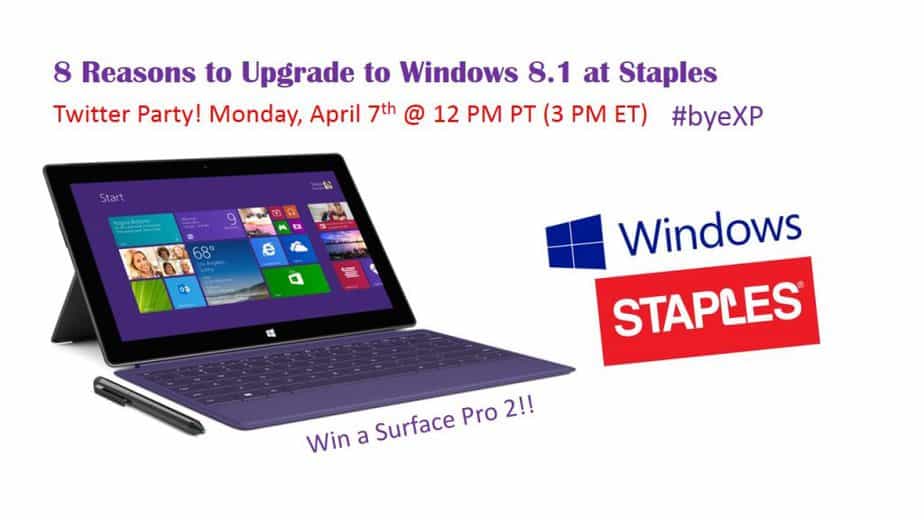 Date: April 7

Time: 12-1 PM PST/ 3-4 PM ET

Prizes/Giveaways: One Microsoft Surface Pro 2 valued at $999.00 courtesy of Staples
Not sure if you are running XP on your current device? Visit amirunningxp.com and you'll know instantly when the page loads. During the party, we'll also be talking all about a fabulous Staples Upgrade Offer, and reasons you want to have current technology for both your home and work devices. At the end of the party, we'll be giving one very lucky participant a Surface Pro 2 valued at $999 thanks to Staples!!
Join @Staples @Windows & @brettbmartin at the #byeXP Twitter Party 4/7 @3pm est RSVP: http://t.co/9zua3sj4Nm #win pic.twitter.com/YSRrRCh0UM

— Brett Martin (@brettbmartin) April 4, 2014
Staples Upgrade Offer:
"Bring in any working Windows XP computer and receive a free data transfer with the purchase of a Windows 8 PC."
Runs Sun 3/30- Sat 5/3
Windows XP computer must be able to boot into the operating system
Valid in-store only
Not valid on Windows 8 RT or Android tablets
 To be eligible to win the Surface Pro 2, you must RSVP with your Twitter URL (see below for linky) and be an active participant in the party using the hashtag #byeXP.  
Winner to be chosen randomly from those who are both RSVP'd and have participated actively. US residents only.  Staples will be selecting the winner after the end of the party and contacting them directly.