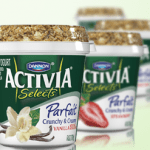 I almost never have a refrigerator without yogurt in it.  Even last week travelling to a hotel with the kids, we packed a cooler with some yogurt smoothies and Activia Selects.  Why?  Its a nutritious snack full of protein and good for the body in so many ways- almost always quick and easy to prepare, and very versatile.  There's not much to dislike about yogurt in general.
There are a few different varieties of the Activia Selects- when I shopped for some, I went straight for the Activia Select- Parfait.  Anything that has a crunch to it is a big hit in my family, and I was happy to see that this product was no exception.  We've tried the Strawberry, the Mixed Berry and the Vanilla flavors of the Parfait, and each was delicious (2 of us in our house are allergic to peaches and 1 doesn't really care much for them so we skipped that one).  Great texture, creamy taste, and the  granola for you to mix in just adds some extra flavor, some fun, and a whole lot of crunch!  (The dietary fiber in this yogurt is something else that I look for without making it known to my family- I like to be preventive and if you know me, you know I learned the hard way the importance of fiber in your diet regularly!!)
Activia helps regulate the digestive system because of the probiotic culture called Bifidus Regularis, when consumed daily for 2 weeks.   If you have ever encountered digestive issues, you understand the importance of keeping healthy bacteria in your system- probiotic cultures like Bifidus Regularis are a great way to help keep that healthy bacteria around. 
The Activia Selects come in several other varieties- Activia Selects French, Activia Selects Greek, and Activia Selects French Fruit on the Bottom, each with different flavors.  My husband wants to try the fruit on the bottom next, and I'll definitely be grabbing some when I shop this week.  Everyone likes this yogurt because it tastes good in my house- I like it because its got a lot of great nutritional benefits and I feel good knowing I'm buying something that can help to work proactively to keep our bodies healthy.
Visit CupsOfHope.com to help Dannon donate up to $1.5 million towards the fight against breast cancer.  You just need to enter the code under the lid of your Activia product and enter it at CupsofHope.
"I wrote this review while participating in a campaign by Mom Central Consulting on behalf of Dannon Activia Selects Yogurt Series and received a coupon to facilitate my review and a promotional item to thank me for taking the time to participate. However, my opinions are entirely my own and I have not been paid to publish positive comments."