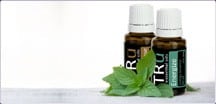 I love to make my own cleaning products.  The only thing is, they often don't have any real scent to them….that's one thing I miss about purchasing cleaners.  Or one thing I did miss, until a friend told me about adding essential oils to my cleaning products.
My go-to All Purpose Cleaner (APC)  is really easy to make:
1/2 cup vinegar, 1/4 cup baking soda mixed into 2 liters of water.
Which cleans well and naturally helps to disinfect, but if you aren't a big fan of vinegar, may not be pleasing to your nose.  (It isn't to my husband). 
I add essential oils (found tons of places online, LiveTru is one site I've found good deals on my oils) to my APC and voila!! Pleasant scent, no harm to the earth, and I'm using a cleaner that's not toxic to anyone in my house.  My favorite is the orange although many people love using lavendar.  You can add a little or a lot (I won't lie, I use a lot, I LOVE fresh scents!!)
For those of us who make Homemade Laundry Soaps, or make cleaners that aren't liquids, don't worry. You can still use the essential oils.  I usually just sprinkle a few drops of the essential oil right onto the scoop before I put the detergent into my machine.  You can also put some drops directly into the container of the soap and mix it up (I find that since I'm using a screw-top lid to store my soap, I can just close the lid and shake, shake shake to mix.  Added bonus?  A bit of an arm workout!!).  No harmful chemicals, and you can change the scent with your mood if you want!!
Using essential oils is a great way to enhance your natural cleaning products- many of them have naturally occurring antibacterial properties and will help keep your home clean and safe while smelling great.
What are YOUR favorite cleaning scents?
This post is brought to you by LiveTru.  Opinions are my own.
0