We recently received the Amana Energy-Star Qualified Dishwasher with Triple-Filtered Wash System  for review.  First of all, this is our second stainless steel appliance.  I wasn't sure what I'd think of that but with the Stainless Steel Amana refrigerator and now the dishwasher in place, I'm loving the stainless. We're so happy with the choice to go stainless!  Yes, I'm saying that with 3 kids in the house and a constant stream of fingerprints on the doors.  It's just sleek and almost a refreshing change from our standard white appliances we've always selected.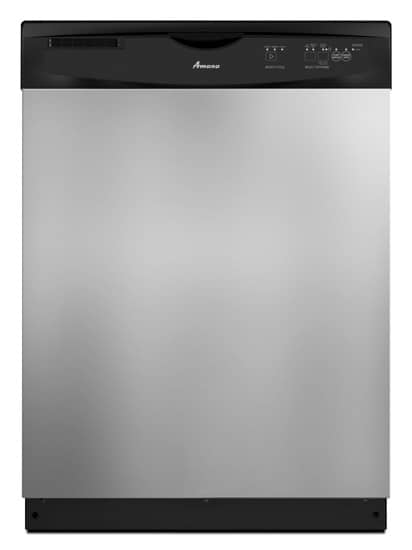 One thing we always look for in appliances is the Energy Star compliancy.  I don't just want to save our money where we can, I also want to make sure we're not wasting energy in general.  We don't run things when they aren't full, don't leave them on for long cycles, etc.
This Amana dishwasher is a powerhouse.  I LOVE  how it cleans. It has a triple-filtered wash system which makes those stubborn food pieces a distant memory. It is not the quietest machine I've heard (or not heard?!) but it does the job, and it does it well.  We've had zero issues no matter what we've put into the dishwasher – everything comes out sparkly clean.  Even the bacon cooker comes out really, really clean, which never happened with our previous dishwasher (and drove me crazy).
The silverware baskets- yes, there are 2 not just one long one- are also a great feature.  Being able to remove one basket to wash an odd sized pan, pot or dish makes me happy (I'm lazy, I'd rather the dishwasher do the work, not me). My husband asked if I wanted to swap the old silverware basket for the 2 and I told him no way. I love these baskets.  It's also nice for the kids when they are unloading silverware from the dishwasher to each have one smaller sized basket to hold onto, and not fight over.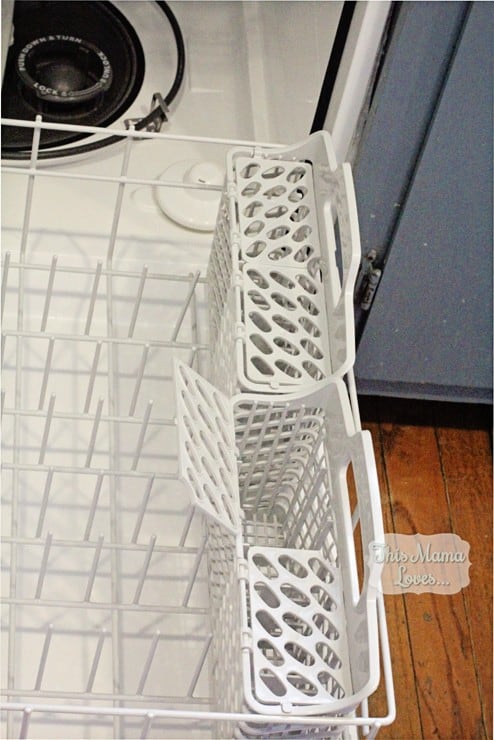 The tall tub means I can wash ALL of my pots and pans.  (I'll just defer to my laziness).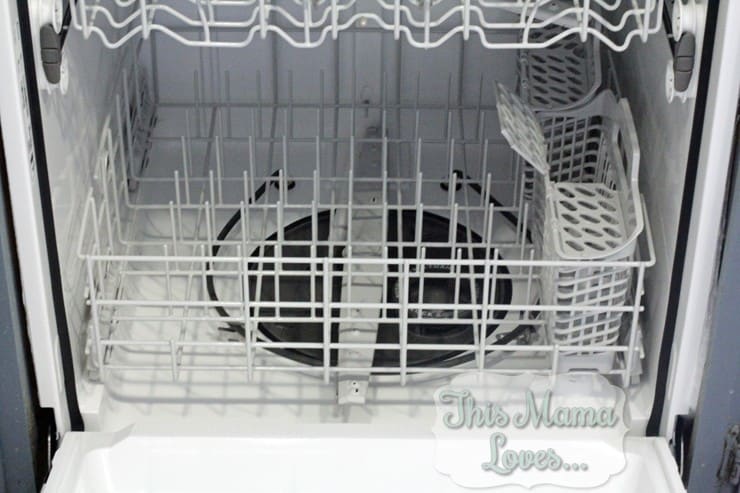 I like the simplicity of the control panel.  I don't have a lot of requirements for controls on a dishwasher. I want to turn it on, have it clean things, and go off, within a not-too-lengthy period of time.  With this Amana, there aren't many buttons to press, and not a ton of options- I have only used the 1 hour cycle thus far except for when one of the kids was sick- then I did a longer cycle.  The delay feature is GREAT for bath nights- without it I tend to forget to turn the dishwasher ON and then have a ton of extra dishes the next day to wash.
(Please, ignore the dog hair. With dry winter air, I can't get the dog's hair off of everything, I've tried.  I'm not perfect. I'm real).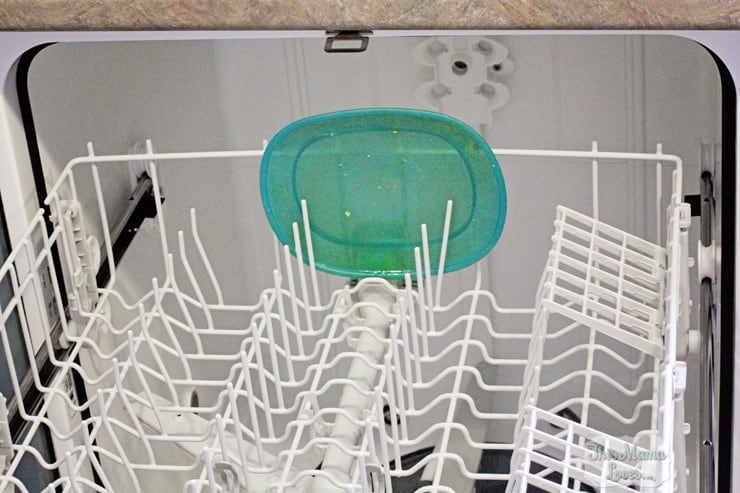 The kids' stuff almost all fits up top- with room to spare.  I can fit my largest water cupbottles in the top rack now!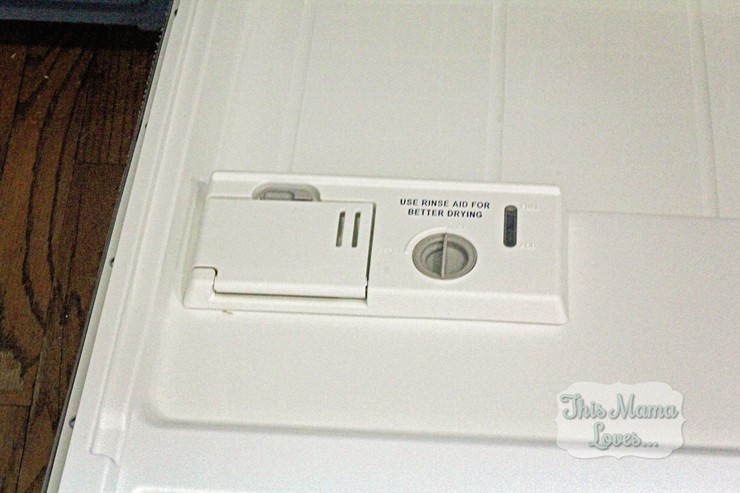 The Amana Dishwasher runs for about $429 so it's in a very reasonable price range.  I love the stainless but it also comes in black and white.  I've never been overly thrilled with the last dishwasher we purchased and we paid well over $429 for it.
0