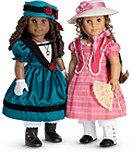 American Girl has introduced two different historical characters– Cecile Rey, an African American, and Marie-Grace Gardner a Caucasian, who "reach across the boundaries of race and calss to help their beloved city of New Orleans in 1853."
I think its really cool that they are introducing two characters at once- and in such a great way.  I know my introduction to American Girl came long after I was done with dolls- when my niece Samantha got her Samantha historical doll for Christmas- and I've (im)patiently waited to have daughters to enjoy the brand with ever since (more on that in the next few weeks).  I am unsure if the timing of the new dolls is intentionally coinciding with The Help movie coming out but I think its pretty cool they are happening at the same time!
Despite different backgrounds and life stories, Cécile (a bold, confident girl from a well-to-do African American family), and shy, caring Marie-Grace (who has just moved back to New Orleans with her father), form a unique bond through their shared love of music. Later, their growing friendship deepens as they work together to help their community during the yellow fever epidemic that sweeps through New Orleans in 1853. Each character is brought to life through a beautifully designed 18-inch doll, plus an array of historically accurate and culturally authentic clothes and accessories that reflect the girls' heritage and time period.

Cécile's stories are authored by Denise Lewis Patrick, and Marie-Grace's books are written by Sarah Masters Buckey. The stories—starting with Meet Marie-Grace and Meet Cécile—weave together in one six-book fiction series, offering readers alternating perspectives of both characters' experiences.
I cannot wait to dive into these books- my 6 year old plunked onto the couch within about 4 seconds of seeing Meet Cecile and I haven't seen her since- it's been an hour already.  That tells me I do need to read it soon, so I can enjoy and discuss it with her.  I love anything that helps encourage kids to read, and with the historical characters that American Girl has created, kids learn about history and culture- without realizing for a second that they are actually learning!
In celebration of the new characters' debut and the traditions of New Orleans, Harry Connick Jr. and his daughter Kate Connick partnered with American Girl to create the song "A Lot Like Me," the proceeds of which benefit the Ellis Marsalis Center for Music (more info here).
The Cecile and Marie-Grace 18 inch dolls and books, plus historically accurate dolls and accessories are available for pre-order at American Girl now.   They officially "launch" August 30th.  What a fun day that will be to be AT an American Girl STORE!!  If you go please share photos with me!!
Information provided by PR, and samples of the books were received in exchange for this post.  All opinions expressed within are my own.