When we started thinking about redoing our bathroom, which is our only full bath, we knew we had to maximize our tiny space and also minimize spending.  This is not usually an easy thing to do when looking at remodeling your home.  We really wanted a cast iron tub– for the heat retention and for quality of material, among other reasons, but the cost was really high and the weight of those is very high.  I wasn't sure I wanted a 800+ lb bathtub on my 2nd floor.  When we started researching, immediately we learned of the Americast tub by American Standard.  A lighter version that's very similar in composition to a cast iron tub, the Americast weighs in only around 350ish pounds, but offers the same heat retaining qualities and durability of a cast iron.  That was an easy decision.
American Standard's Americast Tub. Can you see the difference already?
I have to tell you, I've taken more baths in that tub since we finished our bathroom than I have combined in the last 15 years.  I love it.  It's deep, it's roomy, and it holds the water temperature for a good long time.  To give  you an idea- I usually watch a full episode of True Blood or another hour long show while in the tub on my iPad.  The water does drop in temp a bit but not much at all, and only at the very end of my bath.  My husband had no idea how much I really love my baths until we installed the Americast!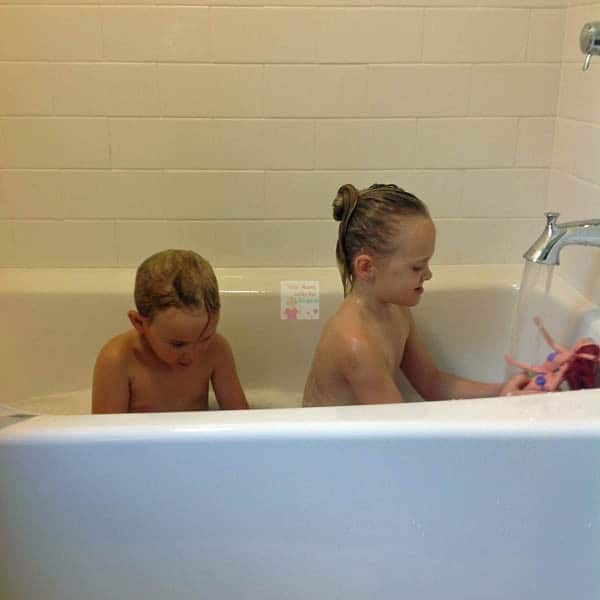 (Did you think you'd be seeing a photo of me in the tub??)  All three of my kids fit in this tub without looking like stacked sardines- they love it.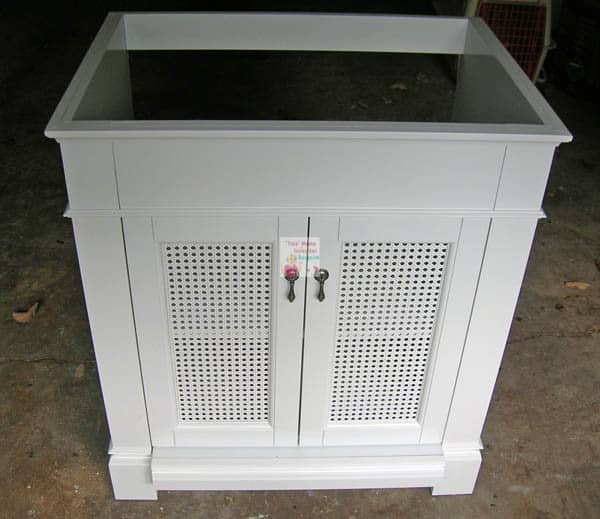 The Portsmouth Vanity had all of the features we were looking for in a vanity.  Not too deep, a generous amount of counterspace available, cabinets we can get safety locks on, and the best feature, a pull out stool for kids.  A stool that stores in the vanity so it's not in the way, isn't brought into other rooms, and can be stored out of sight when not being used.  It was awesome.   When the vanity arrived, I was really impressed with the solid construction and quality of materials used.  We've never had American Standard cabinetry before and both my husband and I thought the cabinetry was really nice- very attractive to look at and very well made.  Love at first sight.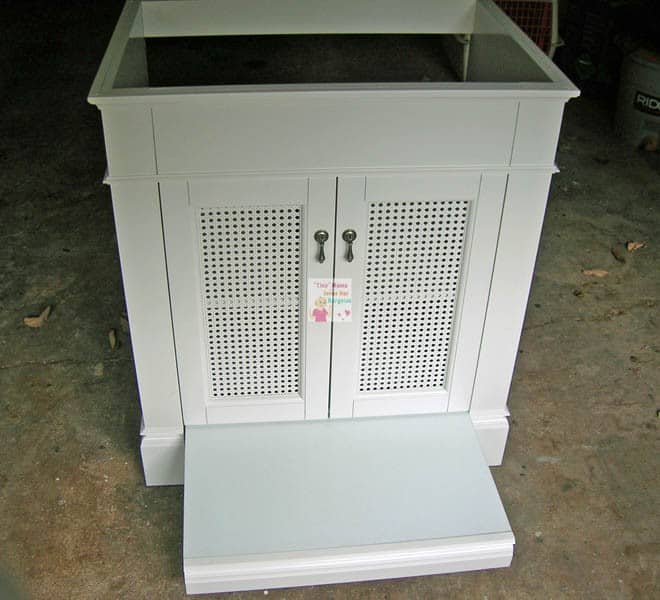 Except for one little thing.  I checked, double checked and triple checked the measurements for the vanity, and was confident this would fit.  We needed a vanity with a depth of up to 19 inches and no more.  Well, when this gorgeous vanity arrived, my husband raised an eyebrow and said "that's not going to fit."  Confident, I insisted it would.  I was wrong.  We got it upstairs and it was about 21 inches deep- with the doors open, there was about 1 1/2 inches of clearance between the doors and the radiator.  I was so sad.
We ended up donating the vanity so that someone with a different floor space can use it.  This was such a sad thing.  I'd still get it again.  Just with a bigger bathroom.
If you are looking to remodel your bathroom, definitely look into American Standard.  Especially if you like to take long baths like me!
A vanity was sent to facilitate this review.  Opinions are my own.
0