Hershey's Kisses are my absolute weakness.  The nice folks at Hershey's sent us some samples of their Easter candies and included in that package were some of my weakness.  What's a chubby girl to do while on Nutrisystem, with 2 bags of Hershey Kisses in the house?
Haha.  Funny, you guys.
We made a birdhouse to hang up for an Easter decoration.  DId you really think I ate them?  Silly!!
Before we began the birdhouse construction,  I decided some learning fun was in order!  So first we sorted the kisses by colors, and then we counted how many of each color.  We talked about which color had the most (blue).  I'd planned to do some graph type stuff with my 5 year old but she had a separate agenda that day and wasn't do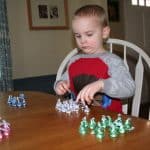 ing crafts with us!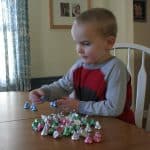 I cut out a basic birdhouse shape from a cardboardbox we had. I did do a double layer, and just taped them together.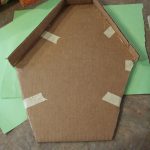 Then I cut a strip and taped it on for a 'roof'
Next, covered the house and roof in construction paper (paint would work too)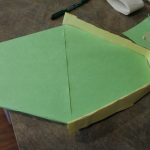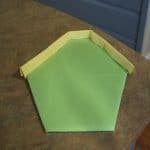 Then I got out some strips of glue dots (you can use other adhesive, but this was fast and easy and I had a bunch on hand)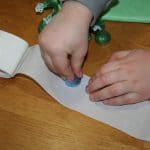 Then we just put the kisses all over the birdhouse: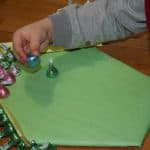 Until it was covered (and I promise I ate zero kisses.  My son had 3)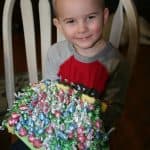 I bet you thought I'd tell you we hung this up next, right?  Because that would be the logical progression of events.  We haven't hung it up yet.  I forgot to think about that when we started and need to get it up on the wall (so daddy hands and kid hands aren't stealing kisses from the poor bird house!)
This was a really fun, and inexpensive holiday craft to make – and we'll be enjoying the "fruits" of our labor once Easter passes by, I'm sure.  Or rather, the kids will.  I'll continue to abstain from indulging!
Hershey doesn't just have Easter colored kisses this time of year, they have tons and tons of fun options, like foil covered eggs…themed candies from the movie 'Hop" opening tomorrow in theaters- and so many more fun products!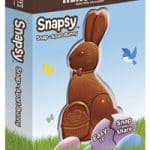 One of my readers will wina prize pack including  Easter-themed Hershey item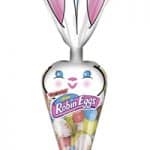 s!!
Mandatory Entry: Visit Celebrate with Hersheys and tell me a fun craft you'd like to try or basket idea you'd like to recreate!  (Remember, this one is mandatory, so if you don't do this one, the rest won't count!)
Extra Entries:
Follow me publicly via GFC, RSS/Email or Facebook (+1 entry each)
Share this giveaway on any Social Networking site- be sure to leave the URL of your post (can be done 2x/day at least 1 hour apart)
If you use Twitter to share please use: #Win a @Hersheys #Easter prize pack from @mamatomjr http://wp.me/p1qA6G-10A (can be done 2x/day at least 1 hour apart) please leave URL of your tweet!
This giveaway will end on April 11, 2011 at midnight, EST.  Winner to be chosen using "And the Winner Is" and will have 48 hours to respond to initial contact.  US only.
I received a sample of this product to facilitate my review.  Opinions expressed within are my own.