This is a Sponsored post written by me on behalf of Avocados from Mexico for SocialSpark. All opinions are 100% mine.
One of the reasons I love avocados, aside from the healthy food factor, is that they are such a versatile food.  I was first introduced to  Avocados from Mexico when my oldest was an infant and I started making her baby foods- avocado is a wonderful first food for little ones- and takes little to no effort to mash up into spoonable form!  As they've gotten older we've discovered so many ways that avocado can be used, and I'm seeing more and more from friends on social networks who are using avocado in lieu of the cheese part of grilled cheese, and for pasta….like this dish we'll be making later this week (So easy, so FAST, and so good for you!!)
Avocado Pasta Sauce!! 
1 ripe medium-sized avocado
3/4 cup olive oil
2 tsp sugar
2 tsp garlic salt
1 tsp lemon juice
cracked black pepper (opt)
fresh parmesan cheese (opt)
Directions
In a food processor, blend all ingredients except for black pepper until mixture is smooth.
Spoon over pasta- a little goes a long way. I usually put about 2 tbsp over 1 lb of whole wheat spaghetti or tortellini. Add it to the pasta while pasta is hot and over low heat so dish will be served hot but the sauce will not be burned.
Top with plenty of fresh cracked black pepper and grated parmesan cheese.
Visit I love avocados on Facebook to find some great recipes, different ideas from fans of avocados all over the world, and even download fun ringtones, wallpapers and send avocado gifts to friends!   Follow @guacgrl on Twitter, too!
I actually sent my friend Jenni this virtual gift: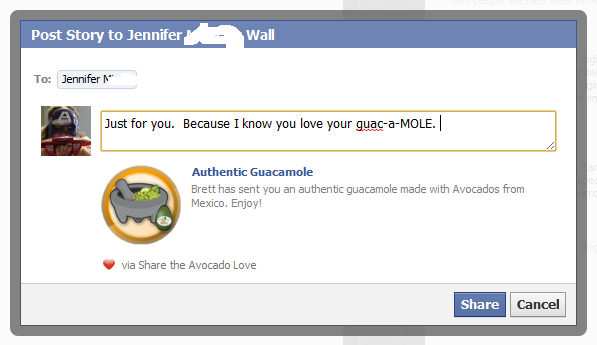 Which is super fun because we like to joke about how to pronounce guacamole.  Send me one!! It's so fun- the ringtones are especially cute.
What are YOUR favorite ways to use avocado?