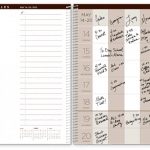 BusyBodyBook Weekly GRID planners are every mom's go-to time management tool for controlling the chaos of her family's multiple and hectic schedules.
I got to review this planner last year, and LOVED it, so when Joan offered me a new planner for this year, well, I jumped at the chance.  I LOVE these planners.  Space to write all of what you need to write and more space to write notes and stuff down!  The grid format makes it super easy even for the little kids who don't read to know if they have something "special" on the planner or calendar because they know where their stuff is on the grid- or what color I write their things down on (I give each of us a color on the calendar and planner- started that when I was a live in nanny for 5 kids- had to organize somehow!!).  Its so easy to see and USE- I won't go back to other planners again!! Plus, the designs on the outside are cool.  That's an added bonus.
This year, Joan also sent me a wall calendar.  I have a weird thing- I get all excited about a new calendar.  Mr. Bargains laughs at me, but its so fun to open it up and I always fill in important family birthdays and anniversaries first, and then start to add other information in.  I love putting dates that mean something special to us in  a brand new calendar- its like a new notebook or journal- a fresh, clean slate- and the promise of what's yet to come. 
BusyBodyBook personal and family calendars provide individual family members with their own personal column to

organize, easily view and follow their schedules and activities – and the ability to coordinate with each other 'side by side'.   
As easy to use and spacious as the planners, the folks at BusyBodyBooks REALLY know how to help today's busy families keep schedules straight.  I LOVE love love these calendars as much as the planners!!  
One of my readers will win a BusyBodyBook planner & calendar!



I received a sample of this product to facilitate my review. Opinions expressed within are my own.
0